In the spotlight
Samsung Galaxy Fame review: In the spotlight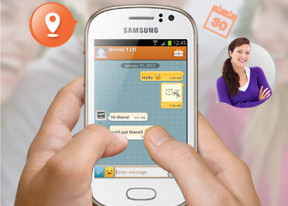 Jelly Bean provided by Samsung
The Samsung Galaxy Fame runs Android 4.1.2 Jelly Bean out of the box, skinned with the latest TouchWiz launcher, dubbed Nature UX. While the basic functionality of the interface is the same as that found on other Galaxy's running Nature UX, there are various eye candy effects that have been removed so that the limited processor can keep up.
We've shot a brief video showing off the user interface here:
The lockscreen is a standard "tap and drag in any direction to unlock" affair, although the usual water ripple effect has been removed. There are a number of other unlock routines to choose from also: pattern, PIN, and password.
There're three customizable lockscreen shortcuts, and you can drag one to activate the corresponding app.
Due to the smaller screen size, the dock at the bottom of the homescreen now fits four custom shortcuts or folders instead of the usual five. The rightmost one always opens the app drawer, but the other four can be set to any shortcut or even a folder.
As usual, you can pinch to zoom out and manage homescreen panes - add, delete or just reorder them. You can have 7 panes at most, which are enough to fit plenty of content even if you use widgets that cover an entire pane.
The notification area is quite feature-rich and offers quick toggles for Wi-Fi, GPS, Silent mode, Screen rotation, Bluetooth. You can swipe to the side to get even more: Mobile data, Blocking mode, and Sync.
Below the toggles is the brightness slider (there's no automatic brightness toggle here though). There are also a couple of other useful things like the Settings shortcut in the upper right corner, the time/date to its left and the carrier name at the bottom.
In Jelly Bean, you get expandable notifications to get more info about them. They can be expanded and collapsed with a two-finger swipe and the top one is expanded by default (if the app that put up the notification supports it, of course).
The app drawer accommodates both app shortcuts and widgets. Unlike stock Android, you cannot move between tabs by swipes - you have to explicitly hit the widget tab. Some will find this more logical (scrolling past the available apps to find yourself in the widgets takes some getting used to).
Using pinch-to-zoom reveals an overview of the pages and lets you rearrange them, but you can't create new ones. Hitting the menu key reveals some more options, including hiding apps or enabling tap-to-uninstall mode.
The app drawer has three view modes: a Customizable grid (where you can freely rearrange icons), Alphabetical grid and Alphabetical list (this one makes shortcuts easy to hit, but isn't very space efficient). You can also view just your downloaded apps by hitting the Downloaded apps icon.
Jelly Bean comes with a selection of widgets, with some custom additions by Samsung. Some widgets are resizable too - a feature we've seen in some custom UIs is available natively in Jelly Bean. Widgets automatically move out of the way when you're reorganizing the homescreen.
Once you get several apps running, you can use the task switcher to go back and forth between them. It's a Jelly Bean-style vertical list with a screenshot and a name for each app. A sideways swipe removes the app from the list.
There are three buttons at the bottom of the list - one to bring out Samsung's home-brewed task manager, one to launch Google Now and a 'Kill all apps' button.
Overall, the Nature UX on top of Android 4.1 looks great and the Galaxy Fame does pack most of the cool software tricks of the flagship.
And despite the lack of a quad-core chipset, the Galaxy Fame handles the heavy Samsung skin equally well. It wouldn't choke on heavy live wallpaper either.
Synthetic benchmarks
Unlike a large portion of the older generation of budget range Samsung's, the Galaxy Fame runs on a Broadcom BCM21654G chipset. The Broadcom chip likely results in cheaper manufacturing costs for Samsung, which is why we're seeing in more often in its lower cost models.
Single-threaded CPU tests ended us with good results when compared with similarly-spec'd devices.
Benchmark Pi
Lower is better
Samsung Galaxy S II Plus
409
Samsung Galaxy S II
452
Sony Xperia S
536
Sony Xperia go
543
Sony Xperia sola
551
Samsung Galaxy Fame
603
HTC Desire X
639
LG Optimus L7
773
Sony Xperia J
790
Sony Xperia E dual
800
Sony Xperia tipo
987
Sony Xperia miro
1037
Samsung Galaxy Ace Plus
1037
For our graphics benchmark, we went back to Nenamark 2, since unlike mid-rangers and high-enders, budget range devices don't max out this test. Broadcom's GPU fell in just below the Adreno 200 found on the Sony Xperia E dual.
NenaMark 2
Higher is better
Sony Xperia E dual
27.7
Samsung Galaxy Fame
26.9
HTC Sensation XE
23.0
Sony Xperia J
19.6
LG Optimus L7
19.3
Sony Xperia miro
15.9
Samsung Galaxy mini 2
15.4
HTC Explorer
15.1
Samsung Galaxy Y Duos
13.2
Samsung Galaxy Pocket
12.9
Samsung Galaxy Ace
12.0
Finally, for web browsing we turned to SunSpider and Vellamo, which each put the Galaxy Fame toward the bottom of the pack.
SunSpider
Lower is better
Samsung Galaxy S III
1447
Samsung Galaxy S II Plus
1460
HTC One S
1708
Samsung Galaxy S II
1849
Samsung Galaxy Nexus
1863
Samsung Galaxy Note 10.1
1891
Samsung Galaxy Fame
1966
HTC Desire X
2259
Sony Xperia E dual
2824
Sony Xperia tipo
3531
Sony Xperia miro
3532
LG Optimus L7
3661
Vellamo
Higher is better
Samsung Galaxy S III
1641
LG Optimus 4X HD
1568
LG Optimus G
1522
Meizu MX 4-core
1468
Google Nexus 4
1310
Samsung Galaxy Fame
1234
Sony Xperia E dual
1065