In the spotlight
Samsung Galaxy Fame review: In the spotlight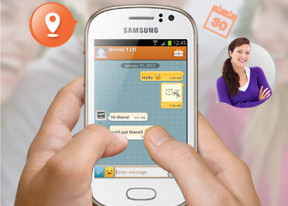 Organizer and apps
The Samsung Galaxy Fame comes with a number of cool apps preinstalled. One of the most prominent is the inclusion of the Quickoffice document editor, which lets you view the most common office document with ease, although you'll have to upgrade to the pro version to enable editing capabilities.
The S Planner is a skinned calendar that is easy to use with your fingers. The tabbed interface lets you easily toggle between year, month, week, day list and task views.
The S Planner app can sync with multiple calendars and you can switch off individual ones to reduce the clutter.
The clock app features is laid out across five tabs, each with a different function. The first tab lets you create multiple alarms (each with a distinct repeat time and ring tone), then there are the World clock, stopwatch, timer and desk clock tabs.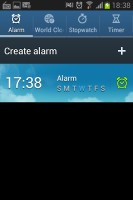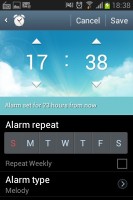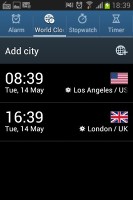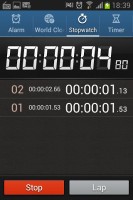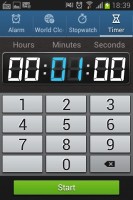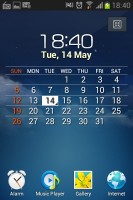 The Clock app handles many extras
The Calculator features big buttons, but you can enable one-handed operation to make things more manageable. The text size is adjustable and if you flip the phone horizontally, you get some advanced math functions too.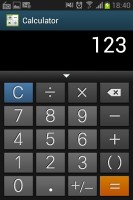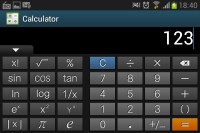 Calculator has adjustable font size and advanced math functions
The My Files app lets you browse all the files in your phones' memory or on an attached microSD card. The app is launched automatically when you hook up a USB mass storage device (a USB drive, another phone, an SD card etc), which we find to be a nice touch.
Google Maps with offline caching
The Samsung Galaxy Fame comes with a GPS receiver, which took about a minute to get satellite lock upon a cold start (it supports GLONASS for faster, more accurate locks too). You can use the A-GPS functionality to get near instantaneous locks. Alternatively, network positioning will also do if you only need an estimate of your location.
Google Maps is a standard part of the Android package and we've covered it many times before. It offers voice-guided navigation in certain countries and falls back to a list of instructions elsewhere.
3D buildings are shown for some of the bigger cities and you can use two-finger camera tilt and rotate to get a better view of the area.
You can also plan routes, search for nearby POI and go into the always cool Street View. The app will reroute you if you get off course, even without a data connection.
Google Maps uses vector maps, which are very data efficient. The latest version has an easy to use interface for caching maps - you just choose "Make available offline" from the menu and pan/zoom around until the desired area is in view (there's an indicator showing how much storage caching that area will take). You can later view cached areas and delete ones you no longer need.
Note that there's a limit to the size of the area you can cache - you can't just make all of Europe available offline, not even a whole country. We managed to cache London and some surrounding regions before Maps told us the area is too big. Also, there's no address search in the cached maps and you can only cache map data in supported regions of the world.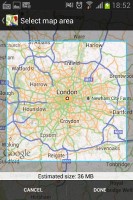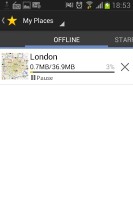 Making all of London available offline
Play Store
Recently, the Google Play App store received a visual update, complete with bigger, more easily visible app thumbnails. For the most part, though, the general functionality of the marketplace remains the same. The Samsung Galaxy Fame's microSD slot guarantees you won't have trouble with space.
The Store is organized in a few scrollable tabs - categories, home, top paid, top free, top grossing, top new paid, top new free and trending. The in-app section is very informative - a description, latest changes, number of downloads and comments with rating. There is usually a demo video and several screenshots for most apps too.