Telephony and loudspeaker
The Samsung Galaxy J7 (2017) is available in either a single-SIM or a dual-SIM version. We have the latter, and are more than happy to note once more that it has a dedicated microSD expansion slot accompanying the two SIM slots. No hybrid compromises here.
The new Samsung UX design has soaked through to the core features of the J7 as well. There are some notable differences, though, from the likes of the S8 and S8+ we recently reviewed. Some are surely dictated by hardware limitations, but then there are things like the omission of the new Places tab in the Phone app. Shame really, the local directory it provided was kind of neat.
Still, you get the familiar dialer, which can be summoned from any tab by tapping on the green button in the bottom right corner. And Contacts in the adjacent tab.
The Do Not Disturb mode can be put on an automated schedule. When it's on, only priority notifications can get through and you decide what counts as "priority" - it can be anything from calls by select contacts to reminders from key apps.
The Galaxy J7 (2017) has a single speaker at its disposal. It is positioned on the right frame above the power button, which, while a little unorthodox, should protect it from accidental muffling in most situations. It is also quite loud and scored a "Very Good" mark in our test.
| | | | | |
| --- | --- | --- | --- | --- |
| Speakerphone test | Voice, dB | Pink noise/ Music, dB | Ringing phone, dB | Overall score |
| Oppo R11 | 66.4 | 71.5 | 65.0 | Average |
| Sony Xperia XA1 | 61.7 | 69.7 | 71.8 | Average |
| Samsung Galaxy J7 (2016) | 64.5 | 71.0 | 68.9 | Average |
| Samsung Galaxy C7 | 67.3 | 67.8 | 72.8 | Average |
| Xiaomi Redmi Note 4 | 64.2 | 67.2 | 76.9 | Good |
| Moto Z Play | 62.9 | 70.3 | 77.0 | Good |
| Samsung Galaxy A5 (2017) | 66.4 | 66.2 | 78.0 | Good |
| Huawei Honor 6X | 68.4 | 67.0 | 79.1 | Good |
| Honor 8 | 67.1 | 66.2 | 82.6 | Good |
| Nokia 6 (Chinese version) | 63.0 | 70.2 | 85.2 | Good |
| Huawei P10 Lite | 68.5 | 72.5 | 80.1 | Very Good |
| Samsung Galaxy J7 (2017) | 67.8 | 71.2 | 83.1 | Very Good |
| ZTE Axon 7 | 66.4 | 72.2 | 84.1 | Very Good |
Text input
The Galaxy J7 (2017) uses the Samsung Keyboard, which long-time Samsung users swear by. It's quite feature-packed, with a dedicated numbers row, a row above that for word suggestions and additional characters on each key (accessible via long-press).
If that seems too tall, you can scale the keyboard down (or up, if you want bigger keys). We don't like that the Space bar is quite short, though.
Additional typing tools include swipe input, My Hot Keys (predefined phrases that can be typed by long-pressing a number key) and voice dictation.
Other apps
Samsung continues to bundle the Microsoft app package that includes Word, Excel, PowerPoint, OneDrive and Skype.
The Samsung-customized web browser makes use of the Samsung Pass service and features Web sign in - a password manager secured by your fingerprint. This makes logins as simple as unlocking the phone, and people can't peek over your shoulder to see your password.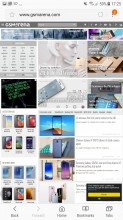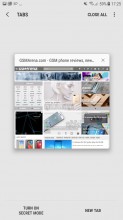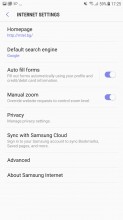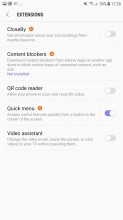 With the Samsung browser, your fingerprint is your password
S Health has been renamed to Samsung Health, but it's the same thing - it can fully utilize the heart rate and blood oxygen sensors. It also tracks walking/running/cycling, and you can manually input water and coffee intake and so on.
The My Files app is the default file browser. It features Google Drive and Samsung Cloud integration. You can ZIP folders to make them easier to share as a single file, and you can do batch actions.
All the other basics are covered as well and all executed in a consistent visual style. Clock, Calendar and Calculator are about as straight-forward and approachable as possible. Samsung Notes (formerly S Note) is a bit more feature-rich, but still pretty simple to use.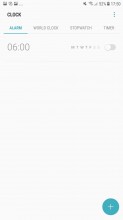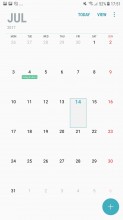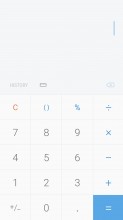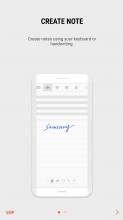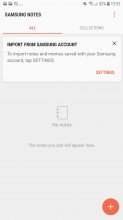 Clock • Calendar • Calculator • Samsung Notes
If you do find something essential missing, Samsung still maintains its own aptly named "Galaxy Essentials" app store. It is a good place to find great tools (like Kids Mode), but for general app shopping, you would probably be better off with Google Play.