The roadster
Samsung Galaxy Note 8.0 review: The roadster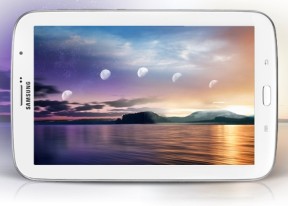 Organizer and apps
The Samsung Galaxy Note 8.0 comes with a good selection of preinstalled apps. A lot of them are centered on the S Pen, but there are some other nice additions as well.
First comes the Polaris Office document viewer. It lets you open word files, pdf's, spreadsheets and PowerPoint presentations, as well as connect to various cloud services such as Box, Dropbox, and Google Docs.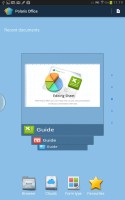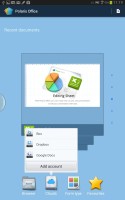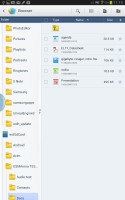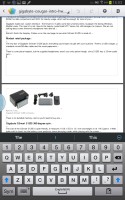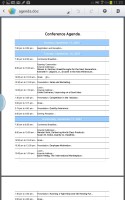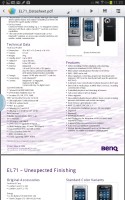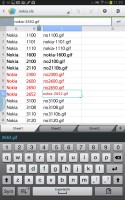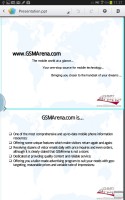 The Polaris Office document viewer
S Planner is a skinned calendar (the only one you get on the Note 8.0) that is equally easy to use with fingers and with the S Pen. The tabbed interface lets you easily toggle between year, month, week, day list and task views.
S Planner can sync with multiple calendar and you can switch off individual ones to reduce the clutter.
The S Note app offers several templates and you can enter handwritten notes, regular text with the on-screen keyboard (or handwriting recognition), complex mathematical formulas along with images and voice notes. You can also hit the record button to record the process of drawing too.
There's also a floating window version of the app.
Samsung has enabled their new S Cloud service on the Galaxy Note 8.0. It can sync contacts, calendar and S notes and back up logs, messages (SMS and MMS) and the wallpaper. You can choose not to back up some of those things and you can set up automatic backups.
S Cloud can also hook up to Dropbox. If you do this, photos and videos from your Dropbox account will be synced with the tablet's gallery. You can have the Note 8.0 sync those photos and videos only over Wi-Fi to save on data usage.
Oddly, instead of a clock app, the Note 8.0 features a few applications which perform some - but not all - of the same functions. Alarm lets you create alarms which can be set to go off not only at various times, but during certain days of the week as well. The World Clock pops up the various cities on a globe, letting you select them for a quick overview the local time zone.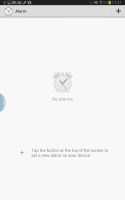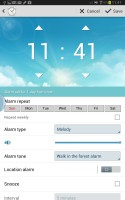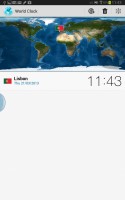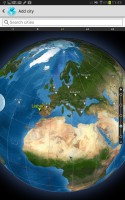 The Clock app handles many duties
The Calculator features big buttons, but you can enable one-handed operation to make things more manageable. The text size is adjustable and if you flip the Note 8.0 horizontally, you get some advanced math functions too.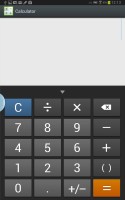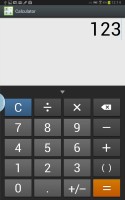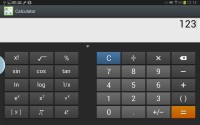 Calculator has adjustable font size and advanced math functions
The My Files app has an interface similar to that of the gallery, though that one is available only in landscape mode. The app is launched automatically when you hook up a USB mass storage device (a USB drive, another phone an SD card etc), which we find to be a nice touch.
Paper Artist imports a photo and runs a filter over it (there are plenty to choose from). Then you can go in with the S Pen and color certain areas.
Google Maps
The Samsung Galaxy Note 8.0 comes with a GPS receiver, which took about a minute to get satellite lock upon a cold start. You can use the A-GPS functionality to get near instantaneous locks. Alternatively, network positioning will also do if you only need an estimate of your location.
Google Maps is a standard part of the Android package and we've covered it many times before. It offers voice-guided navigation in certain countries and falls back to a list of instructions elsewhere.
3D buildings are shown for some of the bigger cities and you can use two-finger camera tilt and rotate to get a better view of the area.
Google Maps uses vector maps, which are very data efficient. The latest version has an easy to use interface for caching maps - you just choose "Make available offline" from the menu and pan/zoom around until the desired area is in view (there's an indicator showing how much storage caching that area will take). You can later view cached areas and delete ones you no longer need.
Note that there's a limit to the size of the area you can cache - you can't just make all of Europe available offline, not even a whole country. We managed to cache London and some surrounding regions before Maps told us the area is too big. Also, there's no address search in the cached maps and you can only cache map data in supported regions of the world.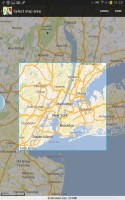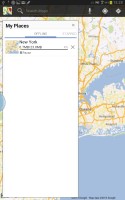 Making all of New York available offline
You can also plan routes, search for nearby POI and go into the always cool Street View. The app will reroute you if you get off course, even without a data connection.
Play Store
Running on Android Jelly Bean, the Samsung Galaxy Note 8.0 has access to the latest apps and the ample built-in memory plus the available microSD slot guarantees you won't have trouble with space. Still, keep in mind that some apps might have issues with JB at first, but those should be ironed out soon enough.
The Store is organized in a few scrollable tabs - categories, featured, top paid, top free, top grossing, top new paid, top new free and trending. The in-app section is untouched though and it's very informative - a description, latest changes, number of downloads and comments with rating. There is usually a demo video and several screenshots for most apps too.