The roadster
Samsung Galaxy Note 8.0 review: The roadster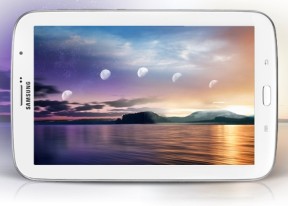 Synthetic benchmarks
The Samsung Galaxy Note 8.0 is powered by a Samsung-made Exynos 4412 Quad-core chipset with four Cortex-A9 cores clocked at 1.6GHz, 2GB of RAM and a Mali-400 GPU. We've put it head to head with some of the best quad-cores around.
It features the same internals as the Samsung Galaxy Note II, and while that may have been enough to top the charts back when the Note II was released, the pack has moved on since.
In Benchmark Pi the Samsung Galaxy Note 8.0 scores about the same as the Galaxy Note II, but is largely bested by most of the recently announced flagships out there.
Benchmark Pi
Lower is better
LG Optimus G Pro
147
HTC One
151
Sony Xperia Z
264
HTC Butterfly
266
Oppo Find 5
267
HTC One X+
280
LG Optimus G
285
Samsung Galaxy Note II
305
Samsung Galaxy Note 8.0
324
HTC One X (Tegra 3)
330
LG Optimus 4X HD
350
Samsung Galaxy S III
359
Meizu MX 4-core
362
Nexus 4
431
AnTuTu and Quadrant are similar stories - results which are more or less comparable to the last generation of flagship droids, but can't compete with current top models.
AnTuTu
Higher is better
HTC One
22678
Sony Xperia Z
20794
LG Optimus G Pro
20056
Samsung Galaxy Note 8.0
17159
Samsung Galaxy S III
15547
Oppo Find 5
15167
HTC Butterfly
12631
Quadrant
Higher is better
LG Optimus G Pro
12105
HTC One
11746
Sony Xperia Z
8075
HTC One X+
7632
LG Optimus G
7439
Oppo Find 5
7111
Samsung Galaxy Note 8.0
6942
HTC One X
5952
Samsung Galaxy Note II
5916
Samsung Galaxy S III
5450
Meizu MX 4-core
5170
LG Optimus 4X HD
4814
Nexus 4
4567
GLBenchmark 2.5 puts the graphics processor to the test, and the device rates towards the bottom half when offscreen fps are measured.
GLBenchmark 2.5 Egypt (1080p offscreen)
Higher is better
HTC One
34
Asus Padfone 2
31
Oppo Find 5
30
LG Optimus G Pro
29
Sony Xperia Z
29
LG Optimus G
29
Apple iPhone 5
27
Nexus 4
26
Samsung Galaxy Note 8.0
17
Samsung Galaxy Note II
17
Samsung Galaxy S III
15
HTC One X+
12
HTC One X
9
Epic Citadel, on the other hand, measures performance at native resolution, and posts some good numbers, beating out the Galaxy S III flagship.
Epic Citadel
Higher is better
Sony Xperia Z
55.6
LG Optimus G Pro
54.2
Nexus 4
53.9
Asus Padfone 2
53.4
LG Optimus G
52.6
Samsung Galaxy Note 8.0
46.3
Samsung Galaxy S III
41.3
Oppo Find 5
38.6
Finally, when it comes to JavaScript performance we got a pretty good results from the Note 8.0.
SunSpider
Lower is better
Samsung Ativ S
891
Apple iPhone 5
915
Nokia Lumia 920
910
Samsung Galaxy Note II
972
HTC One X+
1001
LG Optimus G Pro
1011
Samsung Galaxy Note 8.0
1016
Motorola RAZR i XT890
1059
HTC One
1124
Samsung Galaxy S III
1192
Meizu MX 4-core
1312
LG Optimus G
1353
HTC Butterfly
1433
Sony Xperia Z
1906
Nexus 4
1971
Oppo Find 5
2045