Performance
The iPhone XR has been the performance champion ever since it was announced thanks to Apple's A12 Bionic chipset. The CPU performance figures have been off the charts and because it has a lower display resolution than the more expensive XS and XS Max, it also does better in GPU tests.
However, Samsung has done a decent job catching up to Apple in the past six months. While the GPU performance still lags behind, the CPU performance of the new Exynos 9820 is surprisingly close.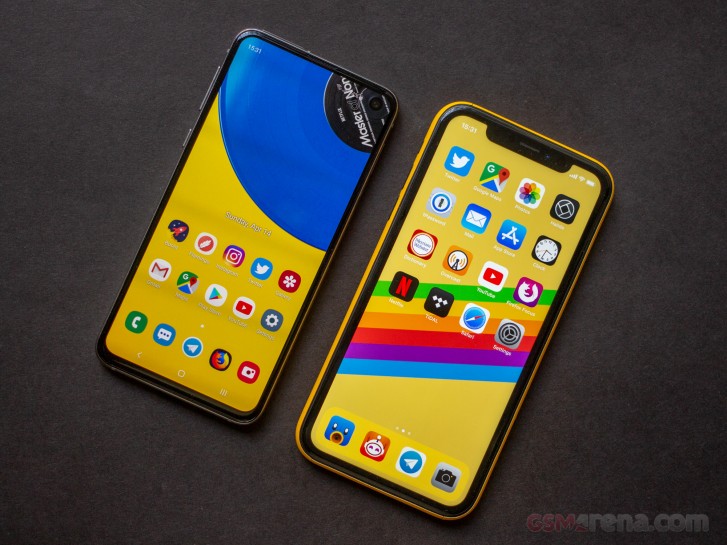 When it comes to everyday use, it's really hard to notice too much of a difference. In some ways, the iPhone does feel a bit slower but only because iOS has such dramatic, elaborate animations which go on forever and slow everything down. The S10e feels a bit snappier in comparison and you can make it feel even quicker by tightening up the animation speed in developer settings, something that's now possible on iOS.
Where the S10e struggles - and this is a problem endemic to Samsung phones - is with memory management. At 6GB, our S10e had twice as much memory as the iPhone XR but it didn't feel that way. While iOS tends to suspend application activity once an app has been in the background for a while, when you open the app it feels like you just closed it. You can open an app a day or two later on the XR and it would still be in the same state that you left it.
The S10e, meanwhile, chooses to aggressively close apps in the background once they have been left there for a while. You can sometimes open an app an hour later and it will start afresh on you. More importantly, opening apps from memory also takes a split second longer and you really feel that delay. The next time you close and open that app, however, it opens instantly. This means if you keep shuffling between a couple of apps, they will all open and close instantly but, say, open that sixth app in your task manager and the phone makes you wait a moment before it launches it.
It's amusing that while people used to laugh at the somewhat restrictive multitasking on iOS in the past, Android OEMs these days are now choking apps in the background at every opportunity to eke out every last bit out of that battery, essentially resulting in an experience that is worse than on iOS.
GeekBench 4.1 (multi-core)
Higher is better
Apple iPhone XR
11437
Samsung Galaxy S10e
10081
GeekBench 4.1 (single-core)
Higher is better
Apple iPhone XR
4818
Samsung Galaxy S10e
4518
AnTuTu 7
Higher is better
Apple iPhone XR
341196
Samsung Galaxy S10e
325192
GFX 3.1 Manhattan (1080p offscreen)
Higher is better
Apple iPhone XR
97
Samsung Galaxy S10e
67
GFX 3.1 Manhattan (onscreen)
Higher is better
Apple iPhone XR
60
Samsung Galaxy S10e
57
GFX 3.1 Car scene (1080p offscreen)
Higher is better
Apple iPhone XR
60
Samsung Galaxy S10e
42
GFX 3.1 Car scene (onscreen)
Higher is better
Apple iPhone XR
58
Samsung Galaxy S10e
40
Basemark OS 2.0
Higher is better
Apple iPhone XR
5908
Samsung Galaxy S10e
4470