Software extras
Both Samsung and HTC have spruced up the stock Android apps in different ways. The music player in particular will be an interesting comparison.
HTC continues its partnership with Beats (which it co-owns) and the music player features the Beats audio enhancement (in fact that's the only one, there's no custom equalizer). The results are pretty amazing with some of the best audio output yet.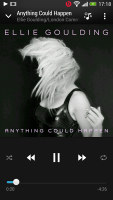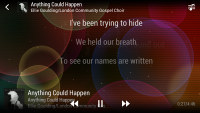 HTC One's music player features Beats and automatic lyric downloading
The music player also automatically grabs album art from Grace Note (can be set to only work over Wi-Fi) and can show fancy visualizations complete with karaoke-style lyrics. Having stereo loudspeakers on the front is a nice perk too.
There's SoundHound integration too, if you need song recognition and there's a built-in FM radio receiver, which gives it an edge over the Galaxt S4 (it's still an important feature to some).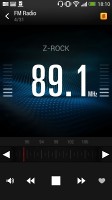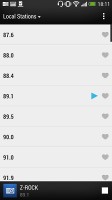 The One has an FM radio receiver
The Samsung Galaxy S4 relies on SoundAlive and My Sound. The latter helps you calibrate the player to match your headset by asking you to listen to a series of tones and determining the low and high frequencies the headset can reproduce.
Another nice setting is Auto Volume, which normalizes the volume between tracks (can be very useful when you have a mix from multiple albums and artists from different sources).
One interesting option - albeit with limited application - is Group Play. It uses a local Wi-Fi connection to group multiple phones together. That means you can play a track through the loudspeakers of all of them simultaneously, but also do other cool things like multiplayer games and shared display of documents. Only certain Samsung phones will get this feature though, so good luck trying it any time soon.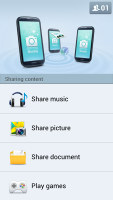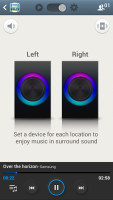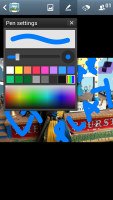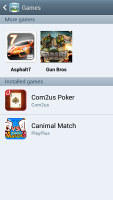 Group Play can link multiple supported Samsung phones
The multimedia battle continues with TV output. Both have wireless TV-Out over Miracast and can use MHL dongles for wired output.
The Galaxy S4, however, has much better video codec support out of the box, playing any file we threw at it, including subtitles. It has a pop up mode that shows the video in a small floating window. The dedicated Video app shows multiple videos playing simultaneously, a nice preview.
The HTC One cannot play MKV or DivX files (but works with XviD) and had some issues with audio codecs like AC3. It does have subtitle support built in, but you might want to head to the Play Store and pick up a more capable player for free, the Snapdragon 600 chipset will handle it.
While we're on the subject, we should remind you that both phones feature IR emitters and can control equipment at home - that includes TVs, your AV receiver, a projector, even air conditioners. Both can be at the heart of a cool home theater setup.
HTC One has Zoe - a powerful gallery that works with the advanced camera functionality for some cool effects. One of the best is Zoe Highlights - if you're shooting in Zoe mode, the camera will record 3 seconds of video with each photo you take and will alter assemble them on a video reel. It also allows for cool post-processing and image editing.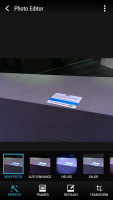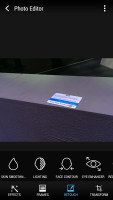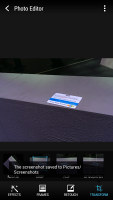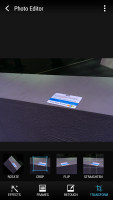 HTC Zoe has many photo editing features
The Samsung Galaxy S4 has cool image effects, but most of them have to be enabled at the time of shooting. There's a Story Album app, which automatically groups photos based on the time they were taken and the location, but it does nothing more than a collage.
The Galaxy S4 also has a number of other apps like S Health (fitness and diet tracking), a translator (for text and audio) and Samsung's ChatOn service that allows for simple text chats, but also video calls (with two people at the same time) and screen sharing.
HTC Takes pride in its Transfer content feature that allows you to easily pull the contacts off your old phone and onto the One. This includes reading an iPhone backup file to extract the relevant info.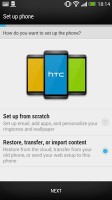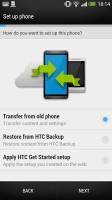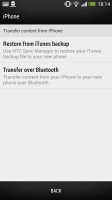 HTC One can easily pull contact info from your old phone
Winner: Tie. We'd say this one is even since both phones are close on the important features and any holes can easily be filled with apps from the Play Store. The Samsung Galaxy S4 does have more as far as numbers go, but some of them have very limited application so they don't count. The HTC One instead sets itself apart with a few - and handy - features.
Loudspeaker test
Update: We re-ran the loudspeaker with a different Galaxy S4 unit, which performed a bit better in the Voice section of the test.
We also tested the loudspeakers of the two handsets. Neither is exceptionally loud, both scoring a Good mark. Still, the One has the advantage of stereo sound directed at you while watching videos and playing games and it the speakers don't get muffled.
| | | | | |
| --- | --- | --- | --- | --- |
| Speakerphone test | Voice, dB | Pink noise/ Music, dB | Ringing phone, dB | Overal score |
| Sony Xperia Z | 60.1 | 58.3 | 61.6 | Below Average |
| Apple iPhone 5 | 66.8 | 66.1 | 67.7 | Below Average |
| Nokia Lumia 920 | 61.6 | 64.8 | 65.8 | Below Average |
| HTC One X+ | 64.6 | 65.8 | 74.6 | Average |
| Asus Padfone 2 | 57.3 | 66.7 | 77.8 | Average |
| HTC Butterfly | 69.0 | 70.7 | 77.9 | Good |
| Oppo Find 5 | 70.7 | 67.7 | 73.0 | Good |
| HTC One | 69.3 | 66.6 | 75.9 | Good |
| Samsung I9505 Galaxy S4 | 70.6 | 66.2 | 77.3 | Good |
| Google Nexus 4 | 71.1 | 66.6 | 78.8 | Good |
| Samsung Galaxy S III | 75.1 | 66.5 | 75.0 | Good |
| LG Optimus G | 74.6 | 71.3 | 82.7 | Excellent |
Winner: HTC One. The Galaxy S4 is a tad louder, but the HTC One takes this one with well-positioned stereo speakers and far nicer sound in general.
Audio quality
Both smartphones did greatly in our dedicated audio quality test. Last week when we reviewed the HTC One we found it to have the best audio output of any smartphone we have tested over the past few years, but the Samsung Galaxy S4 didn't go down without a fight.
In fact, we were shocked to find out that the Samsung flagship had a cleaner output than the HTC smartphone. While both are perfect when attached to an active external amplifier, the Galaxy S4 remained just as great when we plugged in a pair of headphones, while the HTC One took a hit to its stereo crosstalk.
Still, it's a difference that's very hard to detect without lab equipment, so for purposes practical the two are on par. What is not so hard to hear is the difference in volume levels - the HTC One is notably louder than the Samsung Galaxy S4 in both test scenarios.
And here go the results so you can see for yourselves.
| | | | | | | |
| --- | --- | --- | --- | --- | --- | --- |
| Test | Frequency response | Noise level | Dynamic range | THD | IMD + Noise | Stereo crosstalk |
| HTC One | +0.11, -0.14 | -92.4 | 91.2 | 0.0012 | 0.013 | -92.4 |
| HTC One (headphones attached) | +0.16, -0.07 | -92.1 | 90.9 | 0.014 | 0.055 | -70.8 |
| Samsung Galaxy S4 | +0.03, -0.08 | -95.9 | 93.2 | 0.0030 | 0.0092 | -96.4 |
| Samsung Galaxy S4 (headphones attached) | +0.03, -0.08 | -96.0 | 93.3 | 0.0031 | 0.089 | -95.5 |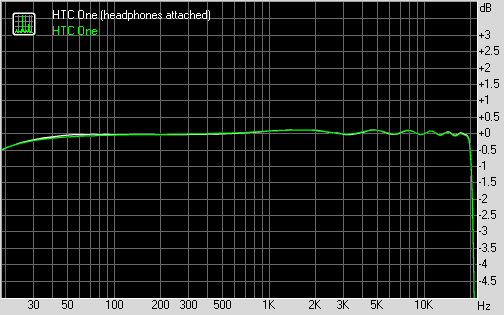 HTC One frequency response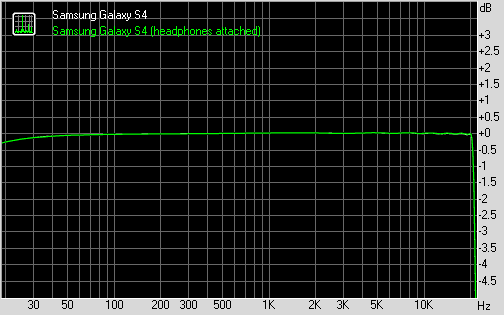 Samsung Galaxy S4 frequency response
You can learn more about the whole testing process here.
Winner: HTC One. The extra high volume levels of the HTC flagshipp helped it to the victory in this incredibly close contest.