Samsung Galaxy S9+ hits Geekbench with record-breaking scores for Android
With less than a week to go until their official announcement on Sunday, a few hours ago almost every single detail regarding Samsung's Galaxy S9 and S9+ was leaked. And yet, while we've already seen the Exynos-powered S9 going through Geekbench, it's only now that its sibling's run has been added to the benchmark's database.
The S9 already had very respectable results, with a single-core score of 3,648 and a multi-core score of 8,894. The S9+, however, beat even that, as you can see, scoring 3,773 and 9,024, respectively.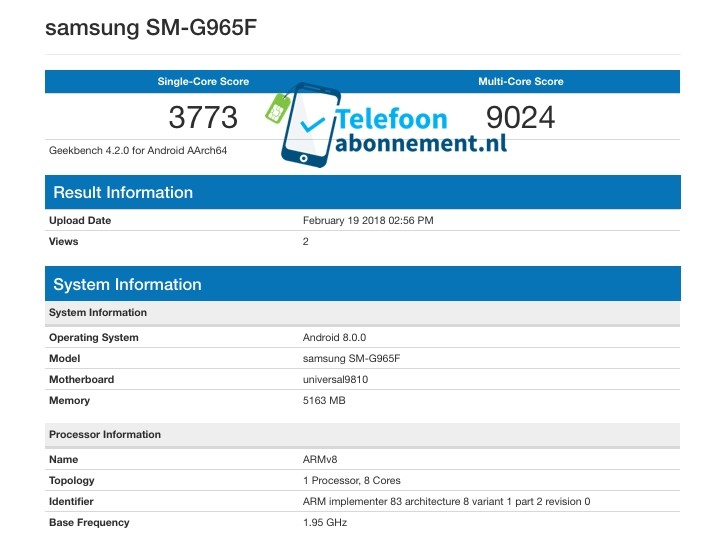 To put that result into perspective, consider that in Geekbench's most recent Android chart, the S8 duo both scored on average around 1,950 single-core and 6,400 multi-core. The best result of the S8+ was 2,159 single-core and 7,235 multi-core. Thus, the performance improvements brought by the new Exynos 9810 SoC in this particular benchmark, compared to the Exynos 8895 in last year's Samsung flagships, are simply staggering.
The Snapdragon 845 version of the S9+, which will be sold in some markets including the US, only managed to achieve a 2,422 single-core score and 8,351 multi-core score, when it was spotted on Geekbench back in December. So there's going to be quite the difference between this and the Exynos model which will be offered in most of the world.
Additionally, the scores posted by the S9+ are approaching latest iPhone territory - the iPhone 8, 8 Plus, and X all average around 4,200 single-core and 10,100 multi-core. It is then safe to assume that raw horsepower will not be lacking in the Exynos version of the S9+, which also comes with 6GB of RAM, 2GB more than the S9.
Via (in Dutch) | Main image source
?
Not even that entirely. Though supposedly under intense gpu load the 835 actually became more efficient. Almost flipping the efficiency if the two around.
D
Good to know that it has improved. However, I think to see the real difference in frame rates, you have to try stock Android Pixel or Android One phones.
ADVERTISEMENTS