Take two
Samsung Galaxy Tab 2 7.0 review: Take two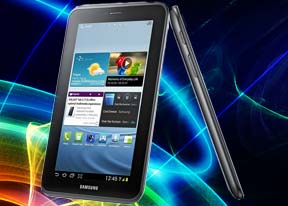 Final words
Entry into the realm of Android tablets can hardly get any easier than with the Samsung Galaxy Tab 2 7.0 in your hands. The tablet offers a capable hardware and solid build quality, to go with a low price tag for the entry-level model. The camera is decent, despite the small sensor, while the TouchWiz-ed Android Ice Cream Sandwich offers one of the most polished software experiences with Google's own OS.
Of course, not everything about the slate is perfect with the most notable letdown being the PLS LCD display. It is far from being the greatest around. At this price point however, expecting anything more would simply not make sense.
Like we already mentioned to you, the Samsung Galaxy Tab 2 7.0 is aggressively priced at $249.99 for the entry-level version with 8GB of built-in memory. The entry-level price point has become increasingly popular with manufacturers lately, so here are a couple of other options.
The most obvious alternative to the Samsung offering is the Amazon Kindle Fire. Priced at $199.99, it is cheaper and offers the same internals as the Samsung slate, coupled with a better screen. The lack of camera and expandable memory however should make you think twice about grabbing one of those. Not to mention the restricted, non-Google Play supporting version of Android 2.3 Gingerbread, which the Kindle Fire boots.
The Acer Iconia Tab A100 is from last year's crop of 7" tablets. It costs as much as the Samsung, but packs NVIDIA Tegra 2 silicon. If you look hard enough, you can find this one at a serious discount so it might be worth a look.
The Google Nexus 7 is also a mighty good option. Quad-core CPU, bundled with a bag full of jelly beans sounds great to us. If you are an Android purist, this should be your top choice. Keep in mind however, that the Asus-made tablet lacks expandable memory, which might turn out a rather big deal. Also, TouchWiz user interface is much more user friendly than the stock Android one.
More participants in the segment of entry-level tablets are bound to enter in the coming months - most manufacturers have realized that trying to beat Apple's iPad in the $500 price range is not as easy as it might have seemed. The Samsung Galaxy Tab 7.0 2 is not exactly the most powerful option around, but thanks to it overall polished nature, is surely bound to appeal to many.