The Professional
Samsung Galaxy Tab Pro 8.4 review: The Professional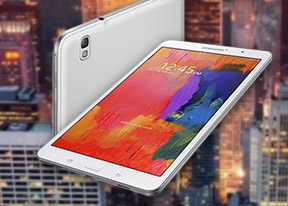 Premium apps
Samsung has positioned the Galaxy Tab Pro 8.4 as the premium tablet and as such it comes with a rich app package that most other tablets don't get (even other Galaxy Pro tablets). These are mostly centered around doing work.
The usual suspects - Flipboard, Dropbox (with 50GB for two years bonus), Evernote and TripAdvisor - are on board.
More interesting are the Office apps from Hancom Office - Hword, Hcell and Hshow. They feature interfaces similar to the desktop Microsoft Office apps, meaning they are busy with tons of buttons. While they can be operated with a finger, we get the feeling it would be more comfortable to use a mouse with those.
It's hard to use those apps without an external keyboard too - the large QWERTY just takes up too much space (from what little was left with such a complicated app UI). It's a good thing you can switch to one of the less intrusive on-screen keyboards in a pinch.
Don't think that we're knocking these apps - they really do feel like a desktop Office package and we think this is intentional. For one, it would make people who are not tech savvy feel right at home and also they are packed to the rafters with features.
This is followed up by two collaboration apps - Cisco WebEx and Samsung e-Meeting. The first handles conferencing (and even sharing what's on your screen), while the second handles sharing content peer-to-peer without the need for an intermediate server.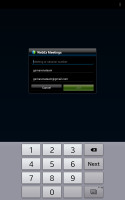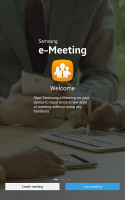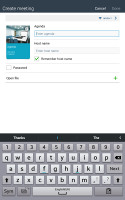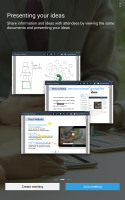 WebEx meetings pairs well with e-Meeting
There's more - if you're going to connect a keyboard and mouse to the Galaxy Tab Pro 8.4, you can just as well launch the Remote PC app, which does just what it says on the tin. It gives you remote access to your home or office PC, which works rather well on the tablet's high-resolution screen.
The premium app package doesn't end here, Samsung is promising up to $700 of value in content downloads. A lot of that is for subscriptions - you get a one year subscription to BusinessWeek+, 12-week one to NY Times, a 6-month one to Livesport.tv, a 3-month one for LinkedIn premium, plus a free Oxford's Advanced Learners Dictionary. Those are all available for download over at Samsung Apps repository for free.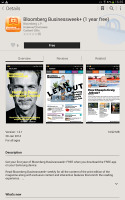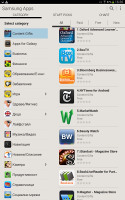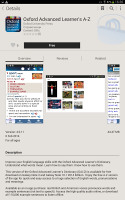 Free premium apps in the Samsung Apps store
Other apps are included as well, like Bitcasa, which offers a lot more storage than Dropbox - a whopping 1TB - but the subscription is for three months only. Note that the RemotePC service is also subscription based (you get 2 years) and so are Evernote (3-12 month subscription, market dependent) and LinkedIn (3 months Premium Membership).
App repositories
Google's Play Store is one of the biggest mobile app stores and offers amazing amount of applications, so whatever you need, you'll find it here.
You can also check out comments and ratings, as well as the number of downloads and so on, to help you decide if the app is worth it. Google has added a small "designed for phones" warning for apps that don't have tablet interfaces. Those can look bad on the large screen, so it's nice to be warned beforehand.
Samsung has naturally included its own Apps store. It features largely the same type of interface as Google Play, except here you'll find a far lower number of apps. The good news is Samsung uses this repository to distribute some exclusive titles and some promotional offers, available only to its customers.