Hardware
Both sizes of the Galaxy Watch pack Samsung's Super AMOLED displays with a resolution of 360x360. The 46mm Galaxy Watch's screen size is 1.3" resulting in 282 DPI, while the 42mm variant has a physically smaller screen at 1.2" but with a higher pixel density of 302 DPI.
Display quality and color rendition is up to Samsung's usual standards with content looking simply fantastic while the light sensor is used accordingly to deliver a display that we could view in all lighting conditions.
The other notable difference resulting from the physically smaller 42mm Galaxy Watch, as expected, is that it has a reduced battery capacity of 270mAh as opposed to the larger Galaxy Watch's 472mAh. Samsung quote up to 7 days battery life on the Galaxy Watch 46mm model, and up to 4 days on the 42mm model based on light usage. We'll cover this in more detail later.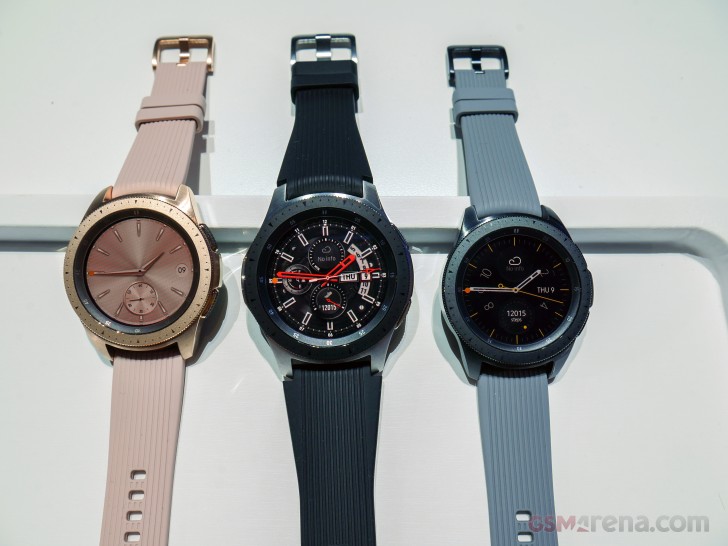 42mm Rose Gold (left), 46mm Silver (middle) and 42mm Midnight Black (right)
All variants of the Galaxy watch use Samsung's new Exynos 9110 Dual core SoC running at 1.15GHz. This more efficient 10nm SoC was developed specifically for smartwatches and should liberate extra battery life when compared to the 14nm Exynos 7270 SoC that powers the Gear S3 and Gear Sport.
The new 9110 SoC appears to be up to snuff, during our time with the Galaxy Watch, the UI remained smooth at all times and we experienced no slowdowns or other performance related issues with apps.
While the new processor is a welcome improvement, the jury's out on Samsung's decision to stick with only 4GB of storage for apps and media. Out of the box (or bubble wrap in our case) following the installation of the Spotify app, transferring over our 52MB 10 track test album (encoded at 160 kbps) and having taken a few screenshots, we were left with 1.43GB free. We envisage that media or app heavy users could struggle.
768MB of RAM keeps things ticking along, while if you spring for the LTE variant RAM is doubled to 1.5GB. The higher memory capacity of the LTE model may lead to better overall performance, but aren't able to verify that.
In addition to the new heart rate sensor, the Galaxy Watch's fitness capabilities are bolstered by the usual suspects that include an accelerometer, barometer and gyro sensor.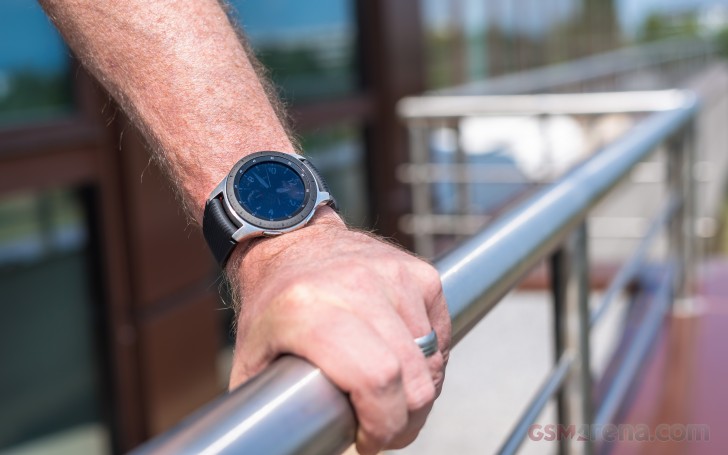 Connectivity is handled by Bluetooth v4.2 to pair to your smartphone and wireless earphones. Wi-Fi 802.11 b/g/n 2.4Ghz allows the Galaxy Watch to connect to your wireless networks. With the 3G/LTE variants with their embedded eSIM break your dependence on your smartphone entirely.
Samsung Pay support comes courtesy of NFC as Samsung appears to be abandoning the MST functionality which allowed it to emulate any of your cards that are secured only by a magnetic strip. It's worth noting that unless you have a Samsung Pay supported smartphone, you can't set up and use Samsung Pay on the Galaxy Watch.
Location tracking is provided courtesy of the on-board GPS/GLONASS.
Revised HRM
Samsung hasn't made any particular claims regarding the HRM but the sensor looks to be an all-new module specifically for the Galaxy Watch.
Virtually every smartwatch packing a heart rate monitor uses Photoplethysmography. Blood is red because it reflects red light and absorbs green light. Therefore, by using green flashing LEDs, paired with photodiodes that measure the amount of light absorbed, our smartwatches are able to detect the amount of blood flowing through the wrist.
The new sensor on the Galaxy Watch combines a single green LED with 4 photodiodes, whereas the Gear S3 and Gear Sport combine 2 green LED's with 1 photodiode. For comparison, our Garmin Fenix 5 uses 3 green LED's combined with 1 larger photodiode, while the Apple Watch employs a pair of green LED's with a pair of photodiodes.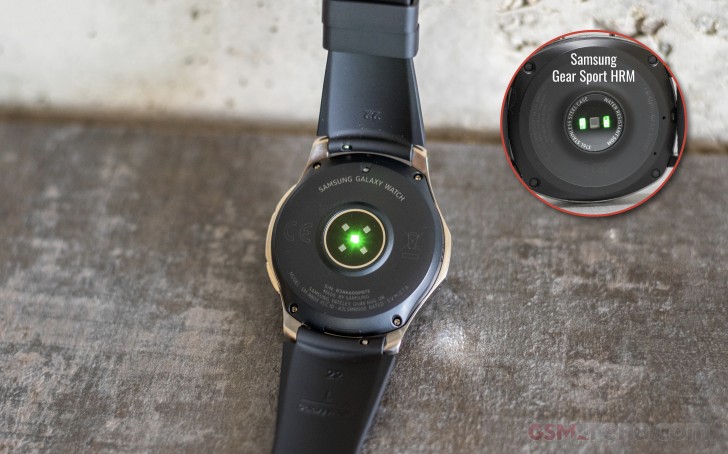 During our Samsung Gear Sport review, our comparative tests of the HRM were quite damning. So we're excited to determine if this new arrangement makes a tangible difference, more on that later.
The Galaxy Watch will sample your heart rate continuously throughout the day with the sample rate being configurable between Always (this will impact battery life), Frequent (every 10 minutes) & Never.
The fitment of the HR sensor on the Galaxy Watch stands proud of the rear case by 1mm. We're fans of this approach for HRM's as it ensures the sensor gets better contact with the skin for improved accuracy whilst not feeling noticeable during everyday wear.
Battery Life
The lights are kept on with a 472 mAh battery in our 46mm Galaxy Watch, the largest battery Samsung has ever put in a smartwatch. While the smaller 42mm Galaxy Watch's battery has only 57% of the capacity of the larger 46mm variant with its 270mAh battery.
Leaving the charging dock at the office - a risky move we know, we strapped the Galaxy Watch to our wrist and left for a long weekend during which we'd undertake our usual weekend routine, including a smattering of our usual sports - nothing more, nothing less. Consciously, we'd avoid using the watch for curiosities sake and to show it off to our friends and family to best represent our real world usage.
A few points worth mentioning though:
We left the Bixby voice command active, always listening for 'Hi Bixby'.
Our intrigue regarding the new HRM module and stress tracking ensured that we set 'Auto HR setting' and 'Auto stress setting' to 'Always' to get the most accurate readings throughout the day and night. This would for sure increase our battery usage, a hit we were willing to take for the added insights.
We added both the 'office' and 'home' Wi-Fi networks to the watch and set Wi-Fi to 'Auto' within settings. The only other settings we tweaked were in relation to the display settings:
Brightness = 50%
Auto low brightness = on
Screen timeout = 15 secs
Standard 'Frontier' watch face selected
Battery management was set to 'Default'
With a 100% charge, the Galaxy watch estimated a battery life of 2d 13h 32m. 'Power saving' would yield 7 d 3h 6m at the expense of a grey-scale Home screen, turning off all functions except calls, messages, notifications, turning off Wi-Fi and limiting performance. While the 'Watch only' mode would liberate 41d 21h 15m worth of usage for us if we so chose.
During the test, as we were still away from the office when the watch hit 11% we enabled the 'power saving mode' to avoid any battery life anxiety. This 'power saving mode' eked out an additional 12 hours of life.
Despite the not so scientific nature of this test, the Samsung Galaxy Watch lasted an impressive 4 days 5 hours and 30 minutes before it died, and don't forget that was with 24x7 heart rate and stress monitoring active.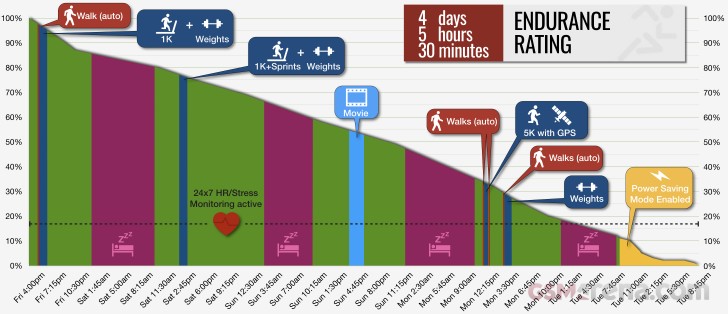 Samsung Galaxy Watch battery usage chart - select for larger view
'Plopping' the Galaxy Watch onto the supplied 5v dock resulted in a fully charged battery in 2 hours and 51 minutes.
Samsung have confirmed to us that the Galaxy Watch conforms fully to the QI Wireless charging standard. At no point though could we get it to charge on any of our wireless pads other than the supplied Samsung Dock and the new Samsung Wireless Charger Duo announced at the same time as the Galaxy Watch. This is likely a result of the shape of the rear of the Galaxy Watch - not a deal breaker but don't go thinking that you can utilize the random charging pads you already have sitting around your home/office.
Theoretically, if we use our real-world test above as a baseline, and we make the assumption that the display of the 42mm Galaxy Watch draws the same power - the smaller Galaxy Watch would have lasted circa 2 days and 4 hours owing to its smaller battery capacity.
Additional battery tests
Our 1-hour Music Playback test using the Samsung Music app and to playback local content, connected to our Dr Dre BeatX headphones at full volume depleted the battery by 8%.
Our 1-hour GPS test depleted the battery by 4%.
This means, potentially, that you could track your marathon while listening to music and still have juice to spare at the finish line.