Smarter direction
Samsung Gravity SMART review: Smarter direction

Organizer makes the cut
Coming to the organizing skills of the Gravity SMART we have almost no complaints. It has a nice preload of apps and those that are missing can be downloaded through the Android Market easily and in no time.
The calendar app is very good. It has four different types of view - agenda, daily, weekly and monthly. Adding a new event is quick and easy, and you can also set an alarm to act as a reminder.
The agenda view shows a list of all the calendar entries from the recent past to the near future. It's a very handy tool when you need to check your appointments for the next few days.
There is also a calculator aboard. It is nicely touch optimized – the buttons are big enough and easy to hit. The voice recorder is good too and offers the same usability as on a Galaxy S.
The alarm clock app is decent and allows a huge number of alarms to be set, each with its own start and repeat time. But you don't have the Stopwatch, the Timer and World Clock options.
As usual, Samsung has included the My Files app – a simple to use but functional file manager, which also doubles as an image gallery. It can move, copy, lock and rename files in bulk, even send multiple files over Bluetooth. It will only browse the memory card.
You also have the notes application on board. It's great and offers perfect usability. You can store as many notes as you like and even change the color of the note.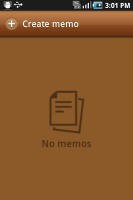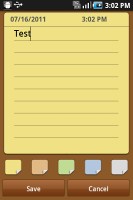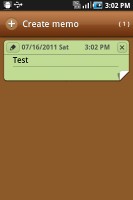 The familiar TouchWiz notes app
Overall, the organizer package of the Gravity SMART is doing a great job. The only major item missing is an office editor out of the box. This is not really a surprise given the target audience of the device. You are however, welcome to explore the Android Market and find a solution to this minor problem.
Android Market keeps getting better
The Samsung Gravity SMART is running on Android version 2.2 (Froyo) so it's a little behind its family members. The Android Market is where you can download thousands of apps for whatever you can think of and the device will have no problems running them.
The structure of the Android Market is quite simple – featured apps on top and above them, three sections (Applications, Games and Downloads). There is also a shortcut up there for initiating a search.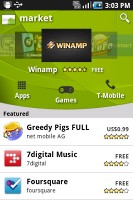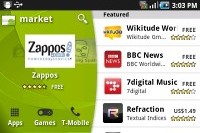 The Android Market will give you access to over 100 000 applications
The Applications and Games sections are divided into subsections (e.g. Communication, Entertainment etc.) so you can filter the apps that are relevant to you. Of course, there is also an option of displaying them all in bulk, but you'll probably need days to browse them all that way.
There are all kinds of apps in the Android market and the most important ones are covered (file managers, navigation apps, document readers etc.).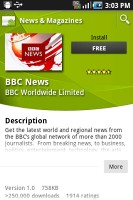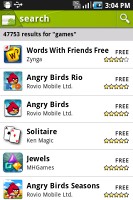 The apps description and search results
The Gravity SMART will run effortlessly just about any app from the Android Market today. The only ones we would not recommend you are the latest graphic intense video games. The phone's hardware is obviously a limitation which will affect your experience negatively.
Google Maps is a must
The Samsung Gravity SMART packs a GPS receiver, which got a satellite lock in about five minutes with A-GPS turned off. A-GPS can speed this up quite a bit, but requires Internet access.
Google Maps is on board, complete with Navigation, including public transportation directions from the latest update, which can do voice-guidance for free. Availability is not a problem in the United States.
Still, even without Navigation, there is some kind of guidance: your route and current location appear on the screen so you'll reach your destination eventually, but you'll need a co-pilot to read you the instructions for that one.
Google Maps has evolved a lot since it came into being. The latest version offers a nice 3D looking render of the buildings, along with a number of location based search options.
Quite naturally, the app also supports the Street View mode. In fact, this mode is probably the best part of Google Maps. If the Street View is available in the area you're interested in, you can enjoy a 360-degree view of the surroundings. When the digital compass is turned on it feels like making a virtual tour of the location!
With such a complete package which keeps getting better, Google Maps needs no alternative at the moments. Should you decide that you want to be different, you can explore the Android Market for other options. Just keep in mind that they will be paid and will come short from the Google experience.
Apps from T-Mobile and Samsung
As a carrier branded device, the Samsung Gravity SMART comes with several preloaded apps which are worth noting.
The AllShare app for example allows you to stream your Samsung's content to another device over your Wi-Fi network. Its setup is easy and intuitive.
Lookout is an app which helps you backup your device and protect it from the lately popular malware and spyware attacks on Android. Its most important option however, is helping you locate your precious droid in case it is lost or stolen.
Finally, you get Wi-Fi calling which has been a T-Mobile staple for some time now. For an additional $10 towards your wireless plan, you can make unlimited calls over a Wi-Fi network. The setup is easy and the potential to save money is huge.