Through different eyes
Samsung I9003 Galaxy SL review: Through different eyes

Telephony works like a charm too
The I9003 telephony department remains unchanged after the updates. Considering that there isn't a worthy feature that we can think of that was unavailable before that's hardly a surprise though. We had no reception troubles or in-call voice quality issues either.
Smart Dial is here with one of the best implementations we have seen. The I9003 Galaxy SL searches both contact numbers and names. The number of results found is displayed next to the first pick and if you press that button the whole list appears.
Thanks to the proximity sensor, your screen will automatically turn off during a call. The available options during a call include taking a note, using the keypad, muting, holding the call or adding another call to this conversation.
The call log is the tab next to the dial pad. It shows all the dialed, received and missed calls in one list sorting your call history by contacts. There're also favorites and frequent contacts lists that show your starred contacts alphabetically and the numbers you have dialed most often by number of calls.
Unfortunately, the loudspeaker performance remained below par. The I9000 was one of the quietest handsets we have put through our traditional loudspeaker test and even though the I9003 does a bit better it still fails to impressive. You should definitely keep a close eye on this one in noisier environments.
Speakerphone test
Voice, dB
Pink noise/ Music, dB
Ringing phone, dB
Overall score
Samsung I9000 Galaxy S
66.6
65.9
66.6
Below Average
Samsung I9003 Galaxy SL
68.5
66.2
70.3
Average
HTC Desire HD
69.7
66.6
78.3
Good
Nokia N8
75.8
66.2
82.7
Very Good
HTC Desire
76.6
75.7
84.6
Excellent
You can find out more about our test here.
All-round messaging
The SMS and MMS messaging section is quite straightforward and simple - there are no folders here, just a new message button. Under that button is a list of all your messages organized into threads.
Swiping on a message header will do exactly the same as in the phonebook – a left swipe starts a new message, while swiping to the right will start a call.
There's application-specific search that lets you quickly find a given message among all your stored SMS and MMS.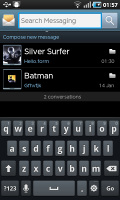 Searching for a specific message
To add message recipients, just start typing the corresponding name or number and choose from the contacts offered.
Any unsent messages and drafts are marked with a "Draft" label so you can tell them apart from the rest. What we really like is that each thread keeps the text in the tap-to-compose box even if you exit without sending it or explicitly save it.
If you wish to manage a specific message in the history, you can press and hold a message to bring up options such as edit, forward and delete as well as view details and copy message text.
A press-and-hold in the tap-to-compose area gives you access to functions such as cut, copy and paste. You are free to paste the copied text across applications like email, notes, chats, etc. and vice versa.
Converting an SMS to MMS is logical and easy. When you add multimedia content to the message, it is automatically turned into an MMS. You can just quickly add a photo or an audio file to go with the text or you can choose to go into a full-blown MMS editor, depending on your needs.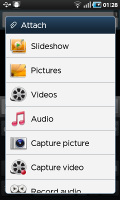 Adding any multimedia content automatically turns an SMS into an MMS
Moving onto email, the Gmail app supports batch operations, which allows multiple emails to be archived, labeled or deleted. Multiple Gmail accounts are supported.
There is also a generic email app for all your other email accounts and it can support multiple POP or IMAP inboxes. You have access to the original folders that are created online, side by side with the standard local ones such as inbox, drafts and sent items.
The I9003 Galaxy SL also sports a combined inbox, which brings together all your mail in a single folder so you don't need to check each one for new mail. This can be quite handy if you have lots of accounts and you just want to check if there is a new message needing your attention.
As far as the text input options are concerned, the I9010 Galaxy SL GA comes with the Samsung home-backed keyboard preinstalled. It's actually much more comfortable (and accurate!) than the often criticized stock Android QWERTY.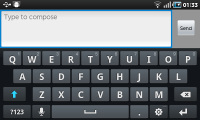 The Samsung keyboard is pretty comfortable
And if you are for the ultimate speed there's also Swype onboard. The innovative text input solution that took over the world is responsible for all current typing speed records. It does take some time to get used to, but after that it might even give you a chance to rival some hardware keyboards.