The whole nine yards
Samsung i900 Omnia review: The whole nine yards

Samsung's very own phonebook is nice
Contacts management is usually considered one of the strongest points of Windows Mobile. You have an unlimited contact list, unlimited info fields for each contact and excellent synchronization options. However, the small font and tiny fields make the stylus a must when you are looking up a contact or editing its details.
Samsung have chosen to replace the contacts list with a touch optimized application of their own. It's accessible from the Samsung MainMenu and it's rather iPhone-like, or let's say iPhone-inspired. You can scroll the contacts by dragging your thumb across the display or quickly jump to a letter (iPhone way). The contacts list can be easily sorted by memory (Phone or SIM), by Name, company or Category, or you can easily search by gradual typing.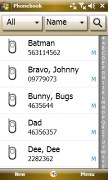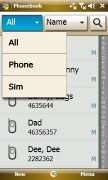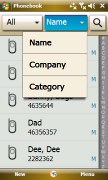 The thumb-optimized Samsung phonebook application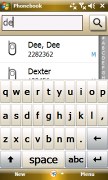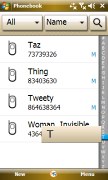 Searching via typing or by letter
The contacts are presented in a rather thumbable way. Only if you want to edit a contact's details, you get transferred to the regular Windows Mobile interface.
When editing a contact you have a plethora of available info fields - and if by any rare chance, those are not enough, you can always rename some of the existing ones to use as you like.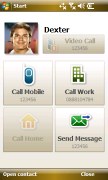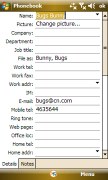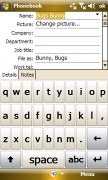 A single contact's info is handy, but when you start editing you still get the WinMo interface
The touch-optimized Phonebook may not be good at editing, but it has a handy delete mode.
The usual Windows Mobile phonebook is also available. The only advantage it brings is the Last Call field that appears when you preview a contact. It's quite handy to have the last time you called that person and it's a feature unique to Windows Mobile.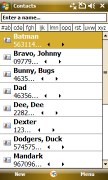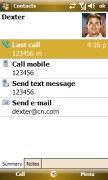 The regular WinMo phonebook • the last call field is something we like
Call management
The Phone application of the Samsung i900 Omnia offers a large dial pad but probably its most useful feature is the Smart dialing. With Smart dialing you hardly ever need to go to the Contacts list in order to dial a number - just start typing a name or a number and you get all the matching entries from both the contacts list and the calls log.
Samsung have gone so far in replicating a regular phone's dial pad, that even a long press on the # key starts the "Vibrate only" silent ringing profile.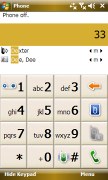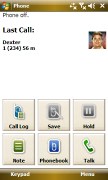 The i900 Omnia Phone app has Smart Dialing • the Omnia context keys during a call
During a call the Samsung Omnia locks the display until your call is over. To unlock it during a call you need to press the touchpad once. If you don't touch the display within a short while afterwards, it automatically locks again.
Thanks to the built-in accelerometer you can also mute an incoming call by simply turning the phone face down on the table. If you turn the Omnia over again, muting gets released and the ringer resumes.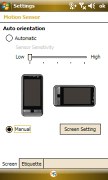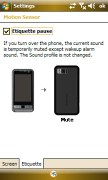 Setting up screen auto rotation and the flip-to-mute feature
As part of our reviewing routine we measured the loudspeaker performance of the Samsung i900 Omnia and compared it to a few other smart devices. One thing's for sure - you won't miss any incoming calls as the Omnia is loud enough to score the Good mark. Unfortunately, the retail Omnia that we received was not as loud as the beta unit used for the "Diamond vs. Omnia" article that you probably remember. But still, the difference amounts to a couple of decibels. The results displayed in the table are from the retail unit.
Here's how it ranks. You can find more details about our test, as well as the results of all other tested handsets here.
| | | | | |
| --- | --- | --- | --- | --- |
| Speakerphone test | Voice, dB | Pink noise/ Music, dB | Ringing phone, dB | Overal score |
| Apple iPhone | 67.2 | 60.2 | 66.6 | Below Average |
| LG KS20 | 66.1 | 70.6 | 64.9 | Average |
| HTC Touch Diamond | 66.7 | 75.9 | 66.0 | Good |
| HTC Touch Cruise | 68.8 | 66.6 | 74.2 | Good |
| Nokia N95 8GB | 75.7 | 66.2 | 70.5 | Good |
| Samsung i900 Omnia (retail) | 70.2 | 64.8 | 75.2 | Good |
| HTC TyTN II | 76.0 | 75.7 | 82.7 | Excellent |
The Calls log on Windows Mobile devices offers practically unlimited entries. Much like with the Phonebook, Samsung have created an entirely new Calls Log application which is much more thumb-optimized than the original one.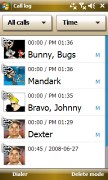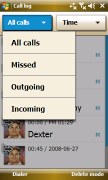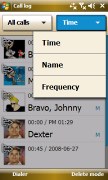 Samsung's very own Calls Log application
Messaging
Samsung's go at messaging is not as creative as their Contacts or Calls Log applications - they use the default Windows Mobile inbox and editors. Interestingly enough, emails and SMS on the Omnia share one and the same editor, which is rather uncommon in Windows Mobile.
The Xt9 prediction system is there to assist typing but you can switch it off just as easily. Another Samsung touch is the files toolbar, which allows you to attach files in your messages easy as pie.
As of Windows 6.1, users enjoy threaded SMS, so you can be sure you get that feature in the i900 Omnia.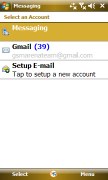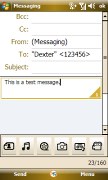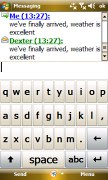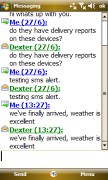 The Messaging department on the Omnia • SMS, MMS, and emails share one editor • the file toolbar allows quick attachment handling • threaded messaging is nice
The email inbox holds no surprises to experienced WinMo users. You have support for POP3, IMAP and Push Email.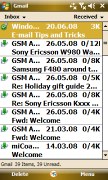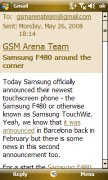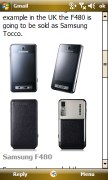 Browsing received emails • reading an email
Perhaps now is a good time to mention input options on the Samsung i900 Omnia. Samsung have preinstalled three different layouts of a rather thumbable keyboard, since the default Windows Mobile keyboards are fit for stylus use only.
The choices include a full QWERTY keyboard, a Blackberryesque QW-ER-TY keyboard and a regular phone multi-tap keyboard. Unlike the standard WinMo keypad however, when you hit a number field, you have to manually switch the keyboard to number input.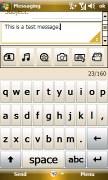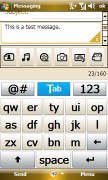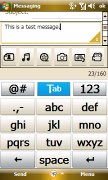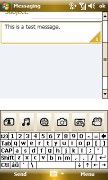 The touch-optimized keyboards on the Omnia • the regular Windows Mobile QWERTY keyboard is only good for stylus use
Also, Samsung i900 Omnia definitely wins a point when it comes to typing thanks to its vibrating touch feedback. Furthermore, since the screen auto rotation feature is available throughout the whole interface, you also benefit from a larger landscape version of all those keyboards in every application (those are especially useful in Messaging).


Using the generous Omnia landscape keyboard
Of course, much like with any other Windows Mobile Pro device, there is support for handwriting character recognition so if you wish, you can use the supplied stylus to write directly on the screen.