Own the night
Samsung M7500 Emporio Armani review: Own the night

Phonebook and calls: nothing unusual
The phonebook of Samsung M7500 stores up to 1000 contacts with multiple fields. When viewing contacts, you can choose between displaying phone memory, SIM memory or both. Other than that, 21 fields of information are available for each contact including eight number fields.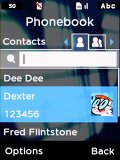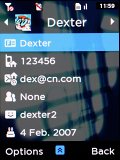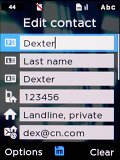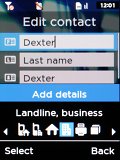 Phonebook: contact list • editing a contact • adding custom fields
Signal reception with the Samsung M7500 was excellent. A nifty feature that we've seen in all Samsung phones recently is Smart dialing. When you punch in some digits the handset automatically fetches not only the contacts whose phone numbers correspond, but also contacts whose names match the key input (much like T9 but for dialing). The only limitation is that when you input numbers matching a name but not an actual number, you have to press the OK key to see the search as spelling results.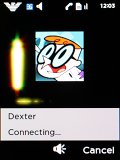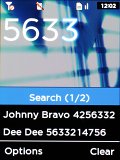 Dialing Dexter • the in-line search
Here's how the Samsung Emporio Armani stacks up against some of the other handsets we've measured in our speakerphone loudness test. The M7500 is a good performer - it misses the "Very Good" mark by a slight margin so it's unlikely that you will miss calls, even on noisy streets. You can find more info about our loudspeaker test as well as the results of all other tested devices here.
| | | | | |
| --- | --- | --- | --- | --- |
| Speakerphone test | Voice, dB | Pink noise/ Music, dB | Ringing phone, dB | Overall score |
| Apple iPhone 3G | 66.1 | 62.1 | 71.7 | Below Average |
| Sony Ericsson W902 | 71.0 | 71.5 | 75.7 | Good |
| Samsung M7500 | 73.7 | 66.6 | 75.7 | Good |
| Nokia 5320 XpressMusic | 74.3 | 66.6 | 78.3 | Very Good |
| LG KF750 Secret | 75.6 | 72.7 | 82.8 | Excellent |
Messaging traditional
The Samsung M7500 Emporio Armani can handle SMS, MMS, Push messages and email. The phone will store up to 500 text messages, while MMS and email are only limited by the available memory.
Naturally, a T9 dictionary is at hand, and it does its job quickly and intuitively. The messages can be sorted by six criteria: date, sender, type, subject, size, and protection.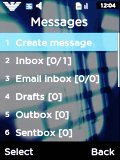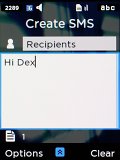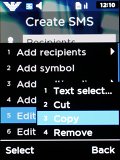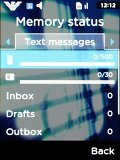 Messaging menu • typing a message • copy and paste are available too • the memory status section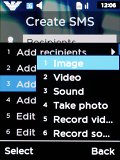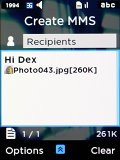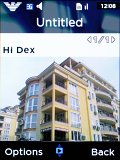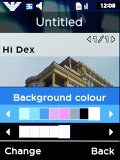 Converting SMS to MMS takes a single click • the background is one of the many customizable features
The email client is quite straightforward. It can manage POP or IMAP accounts and even SSL support is there, which means you can use it with mail services that require it, such as Gmail.
Email retrieval is user-defined: you can choose between headers only and entire messages and the client can be set up to check mail at a chosen interval. Not only files from the phone memory, but also business cards, calendar events, tasks or notes can be emailed as attachments.
File manager and dummy picture gallery
The Samsung M7500 file browser is pretty much standard for Samsung handsets. There is 120MB of inbuilt memory at your disposal. And of course, you can always top that up thanks to the memory card slot, which supports microSDHC cards with a capacity of up to 16GB.
The issue that Samsung phones have with full memory cards affects the Emporio Armani phone as well. When you insert a card with thousands of files on it, it takes quite some time (up to several minutes) for the card to become operational. As it turns out, it's not a matter of how full a memory card is, but instead of the number of files stored. No worries at all if you are not in a rush - just insert the card and wait for the memory card icon next to the battery indicator to change from transparent to white - then you are ready to access it.
The file manager has preconfigured folders for different types of files - images, video, music and sounds, which allow the handset to sort the memory contents. You can copy or move files freely and you can create and delete folders.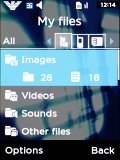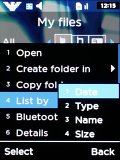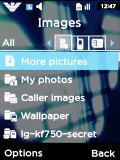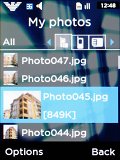 The file browser: switching between phone and memory card is easy
The picture gallery is an inherent part of the file manager and not a separate application. Accessing it is as simple as opening the Images folder. And again, you can sort files by date, type, name, and size. Unfortunately, zooming only works with pictures in portrait mode and the zoom option is absent in landscape mode. Generally, zooming on a photo taken with the camera is painfully slow.
The Emporio Armani also offers ShoZu integration, meaning you can upload images and videos directly to ShoZu straight from the file manager.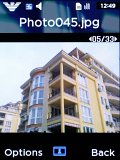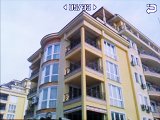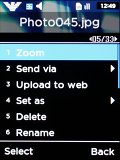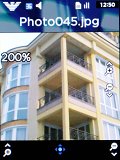 Image list • viewing an image fullscreen • zooming in • you can upload images directly to ShoZu
The integrated Image Editor is a very capable application, especially for a feature phone. It allows you to apply a whole bunch of effects and tweaks. Transformations and crops, as well as insertion of various items, are also available.
All in all, the Samsung M7500 Emporio Armani offers you almost all of the most popular editing capabilities you could possibly use on a cell phone. However, we still doubt that anyone takes image editing on their mobiles seriously, especially on a 2.2" display.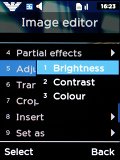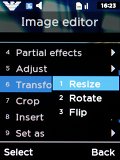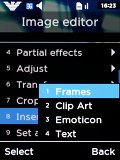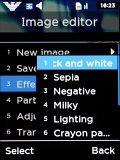 Some of the image editing options on the Emporio Armani phone