Own the night
Samsung M7500 Emporio Armani review: Own the night

Connectivity and web browser
With the Samsung M7500 Emporio Armani you can count on quad-band GSM/GPRS/EDGE support while HSDPA provides fast data connections. In addition, the phone also supports USB and stereo Bluetooth, both versions 2.0. A 3.5 mm audio jack completes the wired connectivity options.
The phone offers a scaled down NetFront v3.4 web browser, familiar from other Samsung phones. It has basic functionality, lacking important features like landscape/full screen views, and struggles with elaborate pages.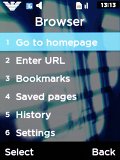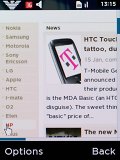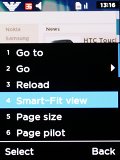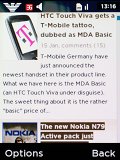 NetFront v3.4 web browser with basic functionality • the smart-fit view enabled
Among the few nice features are the page size, search-in-page option and the virtual mouse pointer. If you browse elaborate pages, the desktop view mode is more appropriate, while for simple sites it's better to use the smart-fit view.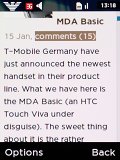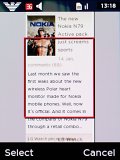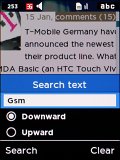 Some of the available web browser features
Adequate organizer
The Samsung M7500 Emporio Armani calendar offers three views - daily, weekly and monthly. There are five types of events available: appointment, anniversary, holiday, important, and private.
The calendar with standard functionality
There are five alarm slots, each with a variety of configurable options - snooze time, repetition, etc. You can, of course, choose a custom ringtone to wake you up at a preset volume level. It's also possible to use a predefined FM radio station to wake you up, which is a nice option for those of you who love surprises.
Among the other standard offerings to be found in almost every other Samsung phone are memo, task, world clock, calculator, and a unit converter.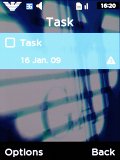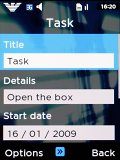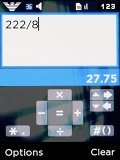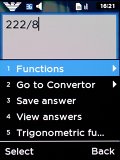 Task • calculator • menu to the unit convertor
As for the other applications, the phone is equipped with the usual stuff: a voice recorder, a timer, a stopwatch and an RSS reader.
The other apps need no further explanation, so here are some screenshots just for illustration.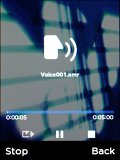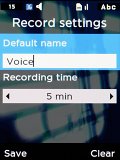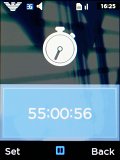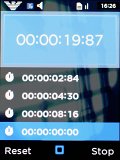 Voice recorder • Timer • Stopwatch
The basic document viewer works well with office files such as .xls, .doc, .pdf and loads the full version of the documents quickly and with no lag.
To open a file, you need to access it via the file browser.
Among the nice options of the document viewer are the full screen view, fit to screen option (page, width and height) and search tool, which can quickly guide you to a specific paragraph or chunk of text you are looking for.
Games: a few Java titles to try and buy
Typically for Samsung, all the java games preinstalled on the M7500 Emporio Armani phone are trial titles. The games the phone bundles are Asphalt 3, Brain Challenge Vol2, Midnight Pool, Tetris Mania and World Series of Poker.
We love the Asphalt game the most since you get to do more than simply ride and race for the first place. You receive bonuses for crashing other cars, collecting nitro credits, and so on.
Brain Challenge Vol2 is quite an entertaining game and involves solving mathematical problems, memory games and pattern recognition exercises.
Midnight Pool, Tetris Mania and the Poker are well-known games that most other Samsung phones come equipped with.
Final words
The Samsung M7500 Emporio Armani is clearly directed at the fashion market, a phone for people who care about style and image. By the way, that image thing is perhaps big enough for Samsung too. Simply having Armani in their portfolio may well be as important as the number of co-branded handsets they ship.
The M7500 Emporio Armani feature set is nothing special, exactly the kind of thing you'd find on any run of the mill mid-range handset, but that's unlikely to matter to the people who buy this phone. For them it's a phone to be seen with, something to show off at the club or when they are out on the town. This is a phone designed to stand out in the crowd, and there's no doubt that the flashing lights and the Armani branding will get you noticed.
Unfortunately (or quite luckily, if your wallet is who you are), style comes with a hefty price tag. Yes, it does offer some music features, such as the dedicated music keys and the 3.5mm audio jack, but it still lacks the capabilities of the other music-centric phones of the Samsung Beat range.
The Samsung M7500 Armani occupies a unique niche in the market, a fashion phone that 'rocks'. It's certainly not cheap but if music and fashion are your life, you could do a lot worse than the M7500.