Scratching the beat
Samsung M7600 Beat DJ review: Scratching the beat

Connectivity: fast data
The Samsung M7600 is usable worldwide with quad-band GSM support, although the 3G coverage is limited to the 900/2100 bands. The phone supports HSDPA up to 7.2Mbps and EDGE for where 3G coverage is not available.
Bluetooth is also present and comes with A2DP.
The microUSB slot is also welcome: it's a lot more popular than the proprietary slot used on older Samsungs. You can set up the phone to connect in mass storage mode or PC suite mode (or Media player) or to prompt each time it's paired with a computer.
In mass storage mode it gives access to the memory card but not to the internal memory and you cannot use the phone for calls or data in this mode. Annoyingly, with M7600 it would often be impossible to access the memory card for a couple of minutes after connecting in mass storage mode.
Some Flash in the web browser
The Samsung M7600, much like the Samsung S8300, features a nice web browser - NetFront 3.5, which makes web surfing really enjoyable. Except for a few minor problems, the browser is truly worth the praise. Some basic Flash support (without video though) is some bonus.
The web browser renders pages well in both portrait and landscape modes. The browser switches between both seamlessly when you change screen orientation. The available fullscreen mode with a bit of zoom makes the most of the 2.8" WQVGA display.
You can zoom in and out using the volume keys, which is quite handy. Even at minimum zoom text remains readable enough for you to find what you're looking for and it fits most web pages in landscape mode. Zooming in and out is quite fast.
Finally, you can scroll by simply sweeping a finger across the screen. The actual scrolling is very sluggish and is perhaps the only downside to browsing if we don't count the lack of tabbed browsing.
Unfortunately, you will not be able to play YouTube videos in it beside the lower quality mobile version found at m.youtube.com.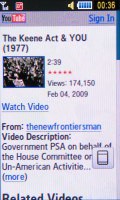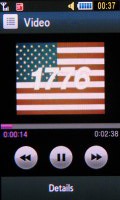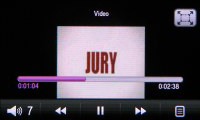 The mobile version of YouTube: streaming video
Full pack organizing tools
The Samsung M7600 Beat DJ has a number of useful time-managing applications.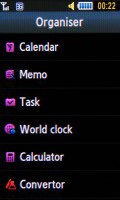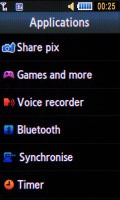 Organizer has a lot to offer • List of apps
For starters, the calendar offers three views - daily, weekly and monthly. You can choose which calendar view should be default and you can pick the starting day of the week - the options are Monday or Sunday. However, with the Samsung M7600 there is only a single type of event available in the calendar. You can set the starting date and time of the event and set an alarm to act as a reminder.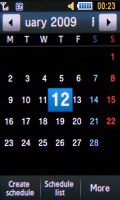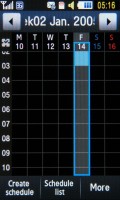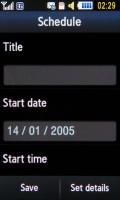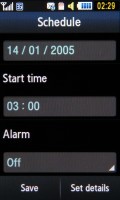 The calendar monthly and weekly view modes • setting up an event