Photo contacts is the alternative
With the recent generations of TouchWiz devices, Samsung have introduced an alternative to the phonebook. While it still relies on the regular contact database, the Photo contacts application might save you the effort of ever entering the phonebook again, once you've filled it up.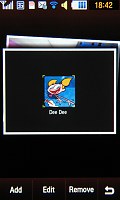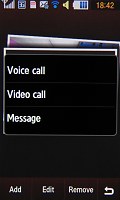 Photo contacts allow you to use images, for browsing your contacts
The app itself allows you to tag photos, parts of which can be used as shortcuts to various contacts. That might be pretty handy if you are into grouping your contacts. You can take a photo of your colleagues and another one of your buddies and than tag each face to its respective phonebook entry. The next time you want to go out for a drink Friday night all you need to do is call everyone in that photo.
Bear in mind that when adding a photo, faces are detected automatically but tagging is manual, even if you've already tagged that contact.
Call management has its ups and downs
The Samsung M8910 Pixon12 is very good at its main job - making calls. The reception was pretty decent with no interferences during calls.
The dialer gets activated through its reserved shortcut on the homescreen or from the main menu. You can proceed to dial just like you would on any other phone. Unfortunately the smart dial feature works with numbers only, instead of names, which makes it pretty useless. When you punch in some digits, the names whose numbers contain them pop up but we doubt it anyone really remembers just a part of a contact's number.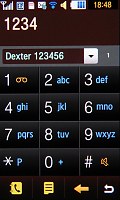 The smart dial feature is practically useless
Normally that app should search contacts, whose names contain the letters corresponding to those digits but we guess it will take another device to get that right.
As most recent Samsungs, the Pixon12 has another nice accelerometer-based telephony feature. It allows you to mute the ringtone of an incoming call by turning it on its face.
The Pixon12 doesn't have a built-in proximity sensor to turn the display off when you hold it next to your year. So it automatically locks each time you start a call and you need to press the unlock button to use the in-call features.
New events like missed calls or incoming messages show up on the homescreen as a widget. It has three tabs each signaling a different type of event. It also displays the sender's number and the time of the call or text.
As for the loudspeaker performance, here is how the Pixon12 ranks alongside some of the other devices we've measured. You can find more details about the test itself, as well as the full list of tested devices here.
| | | | | |
| --- | --- | --- | --- | --- |
| Speakerphone test | Voice, dB | Pink noise/ Music, dB | Ringing phone, dB | Overall score |
| Apple iPhone 3G | 66.1 | 62.1 | 71.7 | Below Average |
| Samsung Armani | 69.7 | 64.6 | 71.0 | Average |
| Apple iPhone 3GS | 69.5 | 69.5 | 71.7 | Good |
| Samsung M8910 Pixon12 | 75.7 | 72.8 | 77.3 | Very Good |
| LG KF750 Secret | 75.6 | 72.7 | 82.8 | Excellent |
Messaging duly covered
Samsung M8910 Pixon12 messaging department isn't much different from its predecessor. The handset has a shared editor for SMS and MMS and a separate one for emails.
The SMS and MMS editor is the usual intuitive application which allows you to add the recipient from your phonebook, from your recent contacts or enter it manually. You can also add a whole group in the recipient field for mass messages, instead of adding contacts one by one.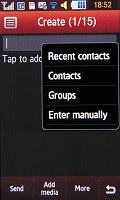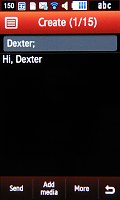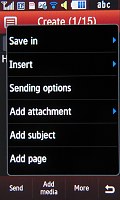 Creating a message to Dexter is easy with the Pixon12
The messages can be broken down into up to 15 parts for sending if you exceed their maximum character limit (standard 160).
The email supports is also duly covered. There's a Gmail icon in the menu but all it does is open the gmail.com webpage in your browser. You might as well use it if you prefer web-based access but the native email client seems the far better option to us. Unfortunately, it didn't automatically detect the settings for Gmail so we had to enter them manually, but once that's done, handling email is a breeze.
The downloading email limit is 5MB, enough for receiving most types of files. If you receive an office document as an attachment, you will be able to view it as well.
As far as text input, the Samsung M8910 Pixon12 has three different options to offer. The first one is the traditional thing - typing on a customary (albeit virtual) 3 x 4 alphanumeric keypad.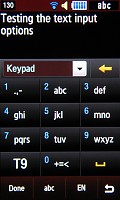 An standard 12-key alphanumeric keypad is onboard
Turning the phone on its side automatically expands that numpad to a full-fledged on-screen QWERTY keyboard. The 3.1" display provides enough space for this layout, especially given that the number keys and symbols are in a separate screen that toggles on and off upon a tap. Typing is really comfortable by touchscreen standards, once again the very sensitive display and the haptic feeback count in favor.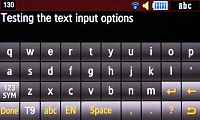 The full QWERTY keyboard is our weapon of choice
The final option is handwriting recognition. While very intuitive and precise in most cases, the lack of embedded stylus is almost ruling out as an option. If you don't mind your stylus dangling on the side of the phone, be our guest.