File browser up to scratch
Customary for the company, the Samsung M8910 Pixon12 is equipped with one of the most elaborate file managers that you can find on a feature phone. It can display the files and folders from the phone memory or the memory card, and even both at once with matching folders nicely brought together.
There are folders for different types of files (images, video, sounds) and this allows the handset to sort the memory contents. However, you are not forced to follow this structure - you can place your files wherever you want and the phone will have no problems handling them.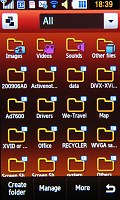 The file browser has some pretty extensive functionality
You can copy or move files - both one by one or in bulk, and you can create and delete new folders (except the default folders, like Images, Sounds and so on).
When deleting multiple files you can choose to delete protected images, contact photos and so on. By default those options are off so you won't accidentally delete a contact photo or a ringtone.
Files can also be sent via Bluetooth, again one by one or in bulk. Throughout the whole file manager, you can pick files you would like to lock to prevent accidental deletion.
Luckily, the Pixon12 has little issues with recognizing memory cards unlike some of its siblings which we reviewed recently. Initialization and reading a 16GB memory card isn't the fastest one around but it isn't frustratingly slow either.
Gallery improved
In line with other recent Samsung handsets, the M8910 Pixon12 has two different picture galleries. They are both optimized for touch operation and very user-friendly, plus this time each sports a cool new view mode.
The first gallery is an inherent part of the file manager and accessing it is as simple as opening any folder that contains images. It allows sorting your images by date, type, name, and size.
The gallery offers grid, list and a nicely looking zig-zag view layouts. The latter is definitely the most fun to use but it is also certainly the least functional as you need to do quite a lot of scrolling in some folders.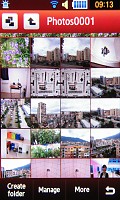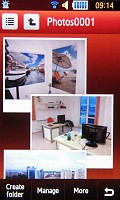 The file manager gallery offers a zig zag view mode
Going through 12 megapixel images is quite fast with the Pixon12, we're just amazed how quickly it's ticking. We've hardly seen a Samsung handset (or any other for that matter) listing numerous thumbnails in a folder so fast.
Once you open an individual image, you can sweep you fingers across the screen to see the next images without having to return to the image list. It's really fast and it seems the phone pre-caches several images ahead and backwards so swiping your way across the image gallery is always fast and responsive. Alternating portrait and landscape modes is automatic thanks to the built-in accelerometer.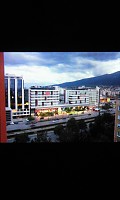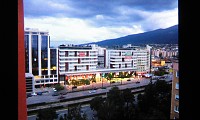 Going from portrait to landscape is automatic thanks to the built-in accelerometer
Samsung have also implemented the so-called one-finger zooming, which is recently getting new press hype by Samsung. It's marketed as a novel feature, but a version of it has been around for quite some time already on the original Samsung i900 Omnia. This still is the first time we see it implemented on a feature phone - if we don't count the Samsung Jet, of course, but technically, the Pixon12 was announced before the Jet.
Zooming is extra simple and takes only a single move of your thumb - you just need to hold it on the screen for a second and then slowly drag your finger up or down for zooming in or out. This method works in both galleries (as well as the web browser) and at first glance it even seems more convenient than the pinching gesture on the iPhone. When we got to play more with it however, we noticed there's an unpleasant lag before the actual zooming starts. It's probably the only aspect where the Pixon12 lags.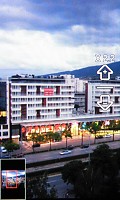 The one-finger zooming is a nice little feature to have onboard
The alternative to the picture gallery is the Media browser (as opposed to the Photo browser found in previous Samsung handsets). It has its dedicated icon in the main menu and is the quickest way to access your images.
Beside the regular grid view, the Media browser adds another cool view mode which is pretty convenient for flipping through tons of images with your finger, while getting a tiny preview of each one of them at that.
As usual the two galleries also have another Samsung proprietary accelerometer-based feature. It lets you browse pictures in fullscreen landscape mode by simply tilting your phone up and down.
The sensitivity of the tilt scrolling has been improved to a point that it is acceptable and quite usable. It is a great improvement over the rather annoying implementation in previous handsets that we have tested. But still, that feature is more of a gimmick and among the less practical things we've seen in the image gallery ever since it was first introduced on the original Pixon.
Music player slightly refreshed
The music player usually found on Samsung devices has received a minor face-lift on the M8910 Pixon12. It sports slightly different icons when browsing your tracks and a new way of displaying album art in Now Playing mode.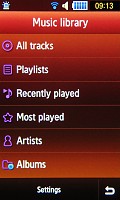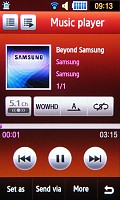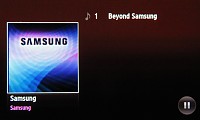 There're new icons but hardly many other changes in the music player
The music player allows filtering tracks by author, album, and genre. Automatic playlists (recently added, most played etc.) are also generated and can subsequently be used as filters. If that doesn't seem enough, you can create your own custom playlists. The music player can naturally be minimized to play in the background.
The new option here is the '5.1 ch' button which, when activated, makes the player do its best to emulate 5.1 channel sound on normal stereo headphones. There are quite a few equalizer presets available, but sadly, there's no option to set up a custom equalizer.
Further on, the three different visualizations are a nice touch to the music player and the album browser (quite like the one on Omnia HD) takes after Apple's Cover Flow, something we quite appreciate.
Last, but certainly not least, the player is nicely touch-optimized for fast forward and rewind, just like the Pixon. This adds up to an excellent music application that can fully replace your portable MP3 player.
The music player widget is cool, allowing quick access to the full version of the application by only a single tap. You can also start, stop and skip tracks straight on the home screen if you prefer.
Simple and nice to use FM radio
The Samsung M8910 Pixon12 features an FM radio with RDS. The advanced RDS allows displaying the station name on one row and some additional info on the other. It is complemented by a user-friendly and easily thumbable interface with several large buttons appearing on the screen.
The Pixon12 can automatically search and save all the available stations in your area. Alternative frequencies of a given station are automatically detected too, so you don't have to retune manually when traveling. There's an option to record radio broadcasts as well.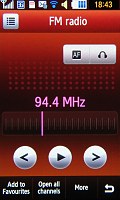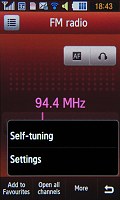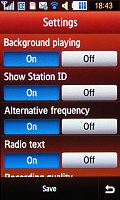 The FM radio offers a simple interface and good functionality
The Samsung M8910 radio comes complete with an integrated music recognition feature called Find Music, which works much like Sony Ericsson's TrackID.
If you won't bother hitting the menu, the Radio widget on the homescreen gives you more immediate access. Tapping on it brings up the radio or you could just use the widget's controls to start/stop the radio or change the station. It can only jump saved stations though, and if you want to search you'll have to do it in the application.
Speaking of stations, you can save stations but they are labeled by just their frequency and can't be renamed. There's a separate list for your favorite stations.
Video player rocks
The video player is another noteworthy application. It has a nice touch-optimized interface and all the essentials are covered. It can play video files in fullscreen landscape mode (auto-rotated of course) and you can fast-forward and rewind videos in the same way as the music player.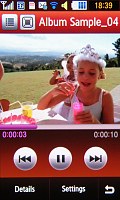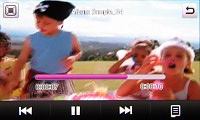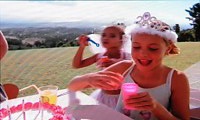 Thumbs up for the video player
The video player even provides the same 5.1 channel option when you plug in a headset. It also allows direct uploading of a video on the web.
The Samsung M8910 Pixon12 has no problem playing VGA or even 720x480 videos at 30 fps. Not a great surprise but worth noting since compressing videos to view on mobile devices can be a time-consuming business.
One of the best parts about the Samsung M8910 Pixon12 video player is its DivX and XviD support. This means you no longer need to convert your videos to play them on your handset - just get them onboard and you are good to go.