Social networking apps and widgets
Aside from the phonebook integration, the Samsung S5260 Star II packs dedicated Facebook and Twitter apps and a couple of widgets.
The Feeds and Updates widget combines the streams from Facebook, MySpace and Twitter and lets you post updates to those networks too (you can even post an update simultaneously to all networks you're signed on to).
There's a LinkedIn widget too, but there's no app to go with it.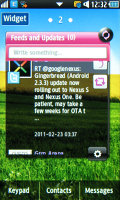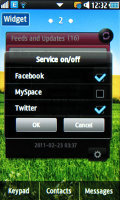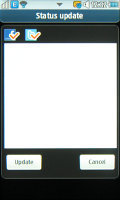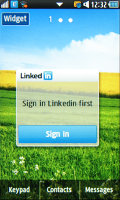 Feeds and Updates widget • LinkedIn widget
The Social hub displays the number of unread message (SMS, MMS), SNS updates and unread emails too. There's a convenient Compose button as well.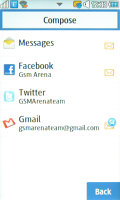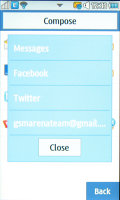 The Social Hub is a great go-to place to check your messages
The Facebook app shows your newsfeeds, the wall and photos for you and your friends, messages, notifications and requests – basically it supports it all. It can compose new messages too and upload photos.
The Twitter app is pretty straightforward. It has three tabs – the first shows all tweets from people you follow, the next tab shows only tweets that mention you and the third holds direct messages. You can send out new tweets but there's no option to automatically attach a photo to the message.
Document viewer handles Office 2007 docs too
The Samsung S5260 Star II comes with the Picsel Office document viewer, which supports Word, Excel and PowerPoint documents and also PDF files. The viewer supports one finger zoom like the gallery and there's a handy search feature to help you navigate longer documents.
The document viewers work fast enough for a feature phone. There's no option to edit documents though (even a paid option).
Well-stocked organizer
The Samsung S5260 Star II has a number of useful time-management applications.
For starters, the calendar offers three views organized as tabs - daily, monthly and agenda view. Events can either be appointments or anniversaries and you can tag each event with a location and add participants.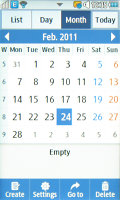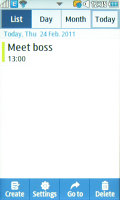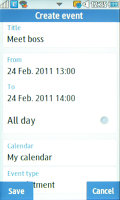 The calendar monthly, daily and agenda view modes • setting up an event
The alarm is quite customizable. You can set up to 10 alarms, each with the following configurable options - custom ringtone, volume, repetition days and name. You have world clock, timer and stopwatch.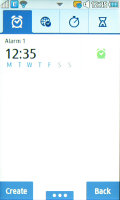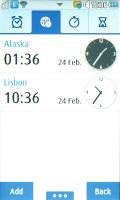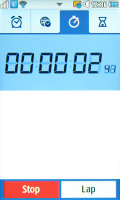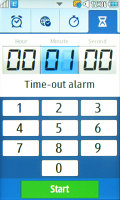 Alarm clock application • world clock • stopwatch • timer
The Samsung S5260 Star II also offers a basic calculator, a voice recorder and To-Do and Memo apps. There's a dictionary app too, which comes preloaded with an English dictionary, but you can download more.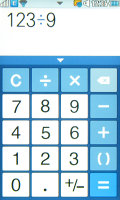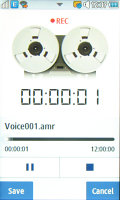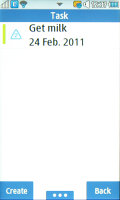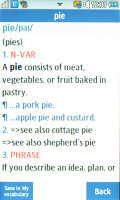 The calculator is simple • voice recorder • To-do • Dictionary app
The Samsung Star II comes with the Palringo and Yahoo! instant messenger preinstalled. Palringo supports various protocols (Facebook Chat, G-Talk, ICQ, AIM and XMPP) and can handle multiple chats at once. There's an option to share your location.
Finally, there's Google Maps, which has all the usual features, but without a GPS receiver you'll have to rely on the rather inaccurate Cell-ID positioning.