The usual phonebook
The phonebook of the Samsung S5620 Monte has it all. Up to 2000 contacts can be stored with multiple fields. It can display the names on the SIM card, the phone memory or both at once and move and copy contacts between both. Searching is done by gradual typing of the desired contact's name or via the alphabet scroll.
One annoying thing about searching for contacts by gradual typing is that it doesn't support text prediction – that is if you try to type "DE" to search for Dexter, you'd have to tap the 3 key, wait a little and tap it again. Two quick consecutive taps won't do: you'll get "E", unlike typical smart dialing, which works in a similar manner to T9.
While viewing a contact, tapping the button next to each phone number brings up a pop-up with three buttons – regular call, video call and Send Message. The Call button in the contact list does only voice calls however.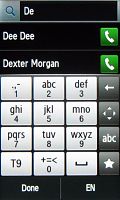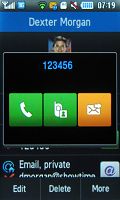 Searching for a contact • you can call someone, video call them or sent them a message
You can add a number of different fields for each contact - up to 5 numbers, 4 email addresses, URLs, notes and so on. You can also assign individual ringtones for both calls and messages, a photo or video for Caller ID, even choose one of five vibrations for incoming calls from that contact.
A handy feature, if you'll pardon the pun, is the ability to switch between left and right handed modes. This switches the position of the alphabet scroll only, the Call button next to each contact always stays on the right.
Messaging does the job, but needs QWERTY
As you might expect, the Samsung S5620 Monte handles all common message types. The handset has a shared editor for SMS and MMS and a separate one for emails. You can activate delivery reports to receive notifications when the messages have reached the addressee.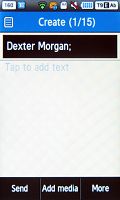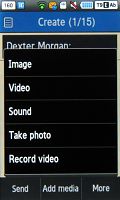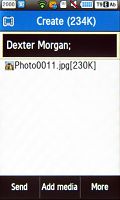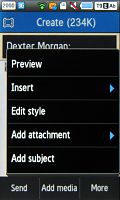 Messages menu • composing an SMS
The native email client does not have an option for automatic settings retrieval so we had to enter them manually, but once that's done, emailing is a breeze. The email client also supports push messaging.
The attachment limit for sending is 5MB, which is enough for most file types. If you receive an office document as an attachment, you will be able to view it as well thanks to the integrated office document viewer.
As to text input options, the Monte was a disappointment. There are none – just the virtual 12-key multitap keypad. There is no landscape QWERTY keyboard available, even though the screen is 3 inches big (there is a landscape multitap keypad for what it's good for).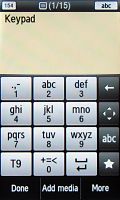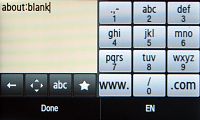 The limited input options – there's just one
Fast file browser
The S5620 Monte's file browser can display the files and folders in the phone memory or the memory card, and both at once.
There are folders for different types of files (images, video, sounds), which work as collections of all files of that type. You are not forced to follow this structure though - you can place your files wherever you want and the phone will have no problems handling them.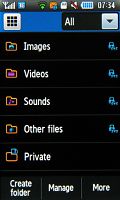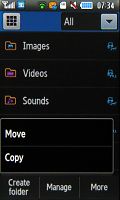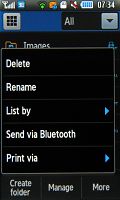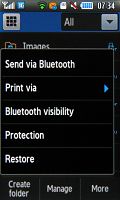 The file browser is quite efficient
You can copy or move files - both one by one or in bulk, and you can create and delete new folders (except the root folders, like Images, Sounds and so on).
Files can also be sent via Bluetooth, one by one again, or in bulk. Throughout the whole file manager you can pick files you would like to lock to prevent accidental deletion.
Reading the memory card is quick and won't bother users. Listing the thumbnails of pictures stored in the respective folder on the memory card is quite fast too. The initialization speed of the memory card is surprisingly fast: regardless of the capacity, the S5620 Monte recognizes a 16GB microSD card full of thousands of different files in about 10 seconds.
The Gallery is built into the file browser
The S5620 Monte gallery is an inherent part of the file manager and launching it is as simple as opening any folder that contains images.
Once you open a picture to view, you can sweep your fingers across the screen to see the next image without having to return to the image list. Browsing the images is really fast and responsive but zooming can take a second on 3MP images.
You have the one-finger zoom but it kicks in after you spend a couple of seconds touching the image with your thumb. Once it's activated, it starts zooming in before you've even moved your finger, which is annoying if you're trying to zoom out.
Browsing images in landscape mode is also available and the rotation is automatic thanks to the built-in accelerometer.
The gallery can do slideshows too, but they are not customizable and scroll through a bit too fast.