Organizer and apps (continued)
Exchange ActiveSync support is also present, which should appeal to corporate users. There's even a handy widget, which lets you sync, compose new email, check mail and toggle push messaging. It can be minimized so it doesn't take much space.
The Samsung S5620 Monte comes with the Palringo instant messenger preinstalled. It supports various protocols – G-Talk, ICQ, AIM and MSN. It can handle multiple chats at once and has the option to share your location. Registration is easy and adding new services is pain-free as well.
Finally, there's Google Maps, which has all the usual features, but it can't help you if you're looking for voice-guided navigation.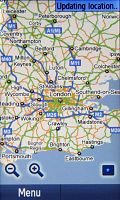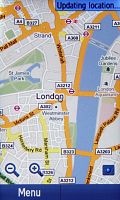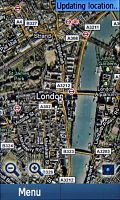 The well-known Google Maps application
This is where the NaviExpert 5.3 application comes in. It uses NAVTEQ maps that cover 36 European countries and it requires an Internet connection to work.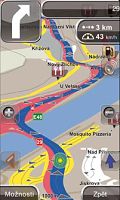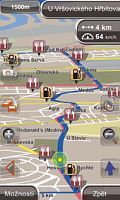 The NaviExpert satellite navigation app for the Samsung S5620 Monte
You can choose between 2D and 3D map view and there's traffic information, a POI data base, speed camera warnings even an option to avoid sections that have been temporarily closed off and more.
The NaviExpert app either comes preinstalled on the phone or you can download it – however, this is for Czech users only for now. If you've bought an S5620 Monte from an authorized dealer, you get a free navigation license.
We hope that the availability of NaviExpert is extended to other regions as well, but we've seen nothing official on that.
The S5620 Monte got a satellite lock in under two minutes and has a very handy tool to download A-GPS data (you can set it up to do that manually), which ensures even faster GPS locks.
Much like Samsung Star, the Samsung S5620 Monte didn't come with any games preinstalled (not even trials), so you'll have to look for third party games for entertainment. This is likely a regional thing, so your Monte might come with games (as some of our readers report), but there's no guarantee - check before buying it, if you want to make sure.
Final words
If you ask Samsung about the future of mobile phones, they'll say smartphones. Their Bada OS is flying the "smartphone for everyone" flag.
But the market still has quite a way to go till we get there. Right now, feature phones like the Samsung S5620 Monte are advanced enough to blur the line between smart and feature phones.
The S5620 Monte can multitask (though task switching is problematic), it can view office documents, there's a very good web browser and free navigation This pretty much covers most of what a smartphone will do for you.
The Samsung S5620 Monte offers a compelling package for its price, but it's getting tough competition from higher end handsets as they're moving down the ladder.
The LG KM900 Arena costs more, but it comes with 8GB of built-in storage, which levels off the price difference. And its screen has four times the number of screen pixels. Then, there's the better camera – 5MP, LED flash, D1@30fps video, and goodies like DivX support.
You could probably get a good deal on LG KC910i Renoir or the non-i version too – they're getting old now, but 8MP cameras are quite compelling.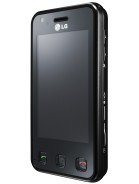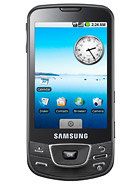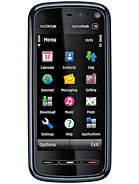 LG KM900 Arena • LG KC910i Renoir • Samsung I7500 Galaxy • Nokia 5800 XpressMusic
As smartphones are getting older, they're moving into this price range too. Take the Samsung I7500 Galaxy, for example – it's got Android v1.5 (old but still), an AMOLED screen, a 5MP camera. It costs a bit more, but the 8GB storage offsets that again.
Another smartphone alternative is the Nokia 5800 XpressMusic – priced right, rich retail package (including an 8GB microSD card), 16:9 nHD screen and free voice-guided navigation available worldwide with no data connection required.
That sure is a lot of competition, but it's mostly from handsets that are getting old, which has its downsides (like lower resale value, tendency to get fewer firmware updates, etc.). However, quite a few of the Samsung S5620 Monte attractive features are let down by software (Flash support that never works and poor app switching in the task manager).
So, catching up with smartphones is easier said than done. On a second thought, the S5620 Monte will get away with some faults exactly because it isn't a smartphone. It's obvious that it has enough to entice upgraders coming from the likes of Samsung Star or the Corby bunch. Cheap smartphones are a major threat though.