Third time's the charm
Samsung S8600 Wave 3 review: Third time's the charm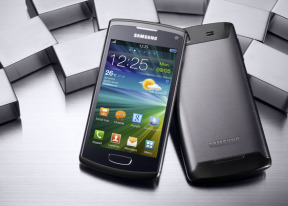 Upgraded phonebook
The Wave 3's phonebook has rich functionality and practically unlimited capacity. The handset displays the phone memory and SIM-stored contacts in the phonebook. There is a dedicated setting for that, so you really can have all of your contacts gathered in one place. If you want to use your Exchange contacts too, you not only need to set up your Exchange account properly, but you need to import them in the Contacts settings. It's a very easy step, but it took us a while to realize why our Google contacts were not available in the phonebook.
You can search the entries by either kinetic scrolling or using the alphabet scroll at the side of the screen. There's a Search bar at the top of the contact list too.
There are many info fields available for each contact, but it remains perfectly organized. You have all the types listed (numbers, email addresses, etc) and there's a plus sign on the right - clicking it adds another item of that type. Pressing the minus sign under it deletes the unneeded field.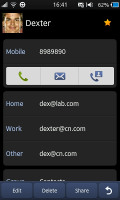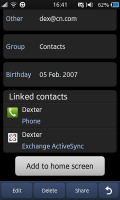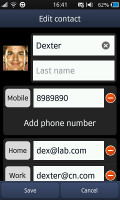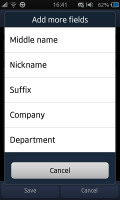 Checking out and editing a contact's details
Bada OS has a cool phonebook feature, which is also available in TouchWiz-skinned Androids. A right swipe over a name in the contact list will dial the contact's default number while a left swipe will start the Message composer. In Bada 2.0, in whatever direction you swipe, you'll reveal four shortcut keys: Call, New Message, Video Call and Delete. The side-sweeps work in other lists too where you have names or numbers.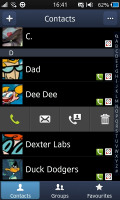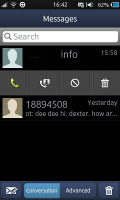 Swiping on a contact reveals further details
Telephony
The Samsung S8600 Wave 3 handles calls trouble-free, no choppy audio or reception issues. There is no secondary microphone for active noise cancellation here. And no smart dial either. Not a proper one, at least. The Wave 3 will only recognize digits and suggest corresponding numbers from the phonebook. But it won't suggest names.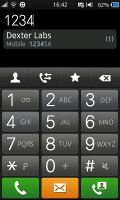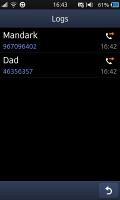 The dial pad, but no smart dialing • the call log
Thanks to the proximity sensor, your screen will automatically turn off during a call. The available options during a call include muting, using the keypad, holding the call or adding another call to this conversation. The call log can be activated with the call receiver key.
The Wave 3 supports video calls and there's a relevant button in the dialler.
We also ran our traditional loudspeaker test on the S8600 Wave 3. It snatched an Average score. More info on our loudspeaker test as well as other results can be found here.
| | | | | |
| --- | --- | --- | --- | --- |
| Speakerphone test | Voice, dB | Pink noise/ Music, dB | Ringing phone, dB | Overal score |
| Nokia Lumia 800 | 60.9 | 59.0 | 61.7 | Below Average |
| Apple iPhone 4 | 65.9 | 66.5 | 67.3 | Below Average |
| Samsung S8530 Wave II | 66.3 | 65.9 | 66.6 | Below Average |
| Samsung S8600 Wave 3 | 68.0 | 65.8 | 69.7 | Average |
| Samsung S8500 Wave | 69.8 | 66.6 | 75.5 | Good |
| HTC Titan | 75.8 | 66.2 | 82.7 | Very Good |
| HTC Desire | 76.6 | 75.7 | 84.6 | Excellent |
Messaging duly covered
The Samsung S8600 Wave 3 supports SMS, MMS, and email. Texts and multimedia messages share the same editor.
The messaging app has been completely redesigned in Bada 2.0 and now it resembles the corresponding apps in Android and iOS. It only offers Conversation view, but in the Advanced tab you can create folders to archive your messages and filter spam and system messages.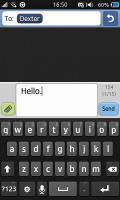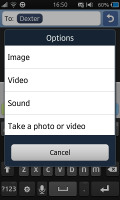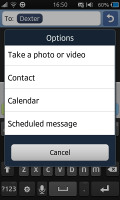 SMS and MMS share the same editor
Swiping on a message header will do exactly the same as in the phonebook – reveal a menu with shortcuts for Call, Video Call, Block Number or Delete.
When it comes to email, setting up your account on the third-gen Wave is hassle-free. You just need to go to the Accounts section in the Main Settings and set up whatever emails you need – Gmail, Hotmail, Yahoo, Exchange or other. In most cases, you'll just need to enter your username and password.
If you have to setup your email account manually, there is a host of settings that you can tweak. Both POP3 and IMAP4 protocols are supported and you can set the handset to auto retrieve new mail at a preset interval with a dedicated setting in roaming. The email client supports SSL encryption too.
The email client looks pretty much like the Android app. It supports conversations and in the upper left corner you can switch to the advanced folder view. Multiple accounts are supported and there is a shared inbox for all your emails.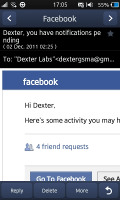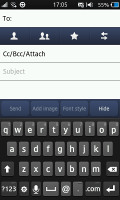 Reading and composing an email
Swiping on an email message will once again reveal a hidden menu with options for Download/Reply, Forwarding, Block or Delete.