Introduction
We intentionally delayed this edition of our phone shopping guide, waiting for all flagships to come out. With the last one out and reviewed, time to see how the market evolved since our last edition in March.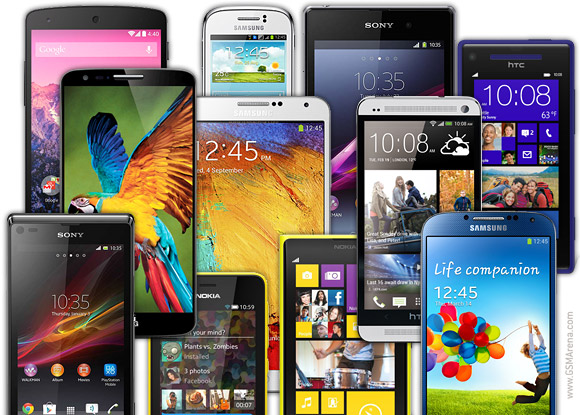 Flagships define the upper bound and push everything below them down in price, especially last year's flagships. They certainly improve on last year's offerings but it's open for debate if they offer enough to justify their fresh flagship price tags or if their predecessors offer the better value after the price cut they took.
Curiously, the €100-€200 segment proved the most hotly disputed. This is because the Motorola Moto G redefined what you can get for €200 and plenty of lesser-spec'd devices suddenly look overpriced. The Moto G has come down in price and got a new sibling, the Moto E, which stirred things up even further when it comes to affordable quality.
We sort phones by price segment but inadvertently ended up with most devices falling into use-case categories. Here are the price categories, followed by brief explanations of what to expect there.
The sub-€100 gets your foot in the door of smartphone functionality (feature phones over €30 are not worth it anymore). These phones won't offer you much comfort or quality, but they get the job done. Depending on timing, some higher-up phones fall into this category with temporary promotions.
The €100-€200 segment proved very fruitful with phones moving beyond basic functionality. They have good screens (some 720p), good cameras (several 8MP / 1080p shooters can now be found under €200) and even good chipsets with quad-core processors running an up-to-date OS. Even LTE is no longer out of reach in this category.
The €200-€300 category is where things start to specialize. There are phablets, a mini and even a handful of high-end phones barely a year old. This is what we meant - with sub-€200 phones being this good, a €200+ device must offer something special to make it worth your hard-earned cash.
The €300-€400 segment is like the last one but in overdrive. Virtually all 2013 flagships are here as well as a number of powerful phablets.
The €400-€500 price range has only a few phones worth your bucks, mostly the flagship phablets that came out late last year.
Finally, €500 gets you a brand new flagship phone that was announced just months ago with all the cutting edge technology under its hood. It's how the release cycle has shaped the market.
Flagship phones come out early in the year and drop noticeably in price by the same time next year (when their replacements come out). Phablets meanwhile typically launch in the second half of the year as a sort of flagship plus after the buzz of the phones have died off. Thus phablets are fairly new and have dropped to halfway between 2013 and 2014 flagship phones.
Note that this smartphone shopping guide is intended for an international audience and we've omitted phones that are highly regional. We have included a couple of offers of a fairly limited availability, but those were just too good to pass up.
You can read the guide page by page or just to a price category within your budget. Also check the conclusion for more info on why we chose what we chose and why we skipped some phones.
r
Thanks for a GREAT article! I will be buying LG 2 mini - would like to have an HTC, but there's simply nothing in that price bracket from them worth looking at.
D
This list just confirms what I have known for six-seven months. I picked up a LG Optimus G on contract for $49. Until I dropped it (rare), it was the best phone I have owned. It's fast, powerful, will run anything, take 1080p vide o, take hig...