Final words
If you are in the market for handset now and you only have €40 to spend, it is good enough to open the gates to instant messaging, social networks on the go, free voice-guided navigation and even document viewing - all things that are becoming more and more important in our daily lives.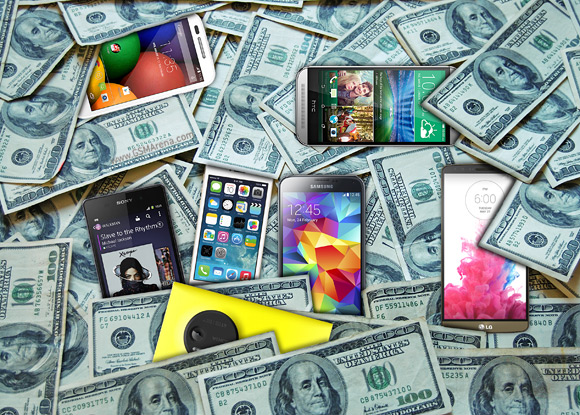 Of course, €40 doesn't buy you a good screen, camera or chipset (not without scoring a rarely good promotion), but us old timers still can't quite believe you get an actual smartphone for so little cash.
The Nokia Lumia 520 continues to be king in this segment - a strong push by Microsoft to build market share keeps the US price at $60 or so, but even in Europe is under €100. The Lumia 630 is now out and is a fine phone, but unless you really need dual-SIM we'd still go for the 520 and give the newcomer time to drop in price.
Speaking of Android, the Motorola Moto E gets you on the road to good screen, camera and chipset. The Sony Xperia M costs the same and gives it a run for its money so don't get trapped into thinking Motorola is the only maker out there with good, affordable handsets.
For some extra cash (but still not past the €200 line) you actually get there - there are a number of phones from Motorola, LG, Sony and ZTE that get you 720p screens and 1080p video capture with fast enough chipsets.
The Motorola Moto G 4G addresses some key issues of the regular Moto G and is a great deal, but so are yesteryear's midrangers like the Sony Xperia SP or LG Optimus L9 II. The BlackBerry Z10 fire sale on the other hand lets you get some capable hardware at a very low price, but we aren't recommending this one as we believe it's held down by a dying ecosystem.
There are a few high profile minies in the €200-€300 segment but the LG G2 mini and Sony Xperia Z1 Compact are the only ones that actually seem to be worth it. Samsung and HTC's minies are good too, but not worth their current asking price. It really pains us not to recommend the gorgeous smartphone that the HTC One mini 2 is, but it costs as much as a Galaxy Note 3 and the hardware inside is nowhere near as good.
In the same segment we also have the 2013 flagships from all major makers sans Apple. Those are great value for money and stand up well to their replacements save for some changes that might prove insignificant, like 2160p video capture (few people have UHD TVs) and additional sensors.
A quick tip: the HTC One (E8) is a plastic version of the One (M8) with better camera and will be out soon. It will be significantly cheaper than its metal-clad sibling. We omitted the popular Moto X from this segment as its international price is way too high.
You can also snatch up a great phablet too if you sit on the opposite side of the mini movement and just want a screen as large as possible (and you should probably read our tablet shopping guide too).
The top of the line phablets, however, are typically about €100 more. It will be several months before those are replaced by better models and drop in price.
Finally, we get to fresh flagship territory. It's outside the scope of this article to tell you which of the flagships is best but we have an ongoing series of head-to-head articles to help you decide.
The Apple iPhone 5s remains the leader in terms of price, the official price of the 32GB model is €800, €200-300 more than the other flagships! Sure, it can be found for less in non-Apple stores, but with the new iPhone so close we'd advise against getting one now. If you wait you can at least save €100 or spend your money on Apple's newest envy machine.