Sony Xperia P
The Xperia P has a 4" Reality display with what Sony call WhiteMagic technology. It boosts the brightness of the display by using a fourth subpixel to the traditional RGB setup, namely a white pixel. This is great as older Reality displays had excellent contrast but weren't very bright.
We stopped by the Sony booth at the MWC to find out more about this new technology and gladly found out there was a nice little set up that would allow us to test it properly. So we loaded the same image on the iPhone 4S and a Galaxy S II and placed them alongside the Xperia P. As you can see the Xperia P does better than either of its competitors both when in the shadow and in bright sunlight.




Sony Xperia P WhiteMagic screen compared to the iPhone 4S and the Galaxy S II
The Xperia P has an aluminum unibody and features the same transparent strip as the Xperia S and it will be available in three color options.
We also got hold of a red Sony Xperia P unit, so we are able to show you how this one looks in real life, too.
The Sony Xperia P shoots 1080p videos with its 8MP camera, thanks to the added power of the ST-Ericsson NovaThor U8500. So, in a small way Ericsson is still part of these phones. There's a microHDMI port so you can easily hook up the P to an HDTV.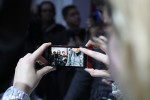 Sony Xperia P hands-on • Taking a photo with the Xperia P
The P has NFC connectivity, so it's compatible with Sony's Smart tags. It also has a dedicated SmartDock.
The Xperia P runs on Android 2.3.7 Gingerbread skinned with the typical Sony theme you've already seen on the Xperia S and the 2011 Xperia - arc, neo and ray. An ICS upgrade is scheduled for release later this year.