Time planners
This phone offers many time organizing features. There is an Organizer icon in the main menu and it contains several applications: Tasks, Notes, Alarms, Calculator, Synchronization, Timer, Stopwatch, Applications and Code memo. The Calendar and Alarms have separate icons in the main menu but the Calendar is not listed in the Organizer sub-menu. It has month and week view. As we have mentioned above, when you add a birthday date in the phonebook, the phone asks you if you wish to add it in the calendar.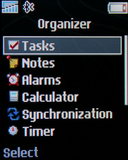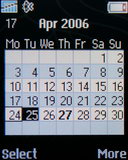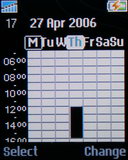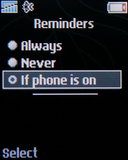 Organizer menu • Calendar
Tasks can be created for two reasons: as Tasks and as Phone calls. Reminders can be put as Subjects. Notes are written as messages; there even is the T9 to assist writing. There are two alarms - a single one and a repeated one. Not long ago, SE phones lacked recurrent alarms so it's nice to see that feature implemented here. The calculator is very simple and lacks complex features. The synchronization is for connecting with an internet server.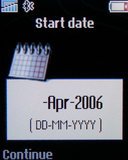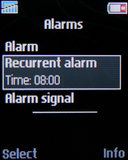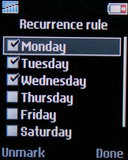 Setting a task • alarms menu • alarm settings
There are 3 applications more available - FaceWarp is used for manipulating portrait shots by adding funny faces and grimaces. NewsReader is a RSS feeds reader which is very useful. World Clock shows the time in different parts of the world.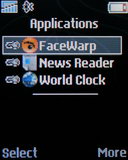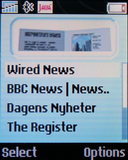 Applications menu • NewsReader
As we've said above, there are some misleading parts in the user interface of Sony Ericsson K510. Some icons and applications can seen more than once in the menu and some of them seems to be put in illogical places. As the Calendar is not in the Organizer menu and the Alarms have two icons, the Camera pictures have separate icon in the main menu. Of course, they can also be accessed from the File manager.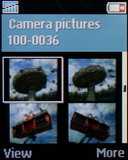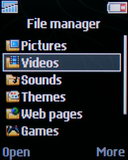 Camera pictures • File manager
The File manager works very fast in every aspect. It manages all the files of the phone and every multimedia file can be player or opened from it without any delay. As a standard feature it allows creation of user folders as well as marking, copying and moving of files among the folders.
Some other applications can also be found on the phone. Those are the VideoDJ, PhotoDJ and MusicDJ, Remote Control and Voice Recorder. VideoDJ is for making video clips from scratch using special transition effects and even by adding background music. It's a very amusing application. PhotoDJ is for applying effects on images and MusicDJ is a very simple application for creating polyphonic melodies. The Remote Control application is for controlling a PC via Bluetooth. The Voice Recorder allows for unlimited recording and needs no commentary.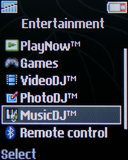 Entertainment menu
Time eaters
There are two games preinstalled: MiniGolfBT and QuadraPop. The MiniGolfBT is a rather irritating Golf sport game. QuadraPop is a Tetris-like game which can be rather amusing.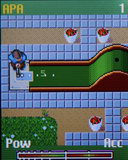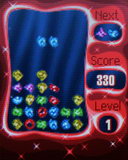 MiniGolfBT • QuadraPop
Only at a reasonable price
This phone has some advantages to offer and can manage to find its way through the market. The small size of a phone with such good 1.3 megapixel camera, lightning fast interface, great web browser and fair connectivity options can compensate the lack of memory card slot and the poor display. With the reasonable price put by the manufacturer, there is no doubt that Sony Ericsson K510 will have lots of fans and satisfied customers.