Connectivity, web browsing and applications
Sony Ericsson R306 Radio is a tri-band GSM/GPRS phone. The handset will be available in three versions: R306i Radio supporting GSM 900/1800/1900, R306a Radio for the Americas running on GSM 850/1800/1900, and R306c Radio for China with GSM 900/1800/1900 support.
You can rely on Bluetooth for close-range wireless transfers. Unfortunately, the R306 doesn't have support for the Bluetooth file transfer service, you only have Object Push but that's enough for exchanging files between mobile devices.
The Sony Ericsson R306 has a built-in WAP browser - it handles HTML sites but complex web pages are too much for the device. We had a hard time browsing gsmarena.com, and we even had issues with WAP sites but truth be told - our unit is still a pre-release one, so hopefully that should be fixed.
Sony Ericsson R306 Radio offers several time-management features such as a Calendar, Alarms, Tasks, Notes, Timer, Stopwatch, and Calculator.
The Calendar offers month, week and day views. When you enter a birth date in the phonebook, the phone prompts adding it to the calendar.
As far as alarms are concerned, there are five alarm slots available. Each one offers a lot of options - you can opt to repeat the alarm on chosen days of the week. Text and a picture can be added to the alarm, a custom tone too. Of course you can set up the radio to wake you up instead of a tone.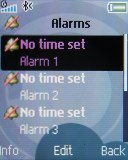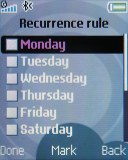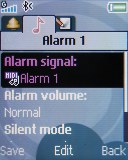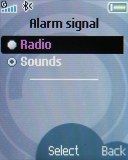 The Alarms options: the radio can wake you up too
Tasks can be two types: simple Tasks and Phone calls. Notes are written similar to messages; the T9 dictionary can be used here as well. A nice feature is the option to display notes on the Home screen.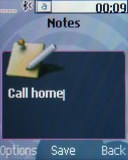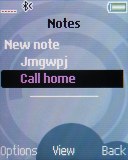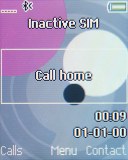 Notes menu • displaying a note on the homescreen
The Sound recorder has no limit to recording length, making the free memory available the only - and harsh enough - restriction. The Calculator is the regular Sony Ericsson application. It offers the basic functions, no bells and whistles. There isn't much to note about the stopwatch and timer either.
The Sony Ericsson R306 Radio comes with two games pre-installed. The first one is Johny Crash does Texas (in a stunt kinda way), and although it sounds like an XXX title it's in fact an amusing game. The second game title is the Mah Jong Quest which is a game of logic.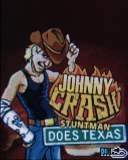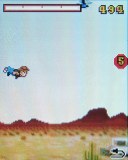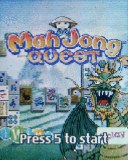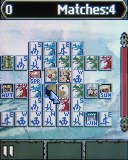 Johny Crash does Texas • Mah Jong Quest
Final words
Sony Ericsson R306 Radio is to join the low-to-midrange company portfolio. It pretty much has the basics covered with 1.3 megapixel camera, Bluetooth, Smart search dialing. The advanced radio features include stereo speakers, RDS, TrackID, broadcast recording and the dedicated radio controls.
The scarce built-in memory and the lack of a card slot tend to limit it in many ways. We could also go on about a tad better display resolution and better imaging quality. But probably our most important grudge of all with this radio-centric device is the need to plug the headset in for the radio to work properly.
Now that's a common nuisance in all modern handsets, but on a phone that's supposed to be "all-radio" it becomes much more obtrusive. The huge headset jack makes things even worse. Some new design to deal with that would have been much appreciated. And in the end, a dedicated cable aerial such as the one of O2 Cocoon would have meant a lot less hassle.
Anyway, R306 is a low-ender after all. There will always be a market for down-to-earth entry level handsets. Plus, Sony Ericsson R306 gets its edge from the vintage radio looks that give it a distinct personality.