3 megapixel snapper to capture your moments
The camera shoots in a maximum resolution of 2048 x 1536 pixels. Regretfully, it has no autofocus, nor flash. Pictures are taken with the handset held in portrait mode, part of the display serving as the viewfinder. The center of the navigation key is the capture button.
The options include white balance, shot mode, geotagging and different effects. You can capture panorama shots by taking three consecutive shots.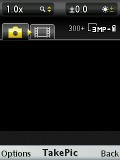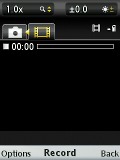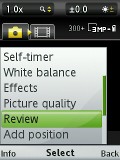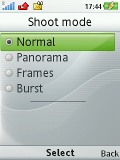 Sony Ericsson T707 camera interface
The image quality is quite short exceptional, but we suspect it won't be a deal breaker for you if you have set your eyes on the T707 anyway. At the moment the noise-suppressing processing is pretty harsh on the details giving the photos a watercolor painting effect.
However you've got to remember our T707 is a pre-release unit so the camera will most probably be tuned differently (better) in the final retail product.
The video recording on T707 is limited to QVGA resolution at 15 frames per second - there are no surprises here. It's like most of the Sony Ericsson handsets in this class and we won't even bother publishing a sample.
Fluid browsing
Sony Ericsson T707 comes with nice the Access NetFront web browser v3.4 featuring the extended home screen, also available in the other recent Sony Ericsson handsets. Plenty of shortcuts arranged in a tree structure are listed on the homescreen, right under a search and an address bar. The appearance of the home screen changes to various bright colors each time you start the browser too.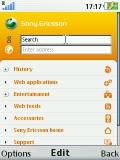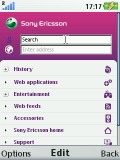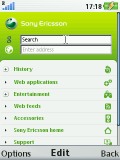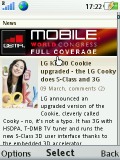 The extended home screen is a nice touch on the latest Sony Ericsson phones • opening GSMArena.com
Elaborate web pages are rendered well and there are lots of configurable settings too. There is full screen viewing mode. The panning/scrolling speed is up to standard.
The Sony Ericsson T707 web browser offers a virtual mouse pointer, which is nice to work with. Another interesting and practical feature is the "Find on page" option.
Connectivity is on par with what the market segment demands
The T707 scores highly on connectivity options. Quad-band GSM/GPRS/EDGE and 3G are all on board for worldwide roaming. HSDPA is also supported.
Besides the network-based connectivity, the Sony Ericsson T707 offers the usual Bluetooth v2.0 and USB options. There is also support for the A2DP profile allowing you to listen to music on a stereo Bluetooth headset. Last, but not least, there is also the M2 card slot, which is often one of the quickest ways of transferring data.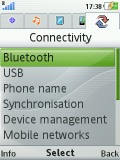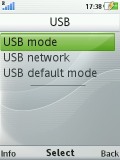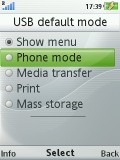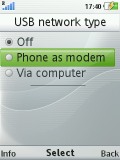 The connectivity menu with the available USB modes
Organizer and apps
The Sony Ericsson T707 offers a wide range of time-management features as usual.
The Calendar offers monthly, weekly and daily views. When you add a birth date in the phonebook, the phone prompts adding it to the calendar.
The Alarms app will hardly need any introduction. There are five alarm slots available. Each one offers a lot of options - you can choose to repeat the alarm on chosen days of the week or everyday.
As for the additional applications, Sony Ericsson T707 comes with the well known AccuWeather, Comeks Strips and a new one - Emotional PIM. The latter is an animated digital clock with some nice effects and can be used for wallpaper.
As the name suggests, its other function is to show the upcoming organizer events - appointments, birthdays and tasks.
PhotoDJ, VideoDJ and MusicDJ plus Bluetooth remote control are signature features for all Sony Ericsson phones, and are available here too.
Available for free download and compatible with a variety of mobile OS and Java-enabled handsets, Google Maps for Mobile come preinstalled on the Sony Ericsson T707.
Two different view modes are available - Satellite and Map view and the user interface is clean and intuitive. Traffic information is another important feature here.
After defining a start and end location, the possible routes are being calculated with overall guidance based on the available information in the database.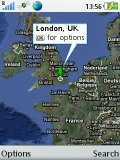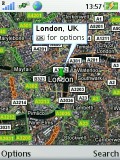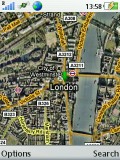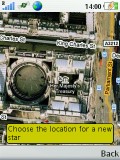 The Map view is very informative • zooming in a street • satellite view
Sony Ericsson T707 comes with only one preloaded game - Real Football 2008.
Final words
There is no doubt that Sony Ericsson T707 is wonderful mid-range handset. It has all you may need from it - 3G support, a 3 mega pixel snapper, a M2 memory slot, FM radio and stylish design.
Unfortunately to T707, the mid-range market that the handset targets has already been heavily bombarded by nice-looking all-touch handsets such as LG Cookie or Samsung S5600 and S5230. Since touch is all the rage these days and it's only recently been made affordable to the masses, we somehow don't really see a profitable business case for old-school clamshells anymore.

LG Cookie • Samsung S5600 • Samsung S5230
Still, for die-hard clamshell fans, the Sony Ericsson T707 represents a really nice and stylish package. Since we don't know the projected retail price we can hardly compare it to any competing products. Still, if you are after a stylish clamshell, you might want to look at Nokia 6600 fold, which is also a gorgeous device.
At a more moderate price (around 150 euro at the time of writing), the Nokia 7510 Supernova can also fill in the blank for a clamshell competitor with its nice light effects, hidden external display and exchangeable external panels.





We happen to have a few comparison live shots of Nokia 7510 in a brown outfit and SE T707
In case you need a little bit of a music bump, you shouldn't forget that the T707 has its twin brother in Walkman cloths - the Sony Ericsson W508, which will be available even earlier than the T707 itself. It adds external touch-sensitive music keys, an accelerometer and a secondary video call camera, while keeping the fancy gesture control. We still don't have pricing info on this one too, but patience is a virtue.


Sony Ericsson W508 next to Sony Ericsson T707 - you can bet another review is in the works
As you can see, there's plenty of competition, so whether Sony Ericsson T707 makes it or not, will be a matter of really tight pricing policy. As usual, when you're out shopping, always have an eye on what the competition offers and you can't go wrong.