Connectivity is full-suite
Sony Ericsson Vivaz is well versed in connectivity - all contemporary means of data transfer are supported.
Starting with the basics, there's quad-band GSM and EDGE support, as well as 3G network compatibility. The Vivaz has dual-band 900/2100 MHz support for worldwide coverage, as well as an American version at 850/1900/2100 MHz. Data speeds reach up to 10.2Mbps HSDPA and 2Mbps HSUPA.
Local connectivity offers the obligatory Bluetooth 2.0 with A2DP. Vivaz also comes with Wi-Fi, which includes DLNA support. The wired connectivity relies on the microUSB port, a real advantage over the Satio's FastPort.
Sony Ericsson are keen to jump ship recently with microSD cards, not Memory Sticks. The card slot on the Vivaz is hot-swappable, but it's hidden under the battery cover. It supports cards with a capacity of up to 16GB (it comes with an 8GB card in the box), which is more free space than we've ever needed.
The web browser needs more work
Sony Ericsson Vivaz uses the S60 5th edition browser and starts up with the typical Sony Ericsson homepage.
It has quite a few shortcomings in usability though. The kinetic scrolling for one - it doesn't have enough momentum and stops way too abruptly. The tap-to-zoom feature switches between three levels of zoom: 30%, 100% and 200%. Strangely, it was a little hard to trigger, so you are better off using the zoom bar.
Viewing a page full screen or bringing up the minimap requires two taps, which is exactly a click more than it should have been. And while the browser has support for multiple pages opened at the same time, this only works for popups - you can't open a new tab manually and punch in a new web address.
At least the page rendering is quite good, making all the pages look as if browsed on a desktop PC.
The high resolution is also welcome here, as it allows more content to fit on the screen. There is also a login auto-fill interface that really makes logging online that much easier on a device without a physical keyboard.
Finally, the web browser has support for both Flash and Java, which means that you can enjoy flash videos straight in your browser without having to use the mobile versions of sites like YouTube. Just bear in mind that it's not Flash 9.4 like on Nokia N900, but Flash Lite instead so exceptions are to be expected.
In terms of speed the browser performs very well but when viewing a YouTube video it would often show a "memory low" warning. The videos still played smoothly though.
So, generally speaking, the second S60 touch-browser is nicely equipped but fails to address some basic usability shortcomings.
Symbian organizer
The S60 organizer didn't get tweaked that much for the new OS beyond basic touch optimization, but this time you will be glad to have Copy/Paste in the menu options.
The calendar has four different view modes - monthly, weekly, daily and to-do, which allows you to check up all your pending tasks regardless of their date. There are the same four types of events available for setting up as on S60 3rd edition - Meeting, Memo, Anniversary and To-do.
Each event has unique fields of its own, and some of them allow an alarm to be activated at a preset time to act as a reminder.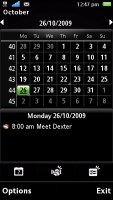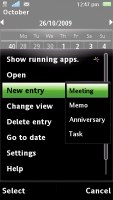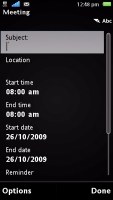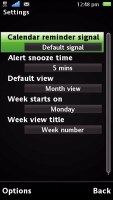 Some of the calendar views and available settings
Mobile office is also highly functional with preinstalled viewers for Word, Excel and PowerPoint files. The PDF viewer was preinstalled on our unit but it's only a 15-day trial version again (duh!).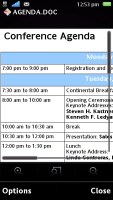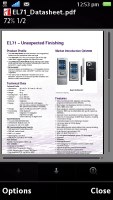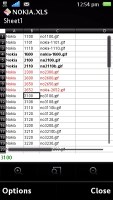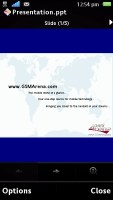 Only viewing of documents is supported out of the box
Unfortunately, editing documents is not supported on the included Quickoffice version. If you would like editing enabled you will have to buy the additional license.
The organizer package also includes a great unit converter, calculator and voice recorder, as well as the Notes application.
We have to admit though that the calculator is much more comfortable to operate with fingers than with a D-pad, almost as if it was designed for such use from the very beginning. Now let's just hope new non-touchscreen devices get something better.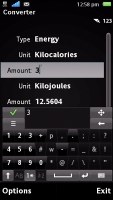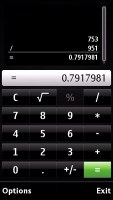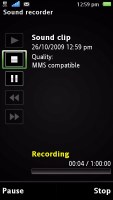 Some of the other organizer apps
The alarm application allows you to set up as many alarms as you want, each with its own name, trigger day and repeat pattern. If this seems too complicated, there is a quick alarm setup where all you do is set the time and you're good to go. This is quite convenient for, say, setting up your wake-up alarm.
In addition, the number of alarms is not limited. Thanks to the built-in accelerometer you can also snooze the alarm by simply flipping your phone over.