Few applications
The preinstalled applications on the Sony Ericsson Vivaz include RoadSync, SMS Preview and Facebook. There's also dedicated voice-guided navigation software, which we'll cover later on.
The DataViz RoadSync is among the most useful preinstalled applications if you plan to use your Vivaz in a corporate environment. In essence, it's an ActiveSync client, which provides secure, wireless and direct push synchronization of corporate e-mail, calendar, contacts, tasks and attachments. You don't need to be a white-collar worker to use that. You may just as well sync your phone to the Google could service - contacts, email and calendar.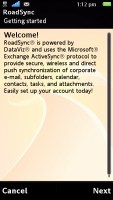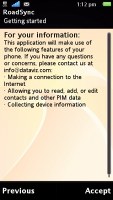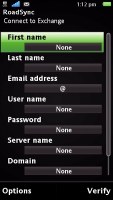 DataViz Roadsync is an ActiveSync client
SMS Preview is a handy tool, which previews incoming SMS messages on the homescreen so you won't even have to unlock the phone to read the message. You can set up how long the preview lasts. To start using SMS Preview though, you have to activate the app, which requires sending a single international SMS.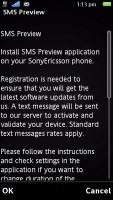 SMS Preview displays incoming texts on the homescreen
The next two apps don't come preinstalled in your phone, but their installation packages are found on your memory card. Both are Symbian native apps. The Water Level is a pretty accurate leveling tool with various options. World Mate is a travel advisor for weather, flights, etc.
There's the Facebook app too, which speaks for itself.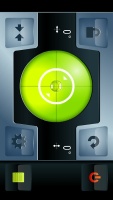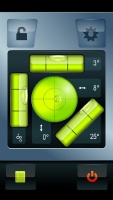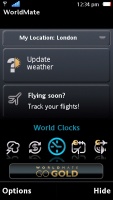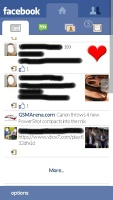 Water Level • World Mate • Facebook
Wisepilot to guide your way
The Sony Ericsson Vivaz features a built-in GPS receiver. Its sensitivity is nothing spectacular - it managed to get a lock from a cold start in a couple of minutes but we had to go out into an open area. It wouldn't get a lock on the balcony of our office.
The Vivaz is equipped with the Wisepilot navigation software and offers all the features you'd expect in a proper SatNav solution. There's voice-guided walk and drive navigation, maps are courtesy of NAVTEQ, there's 3D view of the maps, extensive route-planning settings, speed camera alerts, POI and weather.
Its main downside is that maps are not stored locally but instead get downloaded interactively over the air. A flat data fee is definitely recommended if you're out and about but 1MB of data should get you about 600km of navigation.
Still, we would have liked to have a map downloader as well. It really would have helped avoid roaming data charges.
We also wish there was a built-in compass, like on most of its competitors, to facilitate navigation. Google Maps is included as well if you prefer it.
Two games on board
There are only two games preinstalled and despite the catchy names and looks, they really aren't so cool. The first one is called SSX 3 and is an accelerometer-controlled snow-board racer. There are four virtual buttons too for jumping, strafing, etc.
The other game is Rally Masters, with the accelerometer again in charge of steering and just one virtual key for braking.