Files and stuff
If you have used other Sony Ericsson handsets you won't be surprised by the W710 file manager because there are no significant improvements here. On the other hand if you are still new to SE phones, well let me tell you that they have one of the best non-OS file managers. It allows you to mark files (single or multiple), copy them, move them, and also create and delete folders as you please. There are three tabs of file lists - one for the phone memory files, one for the memory stick files and one mutual for all files. By selecting a given tab you can filter the files shown.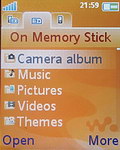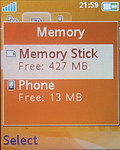 The memory card tab • available memory space
Browsing your pictures is as easy as ever - you could do that in a list view with or without thumbnails while the file names are visible. You can also choose to view your pictures as a grid matrix of thumbnails in 2 x 2 or 3 x 3 grids with no file names visible. The video files can also be browsed as thumbnails.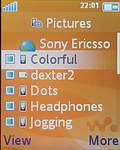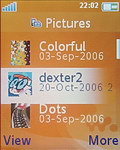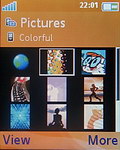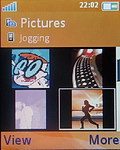 List view • thumbnails list view • 3 x 3 grid view• 2 x 2 grid view
Unfortunately, the only available option for viewing pictures fullscreen is vertically (in portrait mode). When viewing the pictures one by one the phone preloads a lower quality preview in order to allow you fast browsing. Once you find a picture, you would like to see it in its full glory you should stop browsing for a second and the phone would load it with its normal quality.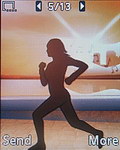 Viewing the pictures only in portrait mode
While browsing pictures you can easily do a little bit of editing on them or send them as MMS and email or via Bluetooth and Infrared. If you intend to do detailed editing of the picture, the PhotoDJ application is at your disposal. With its help you can easily adjust levels, light balance, brightness and contrast, remove unwanted red-eye effect, apply some color effects to the picture such as negative and sepia, or you can add a frame or a text to the picture.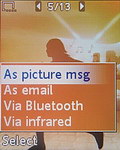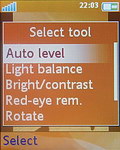 Sending options • Editing options
2 megapixels on a budget
The 2 megapixel camera of W710 does its job satisfactory without any bells and whistles. The quality of the pictures taken is comparable to that of pictures taken with Sony Ericsson K610.
We've seen better quality cameras from Sony Ericsson, not to mention the lack of autofocus. The camera offers night mode, self-timer, panorama, frames, and burst shooting modes. It also features white balance correction. Several color effects are available, too. When it comes to orientation, the camera can only take pictures in portrait (vertical) mode.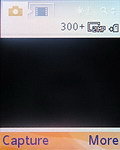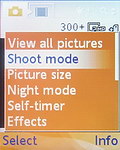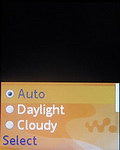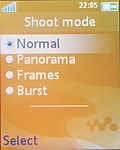 Camera viewfinder • some camera menu options
Sony Ericsson W710 has no dedicated macro mode, everything closer than, say 80 cm from the lens will be out of focus. The camera menu is far simpler than the one seen on handsets such as K750, K610, W810, etc. It's more like the one used on budget models such as Sony Ericsson K510 and its predecessor K500.
The colors in the W710 photos are quite correct; the resolution is not bad at all. As a whole the photo quality of W710 is just a tad worse than the W850 model we reviewed recently. It looks like Sony Ericsson uses different image processing in W710 than it's best photo models, like K800, W810 and the likes. The W710 images look artificially noise free, but this comes at a price. The noise suppressing routines smear fine details like the foliage of a tree. Look at distant trees in our samples and you will agree that they look strange.













Sony Ericsson W710 sample photos
The videos taken with W710 are captured at the low QCIF resolution. You can choose if you would like to limit the video duration in order to fit it on a MMS message or whether you would like to make unlimited recordings. The options for the video camera are pretty much the same as those for the still camera with very minor differences. It's possible to use digital zoom during recording, but the key presses get recorded too loudly, as seen in our sample video.
Sony Ericsson W710 sample video
Plugged and unplugged
Besides GPRS and EDGE for fast data transfers, the handset offers the usual connectivity capabilities such as USB support, Infrared port.
As we tested, the integrated HTML Access NetFront Internet browser is at a good level and it does its job more than alright. It has a lot of options - you can view the pages fullscreen with no menus showing and you can even browse your Web pages in landscape mode. It has WAP and picture modes. It supports content created for HTML 4.01, xHTML 1.0, CSS and Java script, WAP 2.0. The supported security protocols are SSL/TLS.
Generally, the Smart-fit function of the browser manages well with fitting the web content into the screen, but usually distorts the page layout and design too much to be really useful.
We cannot miss the opportunity to take a peek at GSMArena.com through the integrated browser since that has become in some way our in-house way of testing and comparing mobile Web browsers.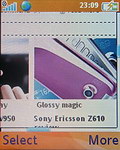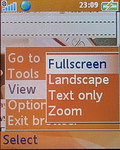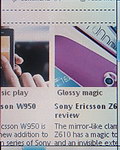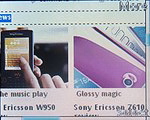 Browsing GSMArena.com • fullscreen portrait mode and landscape mode
A nice feature is that the browser supports zooming in and out of the Web pages of up to 200%.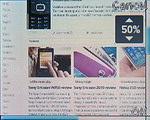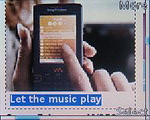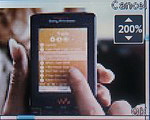 Zooming out to 50% • zooming in on 150% • zooming in on 100%
The handset supports Bluetooth 2.0 with A2DP profile, which means that you could use a stereo Bluetooth headset with it and that is something you don't see in every phone nowadays. Another notable thing about the excellent Bluetooth support is the Human Interface Device (HID) profile which allows the phone to be used as a remote control for PC and other Bluetooth-enabled devices. Further on, the phone could be used as a Bluetooth modem for Internet access of a PC or a mobile computer.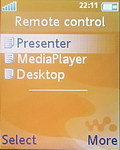 The integrated "Remote" application
The phone has support for local and remote synchronization of contacts and calendar events. The local one is with Outlook and a PC while the remote synchronization is with remote servers. The USB connectivity of the phone has two modes - one for file transfers and one for USB Internet - to put it simply, the second one is for using the phone as a modem. A great feature that we see in every new Sony Ericsson phone nowadays is the capability to update the firmware version of the phone over-the-air, meaning you can download the new version through the phone itself.