Organize it
This phone offers many time organizing features. There is an Organizer icon in the main menu and it contains several applications: Calendar, Tasks, Notes, Alarms, Calculator, Synchronization, Timer, Stopwatch, Applications and Code memo. The Calendar offers monthly, weekly and daily view. As we mentioned before, when you add a birth date in the phonebook, the phone asks you if you wish to add it in the calendar too.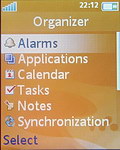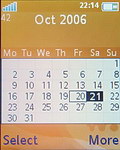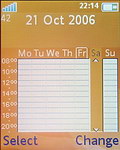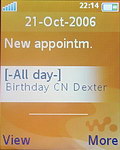 Organizer menu • Calendar monthly view, weekly view & daily view
Tasks can be two types: simple Tasks and Phone calls. Reminders can be put as Subjects. Notes are written as messages; there even is the T9 to assist writing. There are five alarms available. Each one offers a lot of options - you can choose to repeat it on chosen days of the week or everyday. Furthermore, you can add text and a picture to the alarm as well as set its behavior in case the time that the alarm is due to go off comes while the phone is in silent mode.
The Voice recorder doesn't have any limit in the duration of the recordings since all the free memory is available for the purposes of the application. The Calculator is the regular Sony Ericsson one, which you have probably already seen. It offers the basic functions with no bells and whistles.
Some other applications include the MusicDJ, VideoDJ and the Music Mate. VideoDJ is for making video clips from scratch or for editing existing recording using special transition effects and by adding background music. It can be a very amusing application. MusicDJ is a very simple application for creating custom polyphonic melodies.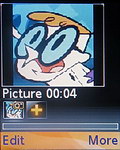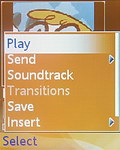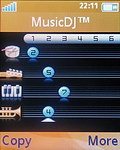 VideoDJ application • MusicDJ application
The Music Mate application is designed for those aspiring to become musicians. It offers a guitar chords database, a piano pitch and a metronome. You can use the database to check the finger composition for any guitar chord, as well as hear how it sounds.
Running and walking
The Walk Around the World application presents keen walkers with information approximately how many days would it take them to walk to some of the biggest world cities. According to us it's quite useless, but amusing, at least when you try it for the first time. An interesting thing is that the figures are dynamic and are based on your personal average walking speed for a given period of time.
Another unusual application sports oriented application was the Pocket Trainer. It's pedometer oriented and uses it to calculate your speed and training session results. It can even draw graphs and make statistics about your performance for a given period.
Strangely enough it even has a Trivia section where you get to win medals for answering correctly sports oriented questions.
The place where the Pocket Trainer application gets its data from is in fact the sports menu when you find all the practical everyday sports oriented features of the Sony Ericsson W710. The mobile stores information about your training sessions or about your casual walking. You can browse that information for the current day or for past days.
The sports menu is also the place where you would find the circuit chronometer/speedometer to assist you in your laps. When you start it, you are asked to close the clamshell and start running.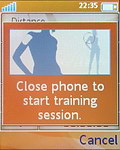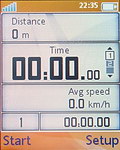 Chronometer interface • external display
Tons of games
There are unusually many preinstalled games on the phone. Those are Alien Scum, Alpha Wing 2, Erix, Five Stones, QuadraPop, SoccerPong, Tennis, and Treasure Towers. We won't go into details about them, just have a look at some of the screenshots.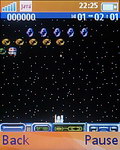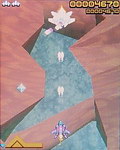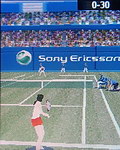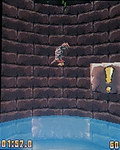 Alien Scum • Alpha Wing 2 • Tennis • Treasure Towers
Final words
Being among the few sports-oriented mobile phones on the market, the Sony Ericsson W710 deserves a nice score just for the efforts the manufacturer has put in it and the risk taken. Nevertheless, we find the W710 to be an excellent implementation of a mobile phone, a portable music player, a personal digital trainer and a digital camera all-in-one. It's not a high-end device and it's not meant to be one. It's meant for fun and it manages to deliver what's expected . We at GSMArena.com would like to see more devices of that sort coming out on the market and competing for the hearts of the sports oriented audience. Because W710 surely managed to warm ours.