Lots of apps
As far as the additional applications are concerned, the Sony Ericsson W995 comes with several preinstalled: CamPlus, Comeks Strips, Music Mate 5, Music Quiz, Rock Bobblehead, Sound Sensor, VoiceFX, Walk Mate and a YouTube client.
Comeks Strips is an application that lets you add speech bubbles and various comic-style additions to your camera photos. The comics you make can be then saved or sent via MMS. Making comics is fun and easy following the step-by-step wizard.
One of the most interesting applications that come preinstalled on the Sony Ericsson W595 is Music Mate 5. It consists of several music-centered mini applications, the first of which allows you to play music by shaking your phone. You can choose from a huge list of musical instruments for each direction.
Music Mate 5 also includes a Beatbox with quite a variety of beats. The application can also help you play the guitar or keyboard by demonstrating the proper finger positions for individual chords. Finally, Music Mate 5 includes a guitar tuner that can help you tune your guitar using the phone's microphone.
The Music Quiz is exactly what its name says - you have to name the title, artist, album or year of release of random tracks in your music library. Long story short: a part of a song is played each round and you have 5 to 30 seconds to guess.
Rock Bobblehead is a totally useless application allowing you to play bobblehead with an Elvis Presley doll using the built-in accelerometer.
The Sound Sensor catches the surrounding noise and shows it in a real-time graphical diagram - just like an equalizer or music-animated visualization.
The VoiceFX application records your voice and then allows you to apply different filters and effects to it before saving the new sound file to your phone.
The Walk Mate is a simple step counter application that works in background mode based on the built-in accelerometer.
And at the end we find the YouTube client, which gives you full access to clips and uploading, bookmarking favorites and so on. It's really nice and it's also tightly integrated into the Media center, so it's always on hand.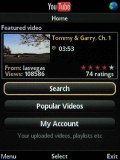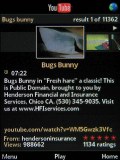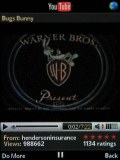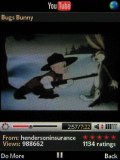 YouTube is a click away
By the way, the beta of the Java application is available for download over at the YouTube website.
Location services and knowing your way around
Available to download for free and compatible with a variety of mobile OS and Java-enabled handsets, Google Maps for Mobile comes preinstalled on the W995. With Location services you can get help finding your way, view information about your current location and save your favorite locations. To use all the features of Location services, internet access is a must.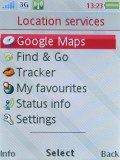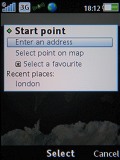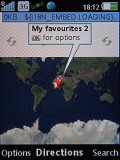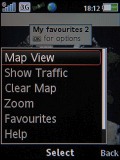 Location services with Google Maps • User interface and some of the menu options
After defining a start and end location, the possible routes are calculated with overall guidance based on the available information in the database.
Two different view modes are available - Satellite and Map view and the user interface is clean and intuitive. Traffic information is another important feature here.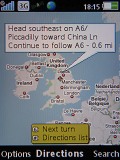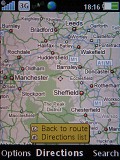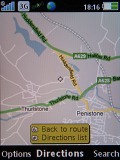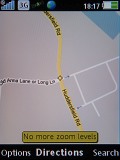 The Map view is very informative • zooming in a street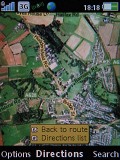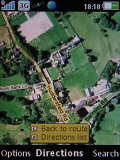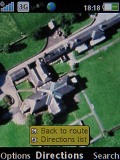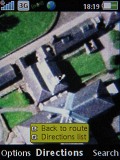 Zooming in a satellite view brings you to a street level details
The Status info application displays the current activity in km/h for a 60-minute period. GPS connection status is indicated on the second tab of this application.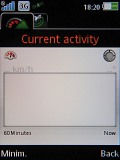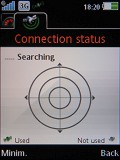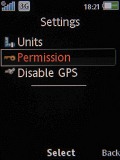 The Status info application and some of the available settings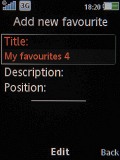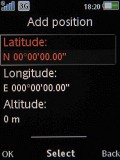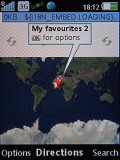 Adding a specific location as favorite
Of course, saving your most recent routes is extremely easy. Within several clicks, a title, description and position is all you need to save a favorite location.
The Log application in the Location services tracks and saves each position request, which is accessible at any time afterwards. Each entry in the log is saved in descending order by date and displays the date and time, as well as the exact GPS position.
Vodafone Find&Go
As our Sony Ericsson W995 is a Vodafone-branded one, GPS navigation is handled by Vodafone Find and Go, a software application that provides you with all the essentials: 3D maps, turn-by-turn voice prompts and traffic updates.
It comes preinstalled on the phone, but it's available only for Vodafone UK users. There is no need for any monthly payment since everything is free apart from the GPRS data you use.
Instead of Vodafone Find and Go, the regular non-Vodafone version of the Sony Ericsson W995 should be equipped with a trial version of the well known Wayfinder Navigator, which we have written about in numerous Sony Ericsson reviews.