I see through you
Sony Ericsson XPERIA Pureness review: I see through you

Mid-range connectivity
The Sony Ericsson XPERIA Pureness is not an internet-centric or multimedia device and scores modestly on connectivity options. Quad-band GSM/GPRS/EDGE and 3G are all on board for worldwide roaming. 7.2 Mbps HSDPA, as well as 2.0 Mbps HSUPA are also supported.
Besides the network-based connectivity, the Sony Ericsson XPERIA Pureness offers the usual Bluetooth v2.0 and USB options.
The XPERIA Pureness supports local and remote synchronization of contacts and calendar events.
There are no premium connectivity options such as Wi-Fi, GPS, a 3.5 mm audio jack or even microSD card slot.
See-through browsing
The Sony Ericsson XPERIA Pureness has an Access NetFront browser v3.4 featuring the extended home screen available in most of the company's feature phones. Plenty of shortcuts arranged in a tree structure are listed on the homescreen, right under a search and an address bar. They grant access to free content, such as clips, tracks and games on the Sony Ericsson site, including a step-by-step guide for setting up email accounts or internet connections.
Elaborate web pages are rendered correctly and there are a number of configurable settings too. View modes include Text only, Pan and Zoom, and Zoom page. The Panning/scrolling speed is up to standard.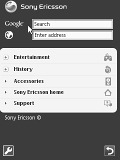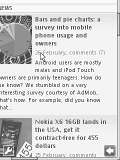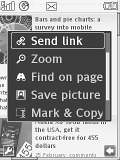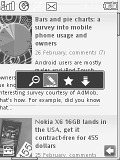 Sony Ericsson XPERIA Pureness web browser
The Sony Ericsson XPERIA Pureness web browser offers a virtual mouse pointer, which is nice to work with. Another interesting and practical feature is the "Find on page" option. It searches the loaded web page but the first match is not immediately listed and you need to press the find key.
Overall browsing on the XPERIA Pureness is not a great experience due to the poor contrast of the screen.
Organizer and apps
The Sony Ericsson XPERIA Pureness offers the usual set of time-management features. The Calendar offers monthly, weekly and daily views. When you add a birth date in the phonebook, the phone prompts adding it to the calendar. The to-do application allows storing of two types of tasks: simple Tasks and Phone calls. Notes are written similar to messages and the T9 dictionary can be used here as well.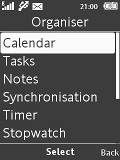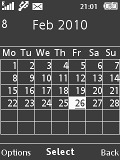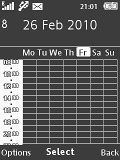 The traditional Organizer with its apps • Calendar
The Alarms are part of the main menu and there are five alarm slots available. Each one offers a lot of options - you can choose to repeat the alarm on chosen days of the week or every day. Text and a picture can be added to the alarm. Furthermore, the alarm's behavior can be defined in case the time it is due to go off comes while the phone is in silent mode.
The Calculator is the regular Sony Ericsson one. It offers the basic functions, no bells and whistles, but you can run the Converter from there. The stopwatch and countdown timer are also the familiar basic applications. The Voice recorder has no limit to recording length, making the available free memory the only restriction.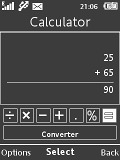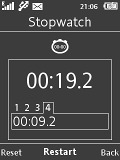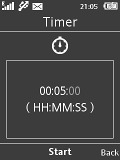 Calculator • Stopwatch • Timer
Only one game onboard
There is only one game preinstalled on the XPERIA Pureness. Pac-Man is sure to bring back lots of fond memories, but it's the monochrome display that makes it a real blast from the past.
Final words
The XPERIA Pureness is one of the lightest and smallest handsets ever made with a unique design and unparalleled transparent display. It is what Sony Ericsson meant it to be: the simplest of phones, impossible to match. By the sound of it, they can charge whatever they want on something like that.
The Pureness is a premium handset and premium handsets are known to get away with just about anything. We're in no mood anyway to go on and on about what it can't do. It's a phone like no other: the point of its screen is to be transparent, not legible. There's no camera on it – and some would argue that's almost as good as having a 2-megapixel fixed focus snapper.
Still, we think there's something wrong with the XPERIA Pureness. First time we saw pictures of it, we thought it was brilliant. The very concept of a pure, simple, minimalist handset with a translucent screen is perhaps worth a million bucks. Sadly, the reality is pretty underwhelming. The phone doesn't look its 600 euro price tag. And if we can say that about a phone with an unmatched transparent screen, something's very wrong.
OK, the premium segment has a different standard of right and wrong. To the extent that poor build quality may pass as a charming eccentricity. Not to say that a certain class of customers will buy just anything as long as it comes bundled with a fat price tag and a concierge service subscription.