First look
Sony Ericsson XPERIA X10 mini preview: First look

This article is outdated. We have already published a full review.
Music player is pretty basic
Despite boasting a new design the music player on the XPERIA X10 mini didn't get much in terms of new features. It manages your audio files decently but there is very little extra functionality to support that.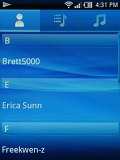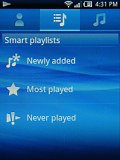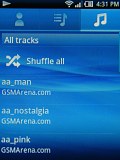 The Sony Ericsson XPERIA X10 mini music player has a new design but no new features
The best bit is the shortcut key that allows you to quickly look up a song on YouTube or via Google search by holding down a finger on a song.
There isn't even gradual typing for searching a specific song this time so you will have to use the kinetic scrolling or opt for artist sorting. At least there are three smart playlists that automatically gather your newly added, most played and never played tracks.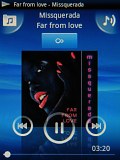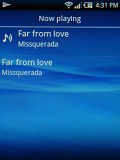 The "Now playing" screens
There are still a lot of shortcomings of the music player that need addressing, though. For example there are still no equalizer presets, nor any alternative skins.
Plain 5 megapixel camera
On the hardware side of things Sony Ericsson XPERIA X10 mini has a 5 megapixel camera module for a maximum image resolution of 2592 x 1936 pixels and a LED flash. It doesn't sound like much but the size of the package says it all.
The camera interface is as simple as it gets with four buttons in total. There is a camera/camcorder switch, a gallery button, scene mode and flash settings. The four available scene presets include twilight, sports, landscape and, of course auto.
This is certainly one of the most basic camera interfaces on the market but we guess Sony Ericsson thought users wouldn't need much more and will prefer simplicity to functionality. In the end, it all comes down to the image quality, so let's see.
The image quality is pretty pleasing with a good amount of resolved detail and the noise levels kept well under control even in not so favorable lighting. Contrast on the other hand is somewhat low.






Sony Ericsson XPERIA X10 mini camera samples
Synthetic resolution
We also snapped our resolution chart with the Sony Ericsson XPERIA X10 mini. You can check out what that test is all about here.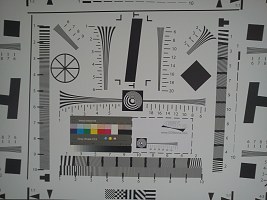 Sony Ericsson XPERIA X10 mini resolution chart photo • 100% crops
VGA video recording
Video recording on the X10 mini goes as high as VGA resolution which, needless to say, is far from impressive. At least the framerate is good 30 fps to make sure action looks smooth.
The interface of the camcorder is similar to the one on the still camera, except that there are even fewer settings. You can set the video quality turn on and off the video light and that's that.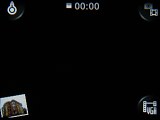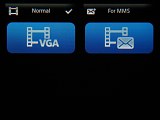 Things get even simpler in camcorder mode
Videos are recorded in 3gp format suggesting lower bitrate, which in turn leads to some compression artifacts.