This article is outdated. We have already published a full review.
The familiar "Flash" interface in new clothes
The Sony Ericsson Yari user interface is almost the same as in the latest manufacturer's phones we recently reviewed. It is customizable by Flash Lite themes and is sprinkled with smooth animations all over.
The interface offers many options and settings accessible at great speed - adding to an uncompromising user experience. In fact the latest Sony Ericsson UI is one of the prettiest and most customizable one among the feature phone competition. And now it has been tuned even further.
Along with some minor changes such as the absence of a tabbed Settings menu (it's a regular listed one now), there is more interesting stuff such as the addition of Picasa and Flickr integration (along with Blogger) that allows direct image and video uploading.
There is also the PhotoMap application that can show your geotagged images directly on the map downloaded off Google Maps - and the whole thing is tightly integrated into the Image gallery.
Another novelty is Quick text. Quick text is an optional feature that works in addition to T9. It recognizes the most frequently used words for each sequence of key presses.
There are of course more new things, so read on.
Unified media control
The Media menu seems to be an integral part of all recent Sony Ericsson phones and the Yari makes no difference to the rule.
Fortunately, the Sony Ericsson Yari comes with the latest Walkman music player without being a dedicated Walkman device. That's a move, which is quite in tune with what Sony Ericsson promised back in February as part of their communication-and-entertainment-all-in-one strategy. The same thing goes for the 5 megapixel camera as well (how's that for a non-Cyber-shot?).
The music player controls will be quite familiar to those who ever used some of the Walkmans in the past few years. The options are almost the same - stereo widening, equalizers are all on board. Automatic screen rotation thanks to the built-in accelerometer is also available.
What's new here however is the option to change styles. Those goodies come with Walkman 3.0 and are supposedly present in Sony Ericsson W995, but our test sample a few months ago lacked those.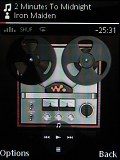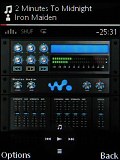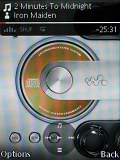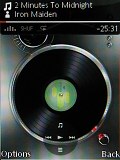 Some of the various Walkman styles
Well, we are pleasantly surprised by the new visualization styles that the Yari sports - they are completely different from each other and use many Flash animations.
You may opt for a spinning vinyl with some fancy buttons around it, or an old gramophone, a tape-recorder, or even a home stereo system (much more are available as well). Every one of these styles gives the player look and feel a total overhaul.
The rest of the Media menu is the familiar gallery and video player. The image gallery has some new transition effects which add more eye-candy to the already nice interface.