Midrange connectivity for a midrange handset
The Sony Ericsson Yari scores average on connectivity options. Quad-band GSM/GPRS/EDGE and 3G (two versions – one dual-band and one tri-band for the Americas) are all on board as is HSDPA (3.6Mbps).
Besides the network-based connectivity, the Sony Ericsson Yari offers the usual Bluetooth v2.0 and USB options, though you'd need a Sony Ericsson Fast Port to USB cable. There is also support for the A2DP profile allowing you to listen to music on a stereo Bluetooth headset.
Then there's the hot swappable microSD card – it is the fastest way to transfer large amounts of data. The easy access to the card and the microSD card reader in the box leave no excuses for not using this option.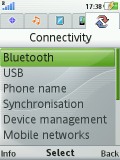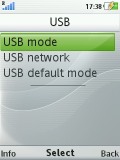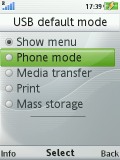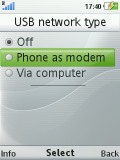 The connectivity menu with the available USB modes
Browsing is good enough for a non-touch phone
Sony Ericsson Yari comes with the nice Access NetFront web browser v3.5 featuring the extended home screen, also available in the other recent Sony Ericsson handsets. Plenty of shortcuts arranged in a tree structure are listed on the homescreen right under a search and an address bar. The appearance of the home screen changes to various bright colors each time you start the browser too.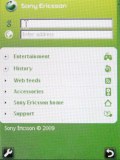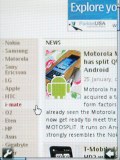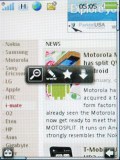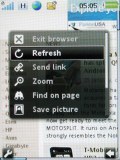 The extended home screen is a nice touch
Elaborate web pages are rendered well and there are lots of configurable settings too. There is a full screen mode both in portrait and landscape view. Auto-rotation works like a charm and the panning/scrolling speed is up to scratch.
The Sony Ericsson Yari web browser offers a virtual mouse pointer that's nice to work with. For YouTube, you have a dedicated application, which launches automatically when you try to view a YouTube video. There is also support for RSS feeds and on-page search, copying text or downloading pictures off a page are not a problem for the Yari browser.
We experienced some lags in the interface of the browser however. Nothing major, nor too common, but still noticeable.
Organizer
The Sony Ericsson Yari offers a wide range of time-management features as usual for its class. There is an Organizer icon in the main menu and it contains several applications: File manager, Java Applications, Video call, Calendar, Tasks, Notes, Synchronization, Timer, Stopwatch, Calculator and Torch.
The Calendar offers monthly, weekly and daily views. When you add a birth date in the phonebook, the phone prompts you to add it to the calendar too. There is just one general-purpose type of entry in the Calendar, but it features enough details. Notes are composed similar to messages and the T9 dictionary can be used here as well.
The Alarms application hardly needs any detailing. There are five alarm slots available. Each one offers a lot of options - you can choose to repeat the alarm on chosen days of the week or everyday.
Applications
The Sony Ericsson Yari comes preinstalled with some of the usual apps.
Walk Mate is a step counter, which challenges you to achieve a healthy goal – walk a thousand steps. Music Quiz tests your knowledge of songs - it plays samples of your music library and asks you to name the song.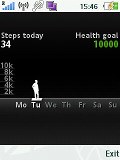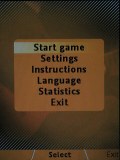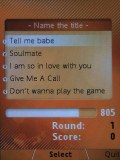 Walk Mate app • The Music Quiz
PullFace 2 and Voice Transformer are two fun little apps. PullFace lets you snap a photo and play with it – you can use several image distortion tools to twist a photo into a funny cartoon. Voice Transformer is the corresponding app for sound – you record a sound and then you can apply various effects – robot, play it backwards, high/low pitch, drunk and so on. When you're done, the app saves the sound as a WAV file (mp3 would have been much more useful though).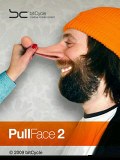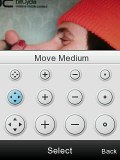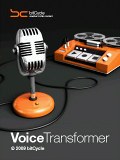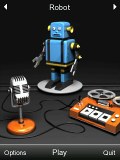 PullFace 2 • Voice Transformer
There's a regular sound recorder as well, which records AMR files.
You can also use two preinstalled apps as wallpaper – the first is Walk Mate, the other is Calendar Wallpaper, which puts an analog clock on the wallpaper. Using the built in accelerometer, you can switch to other views – calendar, tasks and last photo.