Let me take a selfie
Sony Xperia C3 and C3 Dual review: Let me take a selfie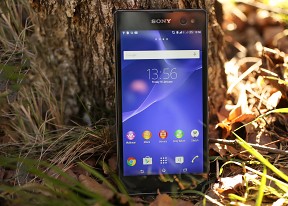 Synthetic benchmarks
Sony Xperia T3 makes use of the Snapdragon 400 mid-range chipset. It has four Cortex-A7 CPU cores ticking at 1.2 GHz, Adreno 305 graphics and 1GB of RAM.
We've already seen the Snapdragon 400 powering a plenty of devices in the last year or so and it is indeed good enough for hiccup free use, though it's time is running out already. Many manufacturers are already replacing the Snapdragon 400 with its newer iteration - Snapdragon 410, which offers a 64-bit processor, which is more in line with where the industry is heading.
Starting off with the CPU benchmarks, the Xperia C3 posted a rather poor result on the multi-core GeekBench 3 cross-platform benchmark. It managed to do the same as the Moto G (2014), but other Snapdragon 400-powered devices such as the Xiaomi Redmi 1S and Sony Xperia T3 are doing even better. Their processor clock is higher though.
GeekBench 3
Higher is better
Lenovo Vibe X2
3647
HTC Desire 820
2586
Xiaomi Redmi Note
2435
HTC Desire 816
1510
Xiaomi Redmi 1S
1492
Sony Xperia T3
1373
Sony Xperia C3 Dual
1181
Motorola Moto G (2014)
1171
AnTuTu is a compound benchmark, which also takes into account RAM and GPU performance. The Xperia C3 numbers are average, close to what's expected from an S400-running device. Naturally, the octa-core Redmi Note and Desire 820 are notably better.
AnTuTu 5
Higher is better
Lenovo Vibe X2
46666
Xiaomi Redmi Note
32487
HTC Desire 820
27070
Xiaomi Redmi 1S
19912
Sony Xperia C3 Dual
18466
Motorola Moto G (2014)
18245
Basemark OS II is another all-round benchmark. It gives an overall score along with single, multi-core performance, math performance and more. We focus on the overall score and the dedicated CPU scores. The Sony Xperia C3 overall rating is on par with other Snapdragon 400 phones such as the Xiaomi Redmi 1S and Redmi Note.
Basemark OS II
Higher is better
Lenovo Vibe X2
930
HTC Desire 820
725
Sony Xperia T3
535
Motorola Moto G (2014)
526
HTC Desire 816
520
Sony Xperia C3 Dual
466
Xiaomi Redmi Note
452
Xiaomi Redmi 1S
394
The single and multi-core scores are average, mostly because the processors in the other Snapdragon 400 phones run on a higher clock.
Basemark OS II (single-core)
Higher is better
Lenovo Vibe X2
2571
HTC Desire 820
1812
HTC Desire 816
1739
Xiaomi Redmi Note
1701
Sony Xperia T3
1465
Xiaomi Redmi 1S
1435
Sony Xperia C3 Dual
1203
Motorola Moto G (2014)
1123
Basemark OS II (multi-core)
Higher is better
Lenovo Vibe X2
13999
Xiaomi Redmi Note
12771
HTC Desire 820
8453
HTC Desire 816
7071
Sony Xperia T3
5759
Sony Xperia C3 Dual
5234
Motorola Moto G (2014)
5001
Xiaomi Redmi 1S
4875
The graphics benchmark results came out average. The GFXBench tests - both off-screen and on-screen variants - reflected some OK performance on par with the competition. Note that the Open GL ES 3.0 Manhattan 1080p offscreen test failed to run because of insufficient video memory.
The Adreno 305 is a capable GPU, but the quad-core Mali-450MP4 within the Xiaomi Redmi Note is obviously better and doubles the performance.
GFX 2.7 T-Rex (1080p offscreen)
Higher is better
Lenovo Vibe X2
17.8
HTC Desire 820
15
Xiaomi Redmi Note
9.8
HTC Desire 816
5.9
Sony Xperia T3
5.9
Sony Xperia C3 Dual
5.8
Motorola Moto G (2014)
5.8
Xiaomi Redmi 1S
5.7
GFX 2.7 T-Rex (onscreen)
Higher is better
HTC Desire 820
26
Lenovo Vibe X2
17
Xiaomi Redmi Note
13.3
Sony Xperia T3
11.2
Sony Xperia C3 Dual
11
HTC Desire 816
11
Motorola Moto G (2014)
10.8
Xiaomi Redmi 1S
10.3
GFX 3.0 Manhattan (onscreen)
Higher is better
HTC Desire 820
12
Lenovo Vibe X2
6.1
Sony Xperia T3
4.2
Motorola Moto G (2014)
4.1
Sony Xperia C3 Dual
4
HTC Desire 816
3.9
The Mozilla's Kraken 1.1 is JavaScript-centric browser benchmark. The Sony Xperia C3 did poorly on this test yet better than the new Moto G (2014). Unfortunately, the HTML5 BrowserMark 2.1 test crashed each time we tried to run it.
Kraken 1.1
Lower is better
Lenovo Vibe X2
4747
Xiaomi Redmi Note
12416
Xiaomi Redmi 1S
12470
HTC Desire 816
13564
HTC Desire 820
13568
Sony Xperia T3
13738
Sony Xperia C3 Dual
15737
Motorola Moto G (2014)
15988
One thing is clear, the Sony Xperia C3 isn't acing any benchmarks. On the contrary - its raw performance is average at best, barely touching some of its competitors. On a positive note - the synthetic benchmark performance may not be a complete measure for the device performance as in real-life use we found it to operate quite well. It provides solid and smooth Android experience and will do OK for the occasional game.
Unfortunately, heavier 3D games may not run well or at all because of insufficient RAM or will results in performance bottlenecks.
The Xperia C3 is OK for the moment and if you don't intend to use it for more than web browsing, watching the occasional video, listening to music, or playing some Angry Birds, and, of course, messaging and calls, then you'd be good for quite a while.