Let me take a selfie
Sony Xperia C3 and C3 Dual review: Let me take a selfie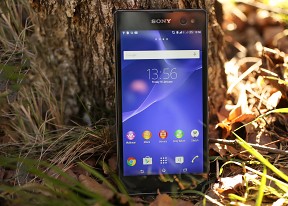 Great phonebook
The Sony Xperia C3 phonebook is integrated with the dialer using a tabbed interface - the Contacts, Phone, Favorites and Groups tabs can be side-swiped. The contact list has a dedicated search filed plus it offers and an alphabetical scroll bar.
You can sync with multiple accounts, including Exchange and Facebook, and you can selectively show or hide contacts from some accounts (as well as filter specific groups in an account), or set the phonebook to display only contacts with phone numbers or only contacts that are online.
If you are using two SIM cards, every time you want to make a call you'll be asked to choose which SIM card to use.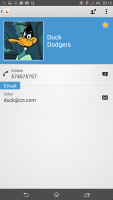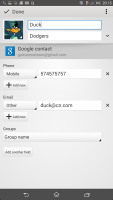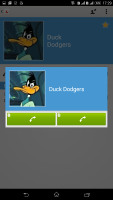 Viewing a single contact • Choosing a SIM card for a call
Linking contacts is available, quick contact feature is here too.
Dual SIM telephony
The Sony Xperia C3 Dual was able to hold onto signal very well. Calls remained uninterrupted and the sound quality was okay. Voices came out loud enough. Clarity wasn't the best but it was okay nonetheless.
The dialer support smart dialing and if you are using two SIM cards it will come with two call keys, one for each SIM card.
The Dual SIM manager is within the Settings menu. There you can name the SIM cards, choose the default one for internet data and you can also opt for Dual SIM Reachability. Since Xperia C3 Dual doesn't support dual-call as advertized, Dual SIM Reachability activates call forwarding between the SIMs for the times, when one of your cards is in a call or inaccessible.
The Sony Xperia C3's loudspeaker was only Average. It scored average voice and pink noise tests and a good ringing phone test so it shouldn't be an issue to hear alerts and incoming calls.
Sony has preloaded a number of features that modify how the speaker sounds. We tested with all of them, but besides the proprietary xLOUD, the rest made very little to no difference.
| | | | | |
| --- | --- | --- | --- | --- |
| Speakerphone test | Voice, dB | Pink noise/ Music, dB | Ringing phone, dB | Overall score |
| HTD Desire 816 | 66.6 | 65.7 | 66.6 | Below Average |
| HTC Desire 820 | 65.6 | 61.1 | 75.7 | Average |
| Sony Xperia C3 Dual | 66.2 | 61.1 | 75.3 | Average |
| Lenovo Vibe X2 | 66 | 67.7 | 71.8 | Average |
| Sony Xperia C3 Dual (Clear Audio) | 68.3 | 65.8 | 71.6 | Average |
| Xiaomi Redmi Note | 65.9 | 66.7 | 75.7 | Good |
| Sony Xperia T3 | 69.9 | 66.6 | 75.7 | Good |
| Samsung Galaxy S5 mini | 73.5 | 67.7 | 78.7 | Very Good |
| OnePlus One | 74.8 | 73.5 | 80.2 | Excellent |
| Motorola Moto G 4G | 77.1 | 76 | 83.3 | Excellent |
Messaging and text input
Text messages and MMS use standard thread layout. Adding multimedia (photos, videos, sounds, etc.) will convert the message automatically into an MMS.
Naturally, the Gmail client and the default Email apps are onboard. Gmail can sync only with (multiple) Google accounts, while the generic Email app can handle POP and IMAP and offers a Combined inbox.
Text input
As for text input, the Xperia E3 offers a customizable on-screen full QWERTY keyboard. You can choose a different layout (keypad, QWERTY, QWERTY with extra symbols), add/remove the coma and period button, the smiley and voice input buttons and also enable things like bilingual word suggestions if you have more than one language enabled. Different keyboard skins are available too.
You can also try the so-called Gesture input if hitting those keys individually doesn't give you the desired typing speed. It's similar to Swype, and even if you've never used a Swype-like input before, you'll quickly get used to it.
Single-hand size keyboard is available too, but only in portrait orientation. If enabled, it squeezes the onscreen keyboard to the left or right side of the screen so it gets more comfortable for single handed text input.