Android Jelly Bean does it all
The Sony Xperia E runs Android 4.1.1 Jelly Bean out of box. Like we said in the intro, the dual-SIM variant of the Xperia E runs Ice Cream Sandwich, so from a software standpoint, you're getting a bit more in this here. If you are not familiar with the features specific to the various Android versions, make sure you check out our dedicated Android version scoop.
Here's a brief video rundown of the Xperia E user interface:
The Sony Xperia E has the usual homescreen configuration, with five docked shortcuts (the app drawer shortcut and two on each of its sides). These are visible across all homescreen panes and are user configurable: they can be either single icons or folders with multiple items in them. For folders, you get smaller icons of the first four items inside.
As with older Sony smartphones, you can change the color theme of the launcher according to your preferences. Depending on the color you've chosen the breathing light below the screen will light up with the same color tone.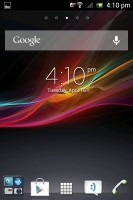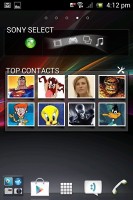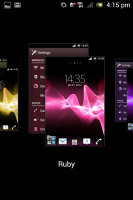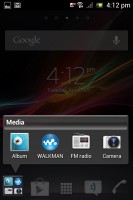 The Sony Xperia E UI • Choosing theme • Folders
The homescreen does a neat trick called Overview mode, which lets you quickly find a widget across any of your homescreen panes. Pinch to zoom out on any of the homescreen panes and a new screen opens up showing all active widgets for easy viewing and selection. Tapping on a widget takes you directly to the homescreen it is on.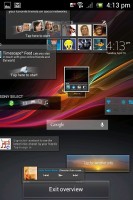 Overview mode helps you find the widget you are looking for
The Xperia E has some custom-made Sony widgets in addition to the standard set. Those include the Timescape widgets (stream and friends) and a Mediascape-like widget for photos and videos (the actual app isn't there anymore, but the Album gallery is).
Tapping on an empty area of a homescreen opens up a contextual menu. It gives you the customization options - choose a widget, a wallpaper, a theme, an app shortcut and create a new folder.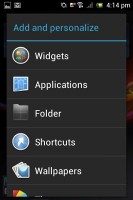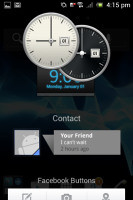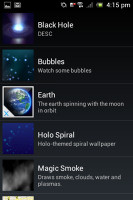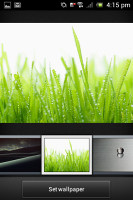 The new personalize menu is a lot less obtrusive • Choosing a widget • The wallpaper menu
Moving widgets around is as simple as on droids of old - hold a finger over a desired widget to move it. The action has a cool wobble effect to it. Sadly, widgets that have already been positioned will not move out of the way of the new ones you are trying to place.
A cool addition to the lockscreen, missing from some Xperia phones of old, is the Walkman widget which lets you control music playback without unlocking the phone. You can also enable Face, Pattern, PIN or Password unlock, in ascending order of security.
The standard notification area is also present, and features a couple of connectivity toggles (Bluetooth and Wi-Fi), a sound toggle, a button to expand all expandable notifications, and a settings shortcut. The notification area is also accessible from the lockscreen.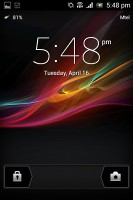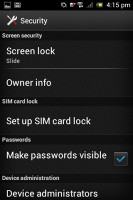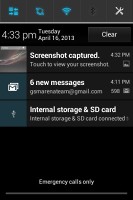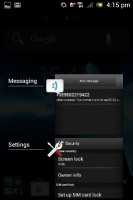 The lockscreen • Lockscreen options • The notification area • The task switcher
The usual task switcher, part of vanilla ICS, is also on board. You can access it with a tap and hold on the Home key.
Performance benchmarks
Just like the Xperia E dual, the Xperia E is powered by a Qualcomm MSM7227A chipset, which packs a 1GHz ARM Cortex-A5 processor, 512MB of RAM and Adreno 200 GPU. Those are hardly the guts of a benchmark champion, but they are quite common among entry level smartphones.
We've compared the Xperia E family with other entry-level devices do give you a clearer picture as to which ones have the edge when it comes to performance.
BenchmarkPi
Lower is better
Sony Xperia go
543
Sony Xperia sola
551
HTC Desire X
639
LG Optimus L7
773
Sony Xperia J
790
Sony Xperia E dual
800
Sony Xperia E
824
Sony Xperia tipo
987
Sony Xperia miro
1037
Samsung Galaxy Ace Plus
1037
Quadrant gives the smartphone an all-round grade for processing (calculative and graphic, memory speed, SD card writing, etc). The Xperia E scored just about the same as its dual-SIM counterpart.
Quadrant
Higher is better
Samsung Galaxy S III
5450
Sony Xperia T
4774
Motorola RAZR i
4125
Sony Xperia SL
3396
Sony Xperia J
1859
Sony Xperia E dual
2362
Sony Xperia E
2135
The Adreno 200 GPU is an old design, but it can handle the HVGA resolution on most occasions. As you can see from the graphic benchmarks, it managed to score 26.9 fps on NenaMark 2 and 26.0 fps on the newly released Epic Citadel - an excellent result for a low-end device, suggesting that you'll be able to play quite a few games on it. It won't always be the smoothest experience, but less demanding titles should offer very playable framerates.
NenaMark 2
Higher is better
Sony Xperia E dual
27.7
Sony Xperia E
26.9
HTC Sensation XE
23.0
Sony Xperia J
19.6
LG Optimus L7
19.3
Sony Xperia miro
15.9
Samsung Galaxy mini 2
15.4
HTC Explorer
15.1
Samsung Galaxy Y Duos
13.2
Samsung Galaxy Pocket
12.9
Samsung Galaxy Ace
12.0
Epic Citadel
Higher is better
Nexus 4
53.9
LG Optimus G
52.6
Samsung Galaxy S III
41.3
Oppo Find 5
38.6
Sony Xperia E dual
30.9
Sony Xperia E
26.0
The Xperia E runs Jelly Bean, which resulted in better web browsing performance over its ICS-running twin, the E dual.
SunSpider
Lower is better
Sony Xperia E
2107
HTC Desire X
2259
Sony Xperia E dual
2824
Sony Xperia J
2853
HTC Desire V
3299
Sony Xperia tipo
3531
Sony Xperia miro
3532
LG Optimus L7
3661
Samsung Galaxy mini 2
5911
HTC Explorer
10784
BrowserMark 2
Higher is better
LG Optimus G
2555
Nokia Lumia 820
1760
Samsung Omnia W
1632
Samsung Galaxy S III (JB)
1247
Sony Xperia E
992
Sony Xperia E dual
975
Sony Xperia J
587