Final words
Affordable, entry-level smartphones are just as well-made and feature-rich as mid-rangers from last year. This doesn't sound like a remarkably profound statement when you keep hearing it every year, but still credit to Sony for coming up with a solid upgrade.
Now, Sony doesn't bother with real cheap phones - which is actually fair from a brand that usually commands premium prices. Sony's base 2016 model is more of a midranger but one that keeps up with the latest trends: big screens, hi-res imaging, decent processing power, NFC, Android Marshmallow - it's all there.
Smartphones that don't require a huge investment traditionally don't come with such attention to design either, but Sony has managed to pull a "less is more" job with the Xperia E5. We almost get a Nexus 5-like feel out of this one, and that's pretty cool.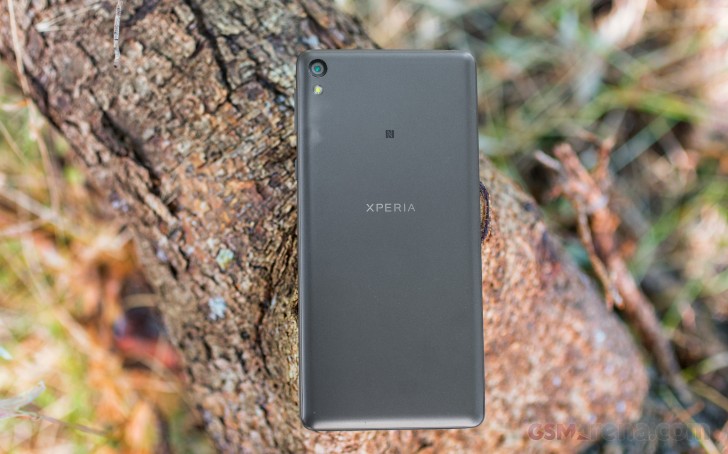 Indeed, a lot of smartphones look good and don't cost an arm and a leg, but not too many of them get most things right when it comes to design, handling and build quality. For us, the Xperia E5 excels in all of them, despite some of the competition touting more expensive materials like glass or metal.
Of course, you're not buying a phone in this price point just for the looks. What's on the inside is also important and we couldn't agree more, so here's what we found during our time with the Xperia E5.
Key test findings
Very enjoyable, minimalist design with high build quality
The display is bright and with decent contrast. There's a noticeable discoloration when viewed at an angle but other than that, colors are fairly accurate for the price bracket
Sony's bespoke media apps are a welcome addition to the package, themes are a fun way to spruce up the UI;
Okay performance from the entry-level MediaTek chipset - it's faster than competing a Snapdragon 410 but slower than a Snapdragon 615/617
Average battery performance with a 47h endurance rating
Below average loudness of the speaker, but it does get a slight boost from the ClearAudio+ software feature
The 13MP camera outputs great detail and colors; HDR mode is is quite good but it's slow - there is no Panorama mode though;
1080p videos lack detail and dynamic range unlike the still camera
The 5MP selfie camera gets the job nicely done
Like we said, the Xperia E5 is Sony's budget offer and, all things considered, with a price tag of €200 it isn't too far off the mark - especially compared to how the company's flagship is stretching the bounds of its own price bracket.
For that money, there's plenty of competition and most of it is from China. However, to us it seems like many of the choices Sony made with the Xperia E5 were driven by a need to match a certain rival, the Samsung Galaxy J5 (2016). The headliner of Samsung's 2016 lower midrange lineup is, simply put, awesome. You get a phone with a metal frame, solid battery life and performance, topped with a Super AMOLED panel.
It should be no surprise that the Xiaomi Redmi 3 is on the short list of recommendations. It can potentially give you a lot more bang for the buck if it happens to be available in your region: it's got a far better 13MP rear cam, a faster Snapdragon 616 chipset and a whopping 4,100mAh battery, which provides a seriously better battery life than the Xperia E5.
Adding to the Chinese tally, the Oppo F1 boasts a premium metal build and a Snapdragon 616 with 3GB of RAM. Although the phone is thinner than the Xperia E5, the battery capacity hasn't suffered too much at 2,500mAh. It has a better Endurance rating, too.
Interestingly, Sony's last year Xperia M4 Aqua is quite a fitting contender. It features almost the same design as the Xperia E5, albeit more colorful and with the iconic Xperia metal Power/Lock button. Under the hood, there's a 5" 720p display, more potent Snapdragon 615 chip and a similar 13MP camera. Oh, and it's IP68 certified for waterproofness up to 1.5m of water.
The Asus Zenfone Max ZC550KL is quite popular as well. It is similarly priced to the Xperia E5 but its larger 5.5" display makes room for a 5,000mAh battery to fit inside. Beyond that, though, the Snapdragon 410 is quite dated and 720p resolution won't look as great as on the Xperia E5.
Having a decent looking Xperia E-series member must feel nice for Sony. The phone looks solid on the outside, but is having a hard time matching the specs of the competition on the inside. Nothing we didn't already suspect would be amiss, but that poor battery life is a hard pill to swallow.
This is a must-fix for Sony, as the phone boasts a good camera and altogether decent performance. If the battery life woes are promptly addressed, the Sony Xperia E5 is easily a solid recommendation for anyone looking for a cheap but capable smartphone.