The largest Bravia screen in the business
The Sony Xperia T comes with a 4.55" LCD screen with a resolution of 1280 x 720 pixels which breaks down to a pixel density of 323 ppi. That's a respectable number and the real-life performance doesn't let you down. The Bravia-powered screen is as sharp as it gets and you'll be unable to tell individual pixels apart even if you look from up close.


The Bravia-powered screen is pretty great
Contrast is pretty good for an LCD and colors are very vibrant. The sunlight legibility is quite good as well, as testified by the Xperia T's result in our dedicated test. Find more about the testing routine over here.
Contrast ratio
Nokia 808 PureView
4.698
Samsung I9300 Galaxy S III
3.419
Samsung Omnia W
3.301
Samsung Galaxy S
3.155
Nokia N9
3.069
Samsung Galaxy Note
2.970
HTC One S
2.901
Samsung Galaxy S II
2.832
Huawei Ascend P1
2.655
Nokia Lumia 900
2.562
Apple iPhone 4S
2.269
HTC One X
2.158
Nokia N8
2.144
Apple iPhone 4
2.016
Sony Ericsson Xperia ray
1.955
Sony Xperia T
1.894
Sony Xperia U
1.758
LG Optimus 4X HD
1.691
HTC One V
1.685
LG Optimus Vu
1.680
LG Optimus 3D
1.542
Nokia Asha 302
1.537
Nokia Lumia 610
1.432
Gigabyte GSmart G1355
1.361
HTC Desire C
1.300
LG Optimus L7
1.269
Meizu MX
1.221
Samsung Galaxy Pocket
1.180
Sony Xperia tipo
1.166
Samsung Galaxy mini 2
1.114
Sadly, Sony is yet to address the issue of poor viewing angles. You really need to be looking at the Xperia T head-on to experience arguably the best image quality from an LCD, as once you tilt the phone even a tiny bit, the image quality deteriorates noticeably.
We were also able to put the display under our digital microscope for a closer look at the pixels. Check it out: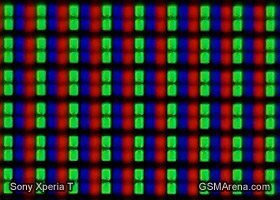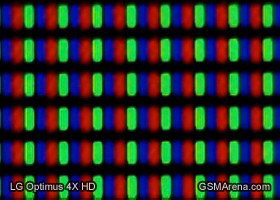 The display under a microscope
Handling
The Sony Xperia T handles pretty well, despite its higher-than-average thickness. The curved back helps and so do the two-layered sides. The only issue we see is the power button which is located too low on the right side of the handset.
That position is actually quite comfortable if you are holding the Xperia T in your left hand, but right-handed use requires you to readjust your grip whenever you want to press the power key. Last time we checked right-handed users were the majority, so it's strange that Sony didn't put that button higher or at least on the other side of the smartphone.