Full-fledged connectivity
The Sony Xperia V has quad-band 2G, tri-band 3G connectivity and penta-band LTE. Mobile data speeds are an impressive 42 Mbps of HSDPA and 5.76 Mbps HSUPA.
Local connectivity is covered by Wi-Fi a/b/g/n with DLNA and Wi-Fi Direct, so you can easily share content from your phone on a DLNA TV or music player. There's also Bluetooth 4.0 with A2DP.
MicroUSB handles the charging and connecting to your PC and there's also USB On-the-go support so you can attach external flash drives.
Media Remote isn't preinstalled on the Xperia V but you can get it through the Google Play Store for free. It will serve as a remote control for DLNA-capable BRAVIA TVs and Sony DVD/Blu-ray players too. There are a few versions of the interface ranging from simply changing the channels to mouse input and viewing disc history.
There's a Connected Devices app that also lets you manage DLNA connectivity with the Xperia V. You can either browse content on other DLNA-enabled devices on the same Wi-Fi network, or set the V as a media server for other devices.
The Xperia V also comes with Sony's Smart Connect app, which replaces the former LiveWare manager, although the functionality remains basically the same. With Smart connect, you can set your device to do a variety of things, like launch an app or set an alarm, whenever you connect an accessory, e.g. a headset or a charger.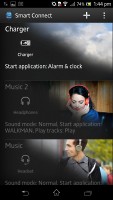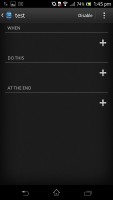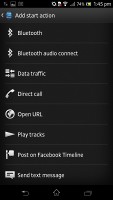 Smart Connect manager can, for example, launch the music player as soon as you connect a headset
Finally, if you have an Xperia tablet, Xperia link is a simple app that lets you share the internet connection from your phone to your tablet. Alternatively you can do Wi-Fi tethering the old-fashioned way.
The ICS browser is great as usual
The browser interface is quite minimalistic: all you get is the URL bar with a tabs shortcut and contextual menu. The bar automatically disappears as you start scrolling down a page. To make it reappear again, simply scroll up. The contextual menu gives you more browsing options - Refresh, Forward, Save to bookmarks, Share page, Find on page, full settings and a couple of more - Request desktop site (no more hunting for that "Desktop" option buried at the bottom of the site) and Save for offline reading.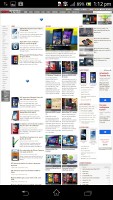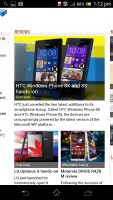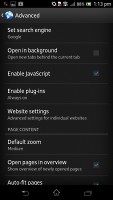 The web browser was redesigned
The full settings menu offers extra options. For example, you can set your search engine to Yahoo or Bing, you can adjust text size and the level of which double tap will zoom in.
The browser borrows several features from its desktop counterpart: when searching for something, if the browser is confident you'll click on a certain search result, it will start preloading that page right away so that it opens faster if you do click it. You can set this feature to work over Wi-Fi only to preserve data.
The other trick is the ability to open Incognito tabs.
Speaking of tabs, the tab switching interface looks exactly like the Recent apps list. You can even close tabs by swiping them off the screen.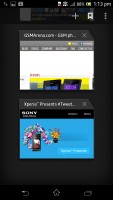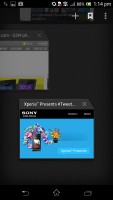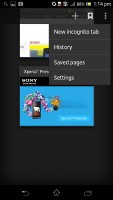 Switching tabs works the same way as switching apps does
Quick controls (available as a Google Labs extra) reveal five controls (New tab, Tabs, URL, Bookmarks, More) when you slide your finger in from the side. These really go a long way in improving the browser experience. Another cool feature from Labs is Full screen, which squeezes in a little more screen real estate by hiding the status bar.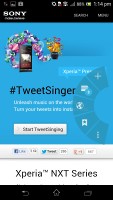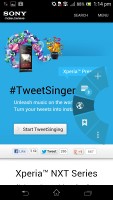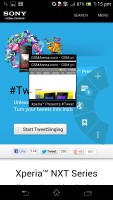 Quick controls can be enabled from Google Labs
As far as Flash support is concerned, only certain Flash-related ads will pop-up, while YouTube videos will open in their own app once selected and, as expected, flash games are a no-go. The Adobe Flash Player app has been omitted from the Google Play store, so if you don't side-load it from somewhere else, the browser will only be able to handle HTML 5 videos out of box.
You can also opt for the much-improved Google Chrome web browser, which has also been pre-installed. It's very smooth and it's actually the default web browser on Android Jelly Bean. The interface is pretty simple - you get a combined URL and search bar at the top. To the right of it there's a tab switcher button with the number of open tabs on it. Hitting the menu button reveals options like new tab, bookmarks, look at closed tabs on other devices, request desktop site, etc.
To switch between tabs you just swipe to the left or right to move between various open pages. In the tab interface you can also swipe away tabs you don't want anymore, except this time with a cooler animation.
Chrome offers full synchronization with your Google account. Just type it in and it will immediately connect to all of your devices with Chrome installed. The only thing that doesn't get synced is your passwords.
Great organizer
The Sony Xperia V comes with the OfficeSuite 6 viewer. OfficeSuite 6 allows you to view almost any type of document, although you'll have to fork over for the Pro version if you want editing capabilities as well.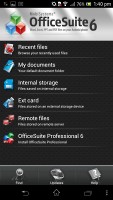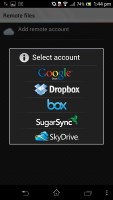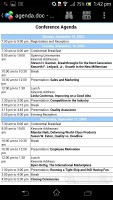 OfficeSuite 6 handles all your documents
There's a Notes app that comes with the Xperia V. It's pretty simple to use - you can select the color of the note and just start typing or doodling. There's also an option for Evernote integration.
The Power Saver app helps you extend your battery life by toggling things like Wi-Fi, GPS, Bluetooth screen brightness, auto sync and background data on and off automatically when the battery charge falls below a certain user-defined threshold.
The calendar has three different types of view - daily, weekly and monthly. The lower section of the screen is reserved for a list of upcoming events. Adding a new event is quick and easy, and you can also set an alarm to act as a reminder.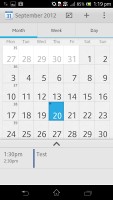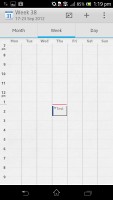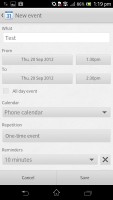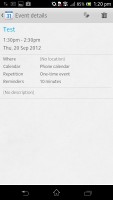 The organizer centerpiece - the calendar
The Calendar also pulls info on upcoming events from your Facebook account. Facebook events appear just like regular calendar entries, except that you can't edit them from the app.
There is a nicely touch-optimized calculator aboard. The buttons are really big and easy to hit, and you can expand it to include advanced functions (trigonometry, logarithms).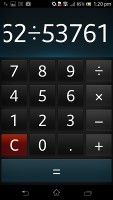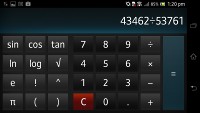 Regular Calculator • Scientific Calculator
The clock app supports multiple alarms, each with its own start and repeat time. There's also a desk clock option, although it doesn't have integrated weather or news information.
The stopwatch, world clock and timer are available within the clock app. The Timer function now has a history option, and the world clock features a cool slider which helps you quickly figure out the local time in another city.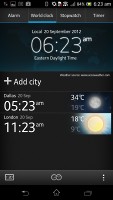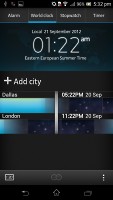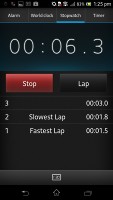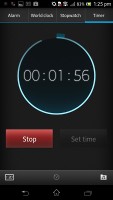 World Clock • Stopwatch • Timer
The Google Play store is full of free apps that will cater to all your organizational needs.