This article is outdated. We have already published a full review.
Rich connectivity options
The Sony Xperia Z has quad-band 2G and tri-band 3G connectivity. Mobile data speeds are an impressive 42 Mbps of HSDPA and 5.8Mbps HSUPA. There is also six-band LTE support with 100 Mbps download and 50 Mbps upload speeds.
Local connectivity is covered by Wi-Fi a/b/g/n with DLNA and Wi-Fi Direct, so you can easily share content from your phone on a DLNA TV or music player. There's also Bluetooth 4.0 with A2DP.
MicroUSB handles the charging and connecting to your PC and there's also USB On-the-go support so you can attach external flash drives.
Media Remote isn't preinstalled on the Xperia Z but you can get it through the Google Play Store for free. It will serve as a remote control for DLNA-capable BRAVIA TVs and Sony DVD/Blu-ray players too. There are a few versions of the interface ranging from simply changing the channels to mouse input and viewing disc history.
The Xperia Z also comes with NFC connectivity, although it's easy to overlook considering there are no included NFC tags in the retail package (like with other NFC-enabled Xperia models), and the Xperia SmartTags app used to manage them is also not present. In the settings though you can find and use Google Wallet and Android Beam functionality.
The Xperia Z comes with Sony's Smart Connect app, which replaces the former LiveWare manager, although the functionality remains basically the same. With Smart connect, you can set your device to do a variety of things, like launch an app or set an alarm, whenever you connect an accessory, e.g. a headset or a charger. If a media app supports the Throw function (like the video player), you can use the Smart Connect app for DLNA functions (sharing screen, etc.).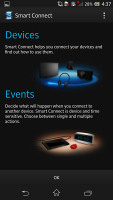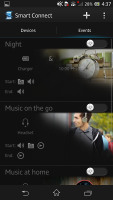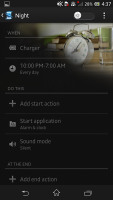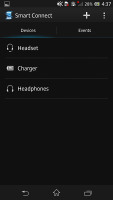 Smart Connect manager can, for example, launch the music player as soon as you connect a headset
Finally, if you have an Xperia tablet, Xperia link is a simple app that lets you share the internet connection from your phone to your tablet.