This article is outdated. We have already published a full review.
Google Chrome is the only web browser on board
The Xperia Z comes with Google Chrome as the default web browser out of box instead of the generic Android browser. The minimalist interface hasn't changed since Chrome launched on Android.
At the top there's an URL bar with a refresh/stop button next to tabs and settings. You can switch between tabs with a wide horizontal swipe in either direction.
Opening the tabs area reveals a list of tabs which can be closed, again with a left or right swipe. The animation accompanying this action is neat, too.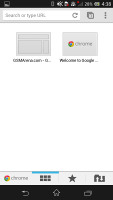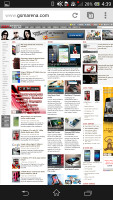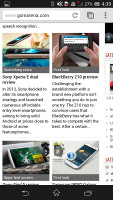 Browsing GSMArena.com with Chrome
Chrome is running on the WebKit rendering engine, so underneath the minimalist UI it's basically the same as all Android stock browsers.
Of course, one of Chrome's strengths is its ability to seamlessly sync with the desktop version, using nothing but your Google account. This allows you to open an article on your PC and finish reading it on your mobile phone. It also syncs your bookmarks and favorite sites.
Google Chrome is generous with settings as well. You can control almost every aspect of your web browsing from choosing what content you want to allow to load like JavaScript, images, cookies and pop-ups.
If you are out of Wi-Fi range, you can, for example, choose temporarily not to load images. Digging into Chrome's deeper settings, you'll also have the option to turn the auto-fill of forms and storing passwords on or off.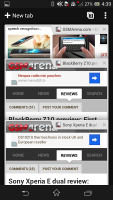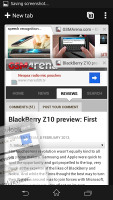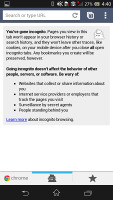 Switching between tabs • an incognito tab
Google Chrome as well as Android Jelly Bean does not support Adobe Flash, so getting it working on Xperia Z seems out of the question.
First impressions
Sony Xperia Z is one head turner of a smartphone that certainly offers a smartphone experience worthy of a flagship. We've never seen a manufacturer do such a great job of squeezing all the potential out of the beastly quad-core Qualcomm chipset and that is easy to see in both benchmark tests and real life scenarios.
Sure, the Xperia launcher is not too different from what you got with 007's Xperia T, but the super sharp screen and the more powerful internals of the Xperia Z bring the overall experience to a whole new level. And that IP57 certification sweetens up the deal even further.
The only part of the Xperia Z that we tested and didn't absolutely love was the contrast and colors of its display. We are also yet to give the 13 megapixel camera a proper test, but we'll find out more about both of those when the detailed review is complete.
The Sony Xperia Z aimed for the smartphone of the season title and we can already tell that it's in the running. Soon enough we'll know if it's going to be the favorite or the underdog in the final.