TENAA certifies a Sony Xperia that may be an XZ2 Premium version or even XZ2 Pro
Months before the Sony Xperia XZ2 Premium was unveiled, we saw the user agent profiles for two phones with 4K screens, the H8116 and H8166. So this could be nothing, but at the end of May TENAA certified a phone with the latter model number.
It has 5.8" display like the XZ2 Premium, however, the page does not say anything about the resolution. The physical dimensions of the phone also match the Premium.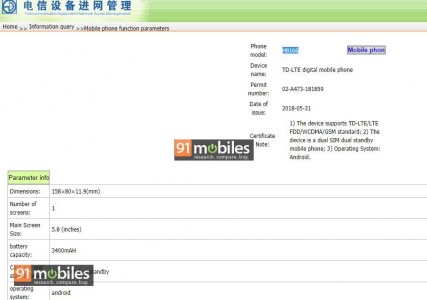 Sony H8166, perhaps an Xperia XZ2 Pro, but probably just a version of the Premium
However, the battery capacity – 3,400 mAh – matches neither the regular XZ2 nor the XZ2 Premium. It's possible this is a mistake on TENAA's part or it could be a new flagship model – the rumored Sony Xperia XZ2 Pro.
Until we see more evidence of a new model, we think that this is just the TD-SCDMA version of the Premium. Though we wouldn't mind getting another dual camera phone from Sony.
J
Nice performance, quality and durable cells SONY.
K
Because it's uglier of the notch and that chin and the phone when its thin it breaks easily and the XZ2 isn't brick. All the phones was like that a few years ago. That brick your talking about couldn't broke when Jerry was doing the test and look the...
o
I dont mind the look of the xz 2 premium , bezels are also fine with me , having nothing to hang onto except screen sucks imo . If i remember correctly there will be no dedicated headphone jack :( , (What are you doing Sony ! ) . If its chub...