Pew Research: iPhone may struggle, but the iPad can still grow in the US
The US market has become saturated when it comes to cellphone and internet use but there's still much potential in the tablet market.
According to research numbers from Pew Research, about 99% of people aged 18-49 use a cellphone and 91% of the same group use a smartphone. Compare that to just 58% of people between 18 and 49 that use a tablet and you can see how tablets have room to grow. And Apple is dominating that market category in the US, managing to grow its shipments despite a stagnant market.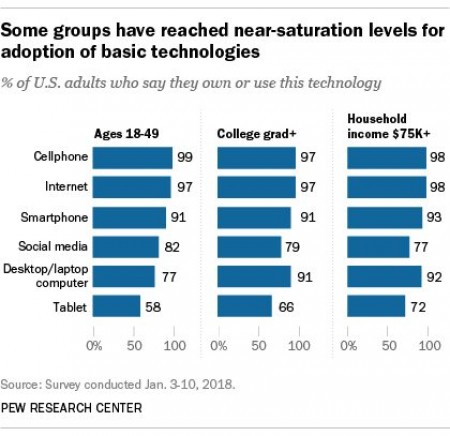 Apple's only rivals in the tablet space are Samsung and Amazon and they're not all that close. And Apple's tablet dominance will likely continue with the release of all-new iPad Pros later this year.
On the other hand, when it comes to smartphones, it will be hard for Apple to gain any more ground on the US market. But the company has ensured its profits will not falter by introducing more expensive phones and boosting its average selling price. It will be interesting to see how Apple's upgraded lineup affects the numbers by the end of the year.
?
I shoot with my iPad Pro. Good results with 10.5 inch viewfinder. 4x3, and panoramas look good. Has iPhone 7 camera. Maybe the new models will have more and better cameras. Ideal for some people might be an iPad mini with multiple cameras and its...
?
Lol, deluded fanboys. https://www.statista.com/statistics/269912/worldwide-tablet-shipments-forecast/ Which is more than laptops. Sorry people love tablets. Gsmarena readers are most of always wrong on their opinions. Reality disagrees...
D
True assessment. Tablets are still very useful. Which is why I want more Android tablets.