By the accounts of multiple rumors, LG is ready to give up on its G-series this year. Thus, the phone that could have been the G9 is actually what we now know to be called Velvet. The Korean company has been teasing this handset quite a lot recently, with its revamped design language - in fact, just yesterday it revealed that it's going to be powered by the Snapdragon 765 chipset, and come in four colors.
And now thanks to a certification in Korea, it definitely looks like the Velvet will get its very own Dual Screen accessory, like a bunch of LG devices before it. The "Portable screen cover" with the model number "LM-G905N" has been approved by the Korean NRRA, and that model number itself is the clue here.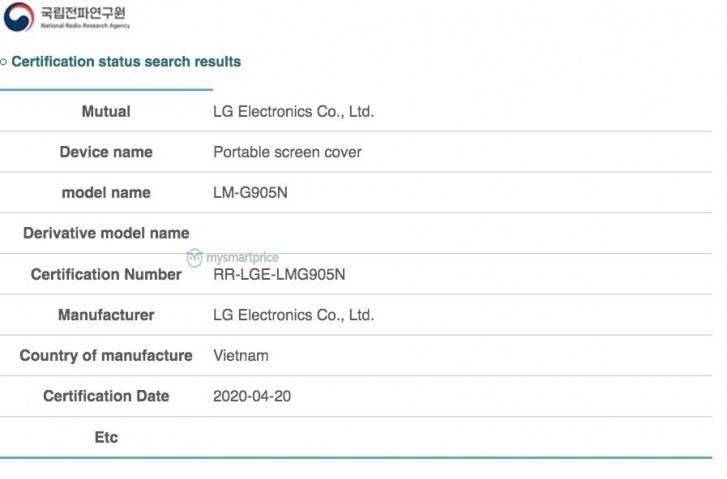 If this was to be the G9, then the phone itself would have had the model LM-G900, or something along those lines. So it seems very likely that while LG changed the commercial name of the handset, it didn't do the same for the model number (and why would it?). Hence, how we can ascertain that there's going to be a Dual Screen accessory for the upcoming LG Velvet.
It's unclear at this point if that will be bundled with the phone (a few carriers do this for the LG V60 in the US). Do note that some previous rumors talked about the possibility that there wouldn't be a bundle and instead you'd have to purchase the accessory separately.
D
Thanks. And well, this is not just a launcher issue, multitasking on Android is quite bad and Android initially was never designed for that. Anyway, all that because I said that LG could focus on doing more than just this style of dual disp...
?
(nice kurumi wallpaper btw) thats you and your phone's/launcher's problem i use samsung and their stock launcher, the multi tasking has no major issues and almost all apps support it only a few third party apps dont support i...
ADVERTISEMENTS