We're completing our 2017 best camera roundup with a look at the Top 10 phones for video capture to come out this year. Unsurprisingly, some of these were already featured in the Top 10 rear cameras article from a couple of weeks ago, and whaddayaknow, some can also take pretty nice selfies. We're done with the stills, though, it's now time for video.
LG V30 - 'V' stands for 'video'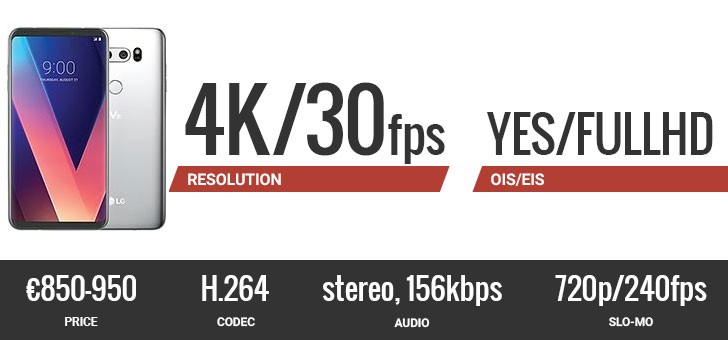 Conceived with vloggers in mind, LG's V-series have been the go-to choice for video capture, offering an extra level of control, particularly in the manual video mode (a stand-out feature itself). Directional audio recording may be gone this generation (not enough mics), but in the sound department you're still getting sliders for gain, low cut filter and a volume limiter. You can also choose frame rate, bit rate, shutter speed, ISO, and white balance, and there's also focus peaking - some phones don't allow this much advanced control in their manual stills mode and that's video we're talking here.
A feature introduced with the V30, Cine mode lets you apply one of 15 pre-set color color effects to achieve a particular look (LG doesn't like the word 'filters'), or you can record in a flat profile, which you can later grade to your liking. There's also Point zoom, which lets you zoom in on action happening in a particular part of the frame and not just the center.
Of course, none of that would make a difference if the end result wasn't any good, but fret not - the V30's videos are superb. That is, if you stay away from 1080p/60fps, which is nowhere near flagship-grade. Oh, and there's also the added benefit of having that ultra wide camera - it's like an action cam, only it's always with you. One thing that could be improved - the V30 can only stabilize 1080p/30fps footage, but not 4K or 1080p/60fps.
Sony Xperia XZ1 - 1000 fps? Well, almost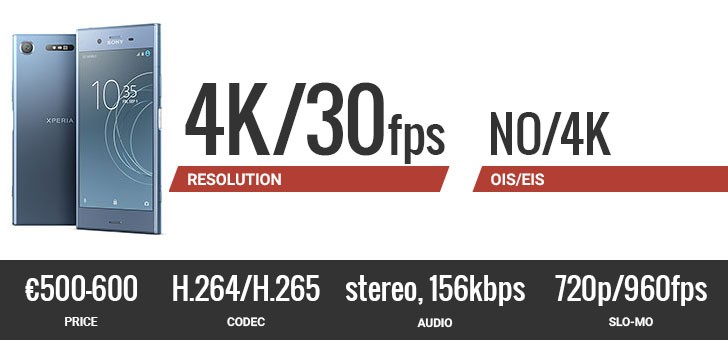 The Xperia XZ1 has a different trick up its sleeve - super slow motion capture. The 960fps recording is only available in 720p resolution and for a blink-and-you've-missed-it 0.18s. Time it right, however, and you're in for some spectacular slo-mos, giving you a unique glimpse into how a balloon pops, or a dog shakes water off, or other, um, useful stuff like that.
Regular videos are plenty good as well - or rather the 2160p variety is, while 1080p footage is simply okay. The choice between the old but widely compatible H.264 codec and the new and more efficient H.265 is appreciated too.
Apple iPhone X - FPS galore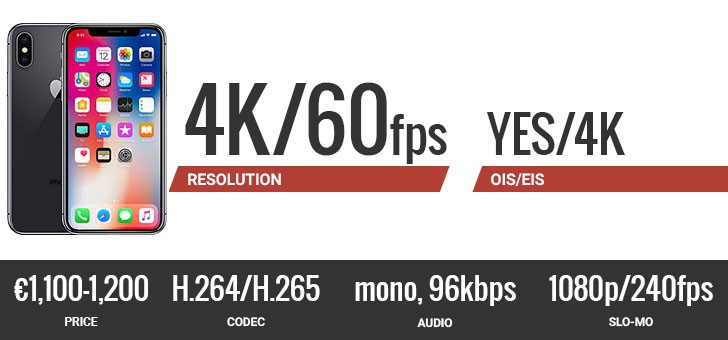 Since we've already ventured into high frame rates, let's give the iPhones praise where it's due - the iPhone 8/8 Plus/X are the only phones that can capture 2160p footage at 60 fps, without any significant trade-offs in quality, mind you. That's not all either - Apple's latest can also record 1080p videos at 240fps - others can match the resolution or the frame rate, but not both. Additionally, in a rare act of kindness, Apple lets you pick between H.264 and H.265, yay!
Another thing worth pointing out - Apple's plain 1080p footage is among the best you can find, both at 30fps and 60fps, while many of the phones on this list are superb at 4K, and just okay at FullHD. The electronic image stabilization coupled with stabilized optics on both the wide and the tele cams of the iPhone X is as proficient as ever at deshaking your vids, all the way up to 2160p/60fps.
Google Pixel 2 XL / Pixel 2 - No settings, no worries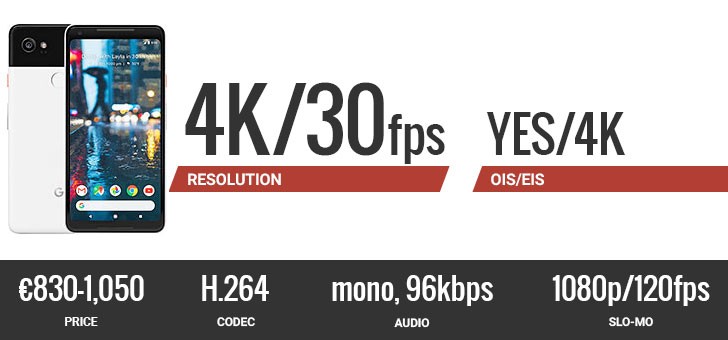 'The usual suspects' all over again - yes, it's the Pixel 2 once more. No super-high-res super-slo-mo, no manual mode, no fancy audio capture - actually, the Pixel 2 still records mono audio like the iPhones (boo, times two). It's just no-frills plain good videos. Okay, maybe not the 1080p/60fps ones, those are much too soft.
The Pixel 2's 'Fused video stabilization' works miracles too - 4K footage included.
Samsung Galaxy Note8 - Anything the Note can't do?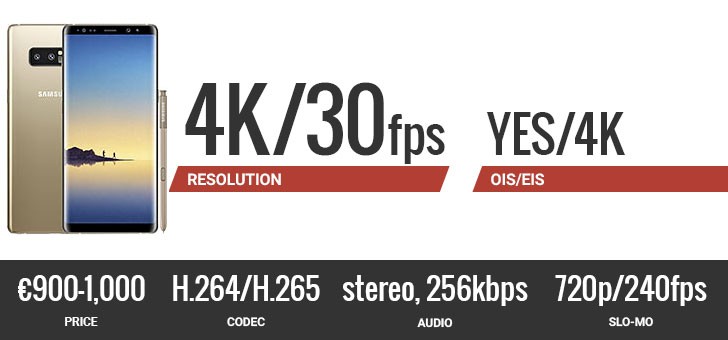 Another one of those do-it-all smartphones, the Galaxy Note8 can capture excellent videos too. It covers all the important bases too - tele camera, 4K video with stabilization (OIS and EIS), H.264/H.265 codec selection. It can't quite match the iPhone when it comes to high fps at high resolution, but none of these here can.
HTC U11+ - Underappreciated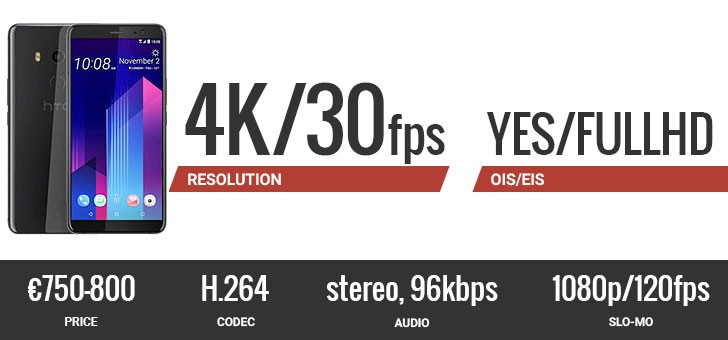 Another one of the breed of phones that don't particularly stand out with specs, yet shoot nice videos, the HTC U11+ only records in H.264, doesn't stabilize 4K footage, and its audio, while stereo (thanks Pixel and iPhone for having to point that out), gets a lowly 96kbps bit rate. Okay, the U11+ does support 'high-res' audio and has a rather unique acoustic focus capability, where it cranks up the gain as you zoom in to better capture the sound coming out of the subject - so audio isn't a complete afterthought here.
Huawei Mate 10 Pro - Stick to 4K, and you'll be happy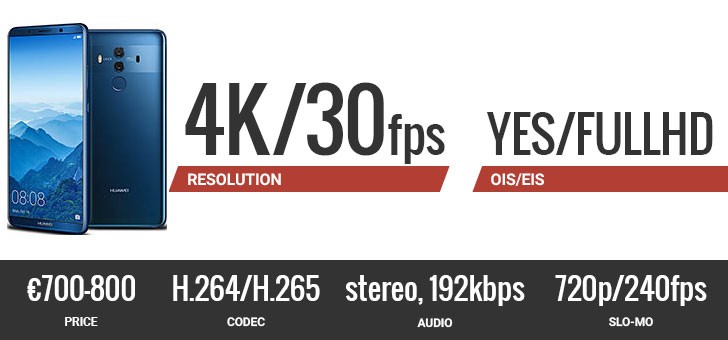 Huawei might have pulled an Apple this time around by deciding a few things for you on the Mate 10s - 4K videos are encoded with the H.265 codec, while 1080p uses H.264 - no, it's not up to you. Not necessarily a consequence of that, the 1080p footage is rather meh, but 2160p is pretty awesome. Sadly there's no electronic stabilization in 4K, though.
Xiaomi Mi A1 - 4K for the masses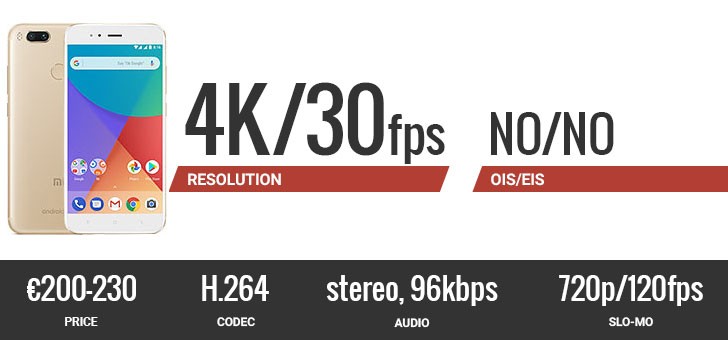 A somewhat unexpected entry to this Top 10, and one that shows how far modern smartphones have gotten, the Xiaomi Mi A1 costs a little over €200 and records 4K videos. Not just any 4K videos, but pretty amazing ones. It lacks any form of stabilization (well, there is EIS for 1080p only), 1080p is only 30fps and is pretty horrible, and audio is downright unusable (in any video resolution), but let's repeat - you are getting top-quality 2160p footage for €200. Just make sure you have an audio track ready to put on top of the one the A1 records.
Moto Z2 Force - Good videos, no force required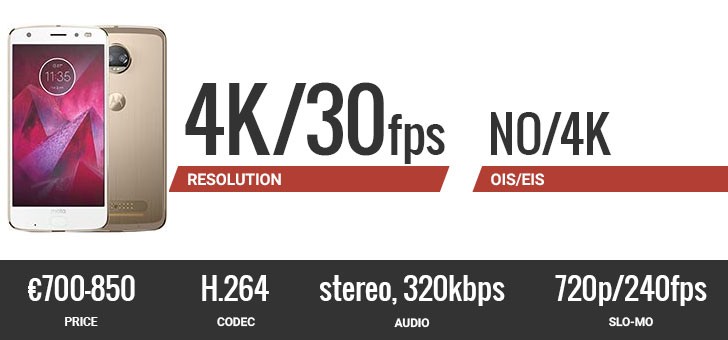 The Moto Z2 Force is Motorola's de facto flagship, and unsurprisingly it records high-quality 4K videos. Its focusing can be a little jumpy and stabilization in 2160p, while technically available, isn't the smoothest. That said, detail and colors are great, as is the noise performance.
OnePlus 5T - 5T does 4K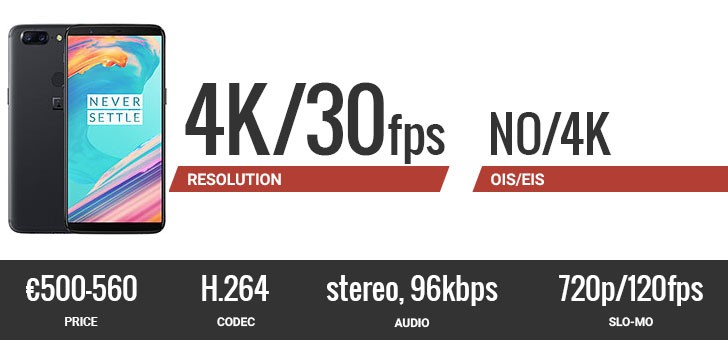 For all of its idiosyncrasies, the OnePlus 5T's camera can record some pretty good-looking 4K videos, and it's very competent at electronically stabilizing them. Another oddity - for more detailed 1080p footage, switch to 60fps - 30fps doesn't measure up. Actually, the OP5T may very well be among the top phones on our list when it comes to 1080p/60fps capture - if, for some reason, that's your thing.
There, we've now covered the top ten players in the three major aspects of smartphone imaging, at least the way we see it - rear camera stills, selfies, and rear camera videos. Somehow, we're still avoiding front camera videos, maybe we'll get there eventually.
Now pour yourself a drink, and welcome the new year. Cheers!
V
It has 3 microphones,I'm not sure. It seems like it have 3D and high quality recording! My aunt's 4 Selfie Pro has so special video recording sound. Good luck ;)
?
OIS is useful only when you need slow shutter. For daylight shots like 1/200s, 1/300s, 1/700s or 1/4000s the OIS becomes useless. It also sucks for moving object because it cant act that fast. You cant take blur-free pics of children at pl...
?
That is glass over the lenses. Lenses are inside.
ADVERTISEMENTS